Well, this month didn't go the way I expected it to.
Was feeling pretty great about organic growth, systematizing my processes, getting more help so I can focus on things that move the needle…
Then my paid marketing efforts led nowhere and I got slapped by an enormous Google Cloud overage I'm trying to negotiate away.
Overall I'm super optimistic about November and finishing strong by the end of the year. But these roadbumps are stressful and demoralizing in the short term.
Berlin's daylight savings kicked in, so now we're waking up to darkness and having sunset around 4:30pm — which doesn't help!
Anyway, prepare for a brain dump because what follows is just a bunch of rambling.
Income Report for October 2021
Real quick, here's a recap of my projects:
Not a Nomad Blog (Blog) – Travel and photography blog, which is recovering from the impact of COVID on traffic and revenue. Started 5.5 years ago.
Blogging for Devs (Free Newsletter + Paid Community) – Teaches developers about blogging and SEO. Started 1.5 years ago.
Affilimate (SaaS) – A unified revenue dashboard for affiliates. It also helps with attributing conversions back to content. Started 2.5 years ago.
Net profit: $6,008
$6,008 = $9,366 (Revenue) - $3,358 (Expenses)
This is before things like taxes, health insurance, and basics like rent in Berlin.
Total revenue: $9,366
Blogs ($6,321)* - Ads ($1,959), Affiliate Marketing ($4,362)
Affilimate ($1,385) - Subscriptions ($1,385)
Blogging for Devs ($1,660) - Memberships ($1,660)
*- As always, content sites operate on a several month delay and are subject to cancelations or returns. This amount is based on revenue during the month, not payouts.
Blog revenue expanded this month after I recovered a bit more from the Google update in August. Right now it's virtually flat, and I expect it to continue to decrease for the rest of the year.
Affilimate's MRR actually grew 18% last month. Not as good as September, but everyone new opted for monthly hence low cash flow.
I'm expecting a good November for the SaaS, for reasons I'll share later.
Blogging for Devs is stable. My SEO for Devs course, while it got great feedback, didn't really result in new members — and I'm not sure why.
Expenses: -$3,358
Blogs (-$29) - Hosting (-$19), Adobe Photography Plan (-$10)
Affilimate (-$1,424) - Newsletter sponsorship #1 (-$700), Newsletter sponsorship #2 (-$250), Fathom Analytics (-$14), Plausible (-$14), HelpScout (-$25), Writer (-$400), GSuite (-$21)
Community (-$1,544) - Expert guests (-$1,200), Circle (-$99), Hosting (-$29), ConvertKit (-$216)
Misc/Shared (-$361) - Ahrefs (-$155), Business Club (-$141), Descript (-$15), Zoom (-$50)
First for the community, I made a $900 donation on behalf of several past speakers to Black Girls Code. So that in and of itself was one of the biggest expenses. I also paid a past speaker his $300 honorarium.
Honestly I'm not sure if $300 is really just too high for something like this. I always struggle with being generous / budget-conscious at the same time.
Affilimate was also super expensive because I bought some newsletter sponsorships which didn't pan out. More on that in the next section.
But my biggest bill from October?
My looming 1,500 EUR Google cloud bill set to charge on Monday 😱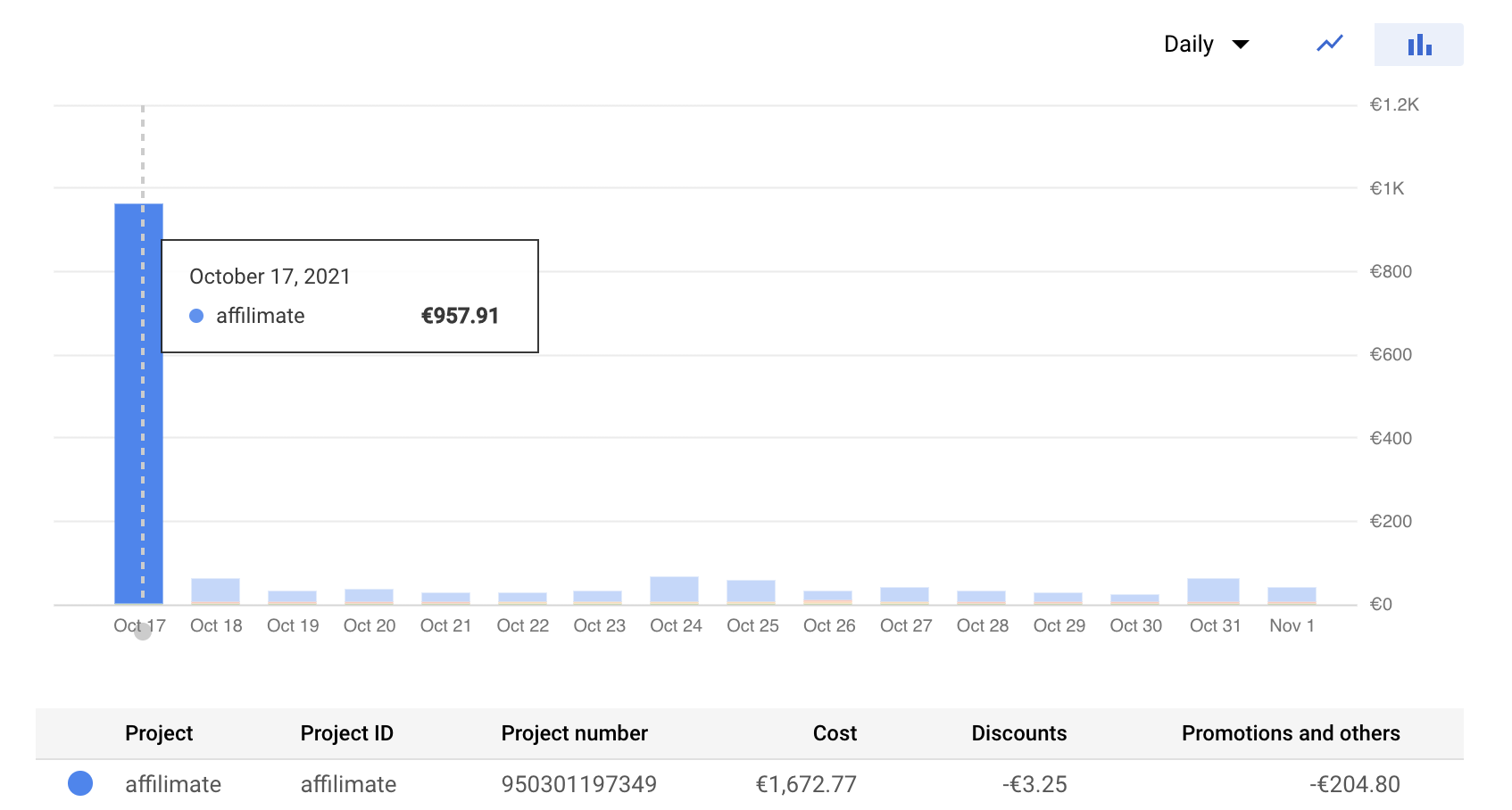 We think it might be an infrastructure issue because the function which caused this expense has been running on a schedule for the last 2 years without incident.
I'm currently trying to get the money back via my GCP account manger.
Wish me luck.
What happened in October
SaaS
I tried sponsoring two newsletters for a total of over $950 and got zero customers. Even the CTA click rate was barely higher than organic traffic.
I have a few theories for why:
People read newsletters for entertainment, not to buy products
Ads without discounts lend no sense of urgency
Ads don't typically come with endorsements
Ads weren't placed early enough in the newsletter to be seen by most people
I wouldn't be as disappointed in the results if I didn't have this huge Google Cloud bill on the horizon. Combined it's over $2,500 I could've spent on content production or just, you know, not spent.
Lesson learned. No shortcuts for me. (Also don't get upsold.)
I do have some wins for the month though:
Hired a marketing VA. She's going to be helping me with a lot of tasks that'll help me scale my marketing. Right now she's doing 10 hours per week but I'm hoping to increase that once the next task is done.
Started building out a CMS. The goal is to get a system going for producing content which relies as little on manual work from me as possible. Today my content is in Markdown 🤦
Got a great promo in a Facebook group. One of our trial users went from skeptic to convert after trying out the product, and promoted us in a Facebook group with led to a 20+ comment discussion. This led to a number of new signups, and she converted as well.
More higher-paying customers in the pipe. I'm finally seeing a trend where a good % of customers signing up are over the $29/mo level, including a number of demos I have scheduled this month.
Released a bunch of integrations. Seems this is just part of my monthly work now.
Published one blog post. Fell off the horse a bit with my writer being away, but she's back now so between her and the VA I'm expecting to ramp up here.
One guest post published, one submitted. My Ahrefs domain rating has gone up to a whopping 39. After this next one I'm going to pretty much stop these and focus on my own content.
Added full funnel analytics from CTA to signup. I'm using Fathom's new cross-domain feature and it's pretty awesome.
Grew MRR by 18%. Hoping to match or beat that in November.
Newsletter and Community
Big news here is that I finally finished my SEO for Devs course. However, the number of students who became community members is pretty dismal.
I'm not sure why exactly, but I think it's safe to say that strategically creating a second course just wasn't the right move. It was stressful, distracted from other things, and I'm not sure how the subscribers align with the community. Maybe they're just not aware how well they align.
What I need to do this month is write some newsletters in batch and schedule them out for the rest of the year. I'm planning to do that tomorrow.
Community-wise, I started looking for a replacement for Stefanni. It's been an interesting process. I'll leave it at that for now.
But! On a positive note, this month I'll be re-kicking off the Silent Writing Hour + Autumn Accelerator, now that the course is done.
I'm excited to rally people together for a final push in 2021.
Blog
Today I did a content refresh for articles I'm expecting to get a fair amount of traffic between now and the end of the year. I also fixed some UI quirks I introduced while trying and failing to make the blog comply with Core Web Vitals.
Honestly I rarely work on the blog and it still makes $5-7K per month, can't complain. Just imagine what this looks like in a year without the Delta scare.
Just gotta keep my rankings and wait for next Summer!
Plans for November
Affilimate — Here's what I need to get done this month:

Bring down the cloud bill. Right now we're spending 20-50€ per day. I want to bring this down to about 12-15€ per day so the month costs around 400€ per month. The lower, the better.
Figure out how to scale. As we're getting more and more customers pushing the "MVP" limits of the system, we have to figure out how to onboard users who are an order of magnitude larger than the current ones.
Go live with the CMS. My next article from my writer/s will be put directly into the CMS! I still have some things to figure out with media upload and deployment via webhooks, but most of the actual work is done.
Get more customers. Right now I'm set to fall short of my year-end MRR goal. But I'm hoping to rally and beat it by bringing on larger customers and just hustling and following up.

Newsletter/Community — What I need to get done this month:

Send the two draft newsletters I have. I want to both send a newsletter I've drafted about promoting content on Twitter + announce SEO for Devs to the list (still not done). Maybe I should even do a newsletter about these income reports?
Schedule the next events. Scheduling the Silent Writing Hours until the end of the year, posting the Accelerator.
Bring on a new community manager. Definitely want to bring on someone by the end of the month if possible.

Blog — No additional plans beyond the content refresh. Just let it keep making money.
Later, skater!
If you'd like to see what's up between reports, I'm on Twitter @monicalent 👋