All good things must come to an end.
So, too, with my income reports.
Which probably makes both of us a little bit sad.
Especially as just today, two people told me they really enjoy reading them. And I like writing them!
Pretty much everyone agrees: income reports are fascinating.
There's something about getting that level of insight into how one earns a living in ways that are unconventional to most people.
As I wrote back in January, reading income reports is what made me realize I could make money without having a "normal job." The insubordinate older child in me loved the idea of never having a boss again.
In spite of all this, I'm stopping mine.
There are three main reasons for this decision, and I'll share those at the end of this post.
But one last time: here's what I learned and earned in November.
Income Report for November 2021
Real quick, here's a recap of my projects:
Not a Nomad Blog (Blog) – Travel and photography blog, which is recovering from the impact of COVID on traffic and revenue. Started 5.5 years ago.
Blogging for Devs (Free Newsletter + Paid Community) – Teaches developers about blogging and SEO. Started 1.5 years ago.
Affilimate (SaaS) – A unified revenue dashboard for affiliates. It also helps with attributing conversions back to content. Started 2.5 years ago.
Net profit: $11,212
$11,212 = $14,166 (Revenue) - $2,954 (Expenses)
This is before things like taxes, health insurance, and basics like rent in Berlin.
(Sidenote: I did it! My goal for 2021 was to reach $10K in profit per month, and it looks like I've made it just in the nick of time.)
Total revenue: $14,166
Blogs ($5,994)* - Ads ($1,959), Affiliate Marketing ($4,035)
Affilimate ($2,045) - Subscriptions ($2,045)
Blogging for Devs ($6,127) - Memberships ($6,127)
*- Content sites operate on a several month delay and are subject to cancelations or returns. This amount is based on revenue during the month, not payouts.
Despite all the bad news about Covid in Europe, the blog is still doing a predictable $6K or so in monthly revenue with most of that from affiliate marketing.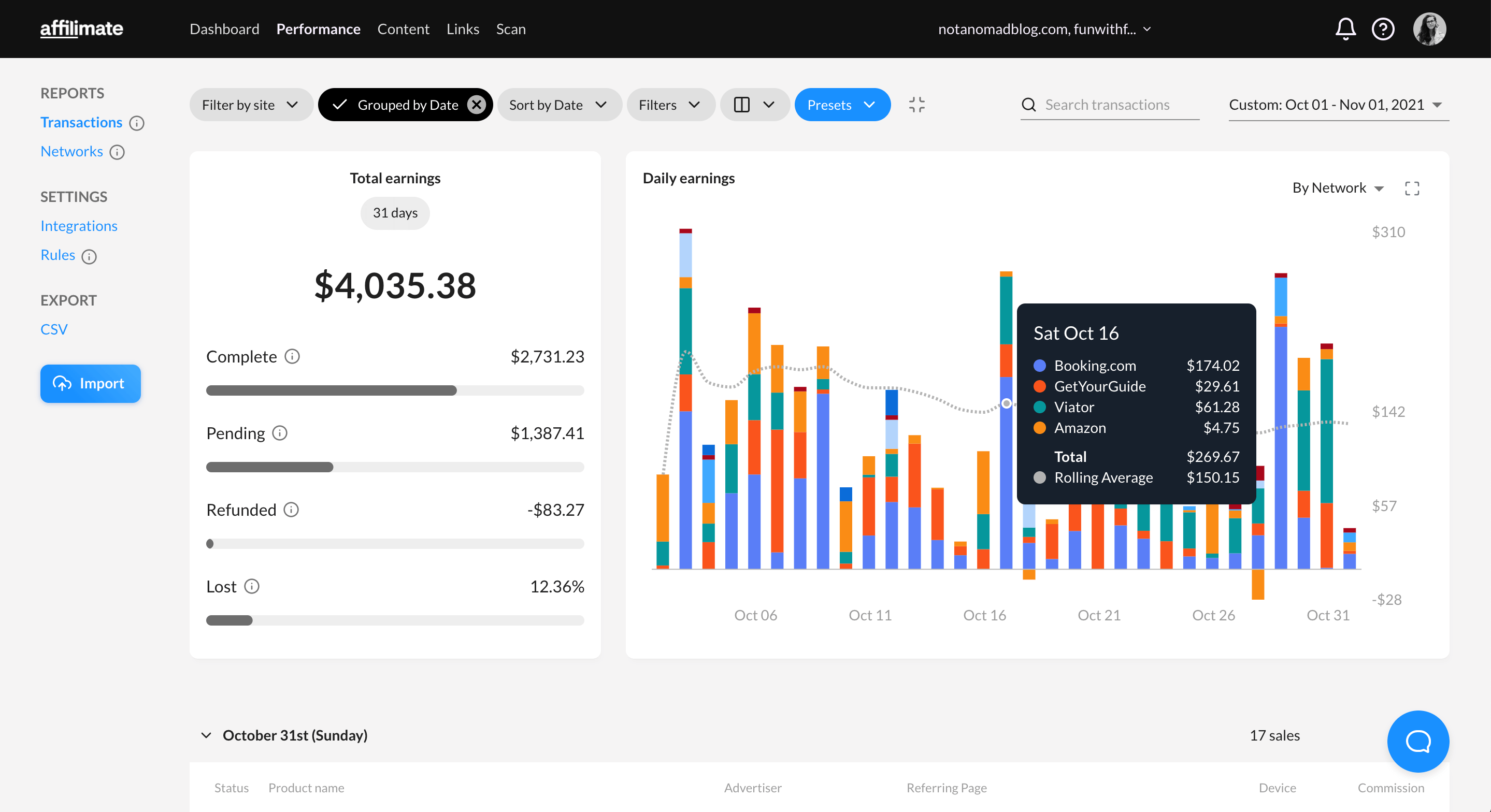 As always, using my own product to track and aggregate affiliate revenue.
Affilimate did about $2K revenue, with the help of a couple annual subscriptions.
But the big outlier here is Blogging for Devs, which normally does closer to $1,500-$2,000 per month in revenue (and often barely makes a profit at that).
The reason for the jump is two-fold: Our first batch of annual renewals have kicked in, and I re-introduced the lifetime subscription.
More on that later.
Expenses: -$2,954
Blogs (-$769) - Hosting (-$19), Adobe Photography Plan (-$10), Barcelona hotel (-$388), Barcelona flight (-$352)
Affilimate (-$1,092) - Ahrefs (-$129), Marketing VA (-$89), VPN for VA (-$66), Writer (-$400), Editor (-$129), Sanity CMS (-$84), Shortcut Project Management Tool (-$74), Help Scout (-$69), Plausible Analytics (-$14), Fathom (-$14), GSuite (-$24)
Community (-$700) - Expert guests (-$300), Circle (-$99), Hosting (-$28), Descript (-$15), ConvertKit (-$258)
Misc/Shared (-$393) - Business Club (-$141), Zoom (-$188), Women Make membership (-$50), Namecheap (-$14)
The one expense which I had, and then got credited, was the Google Cloud overage from last month! It took some persistence but I managed to get it dropped.
My expenses this month were a little bit higher due to some annual renewals, but otherwise it's kind of like death from a thousand cuts. $50 here, $90 there. It all adds up and gets pricy.
Also, as soon as you have any kind of team, all tools get way more expensive.
Note to self: Do that for my SaaS too.
What happened in November
Went to Barcelona with my sister
It was a Monday at the end of November when my sister wrote me asking if I wanted to take a quick trip together.
She lives in Copenhagen and I live in Berlin, and the Winter darkness hit both of us hard. We grew up in Arizona, which has an average of 310 days of sunshine per year. Compare that to Berlin's 160 and it's basically half. HALF!
Anyway, after realizing our schedules had zero overlap except for the coming weekend, we booked a quick jaunt to Barcelona just 4 days in advance.
Here's me drinking some Sangria with a smile on my face: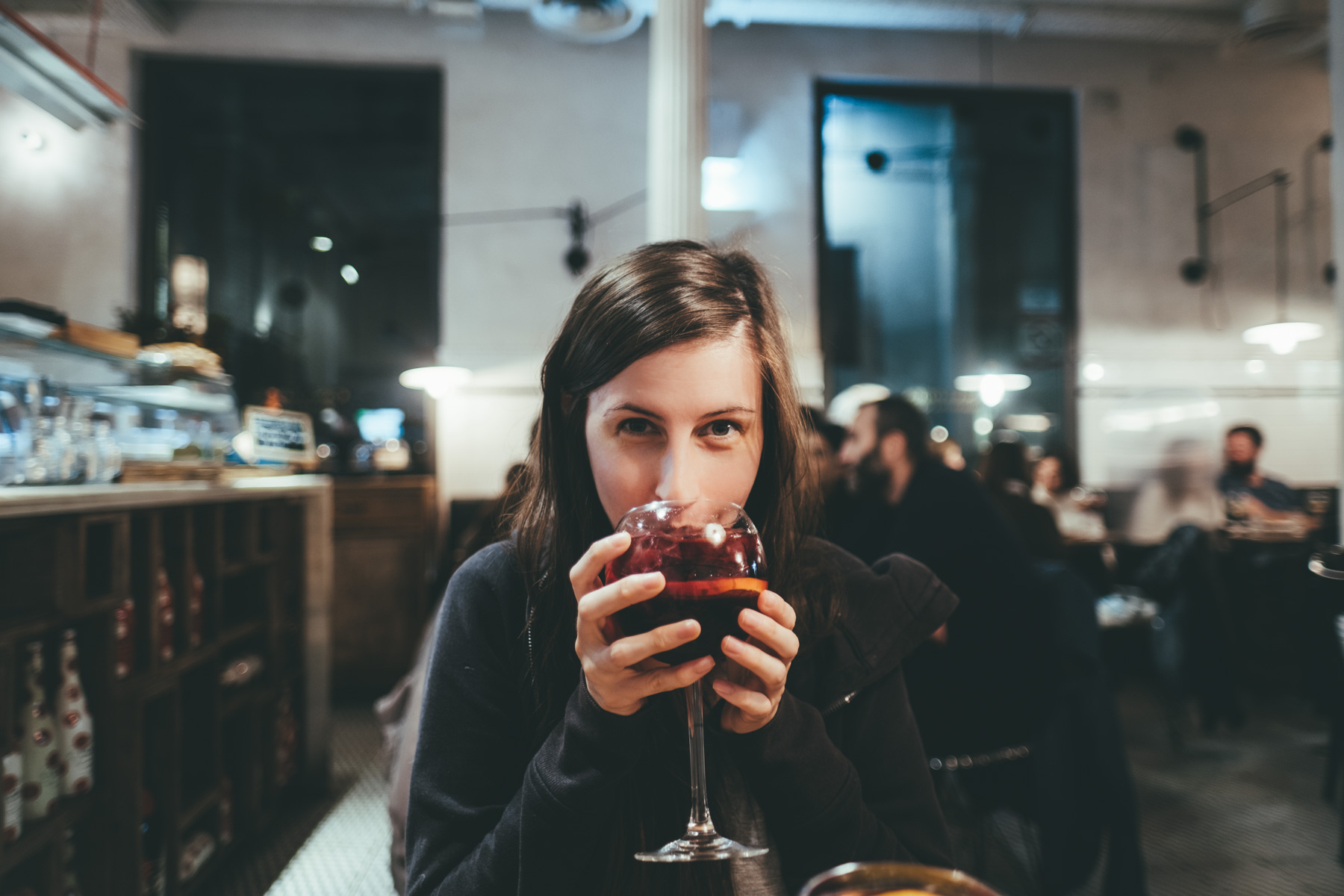 Being able to take spontaneous trips is a huge part of why I wanted to work for myself. As far as I'm concerned, not having to inform anyone of my intent to take a vacation is the ultimate power move.
So that's what we did.
Hanging out in the sunshine. Downing tapas like no one is watching. Desperately soaking up the Vitamin D we'll need to survive Winter.
It was amazing and all too short.
Besides that, I spent most of the month in the dark. At my desk. Working 7 days a week. Which I don't say to glorify overwork, but I think it is important to be clear about how I've gotten to where I am.
Here's what my desk looks like during the brightest part of most days: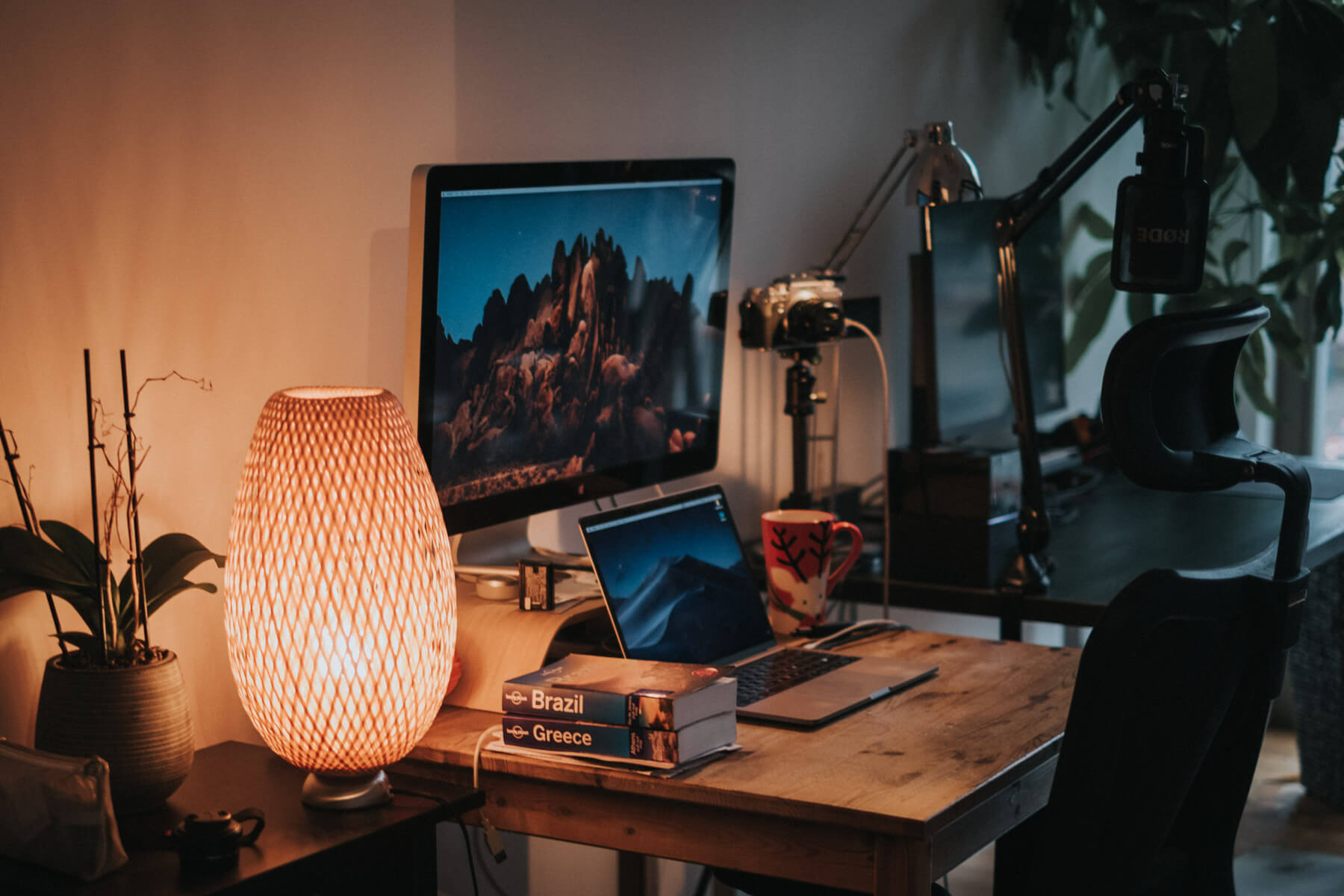 Twitter may have loved my desk photo, I can assure you that looking at pretty pictures of it is generally more inspiring than sitting at it and doing the work 😉
SaaS
Business-wise, growth was nearly identical to last month. It would've been higher were it not for some churn.
What I'm realizing about my churn is that most people who cancel in the first few months are people who probably should've never subscribed in the first place.
Maybe that's the same for most SaaS businesses, I have no idea.
One thing that's really tough about Affilimate is that it's just not for total beginners. You need a baseline amount of revenue, traffic, and understanding to get enough value from the product to justify the price and earn an ROI.
For beginners, their dashboard looks empty and depressing.
In some cases, people receive great (read: time-consuming) customer support, become excited about the product and then…later churn after realizing it doesn't magically improve their income on its own.
I've got a few ideas about how to solve this in 2022.
Otherwise, a couple highlights from this month:
Migrated transactional emails to Customer.io. My biggest project of the month. SendGrid was a huge pain in that you can't see the content of emails you send. Now, all marketing, behavior-based messaging, and transactional emails are sent from one place.
Redesigned the Integrations page. We had a lot of UX issues with the old integrations page that caused support tickets, so hopefully I've eliminated them.
Put my CMS live. Now the writers and my VA can directly put content into the CMS, which should reduce friction for publishing. I'm using Sanity.io, which I like, despite being a little quirky.
Published 6 articles. Made so much easier by having a CMS and help from my VA. She's now helping me migrate old blog posts from Markdown into the CMS as well.
Fixed more UX bugs. I'm really trying to double down on fixing repeat UX issues with automation over support or even documentation.
Newsletter and Community
A big milestone I reached a while ago was 10,000 email subscribers to Blogging for Devs and SEO for Devs! By now it's over 11,000 combined.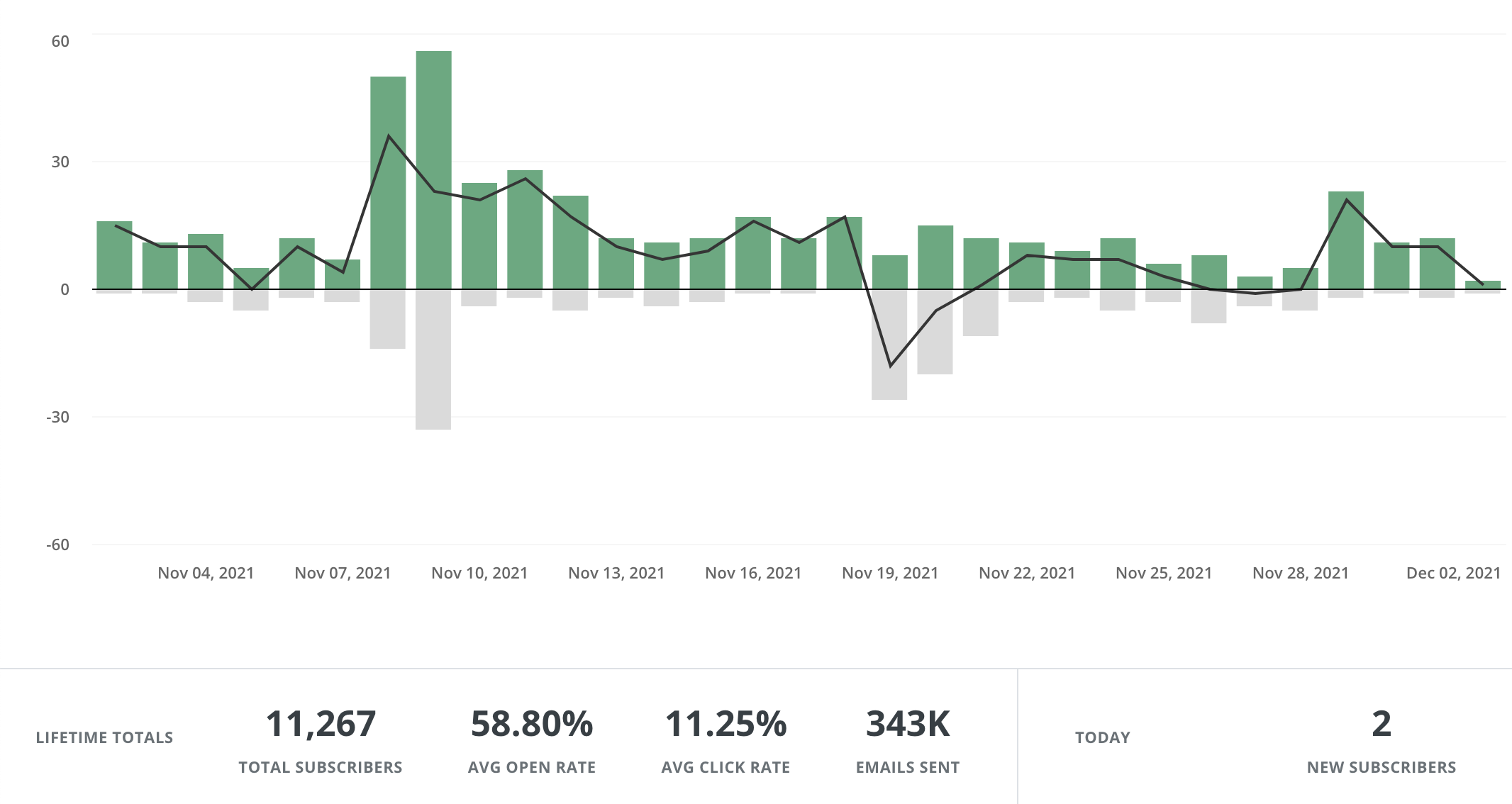 In November, I sent out one newsletter, which was a repurposed guest post that I did for ilo about twitter for bloggers.
Community-wise, we did an awesome AMA session with Chris Oliver from GoRails. That, plus some discussions with Rosie Sherry, spurred me to take the plunge:
I went back to offering Lifetime memberships to the Blogging for Devs community.
The reasons for this are as follows:
First, blogging is an off-and-on thing for most people. It's hard to justify a membership when they're not using it every month. But then there's friction to re-joining, and this also creates a lot of work for me when people cancel, want to come back, cancel again, want to come back. It's just exhausting.
It's also not the point of a community to pop in when you need something from people and then just split.
Next, lots of the most engaged community members are lifetime members. So this disproves the notion that people will only be engaged if they're paying regularly.
Finally, it's just better for revenue. I decided to stop caring about community MRR and just focus on month-to-month revenue. I have no plans to sell BFD anyway.
The pricing is now $150/year or $300 for life.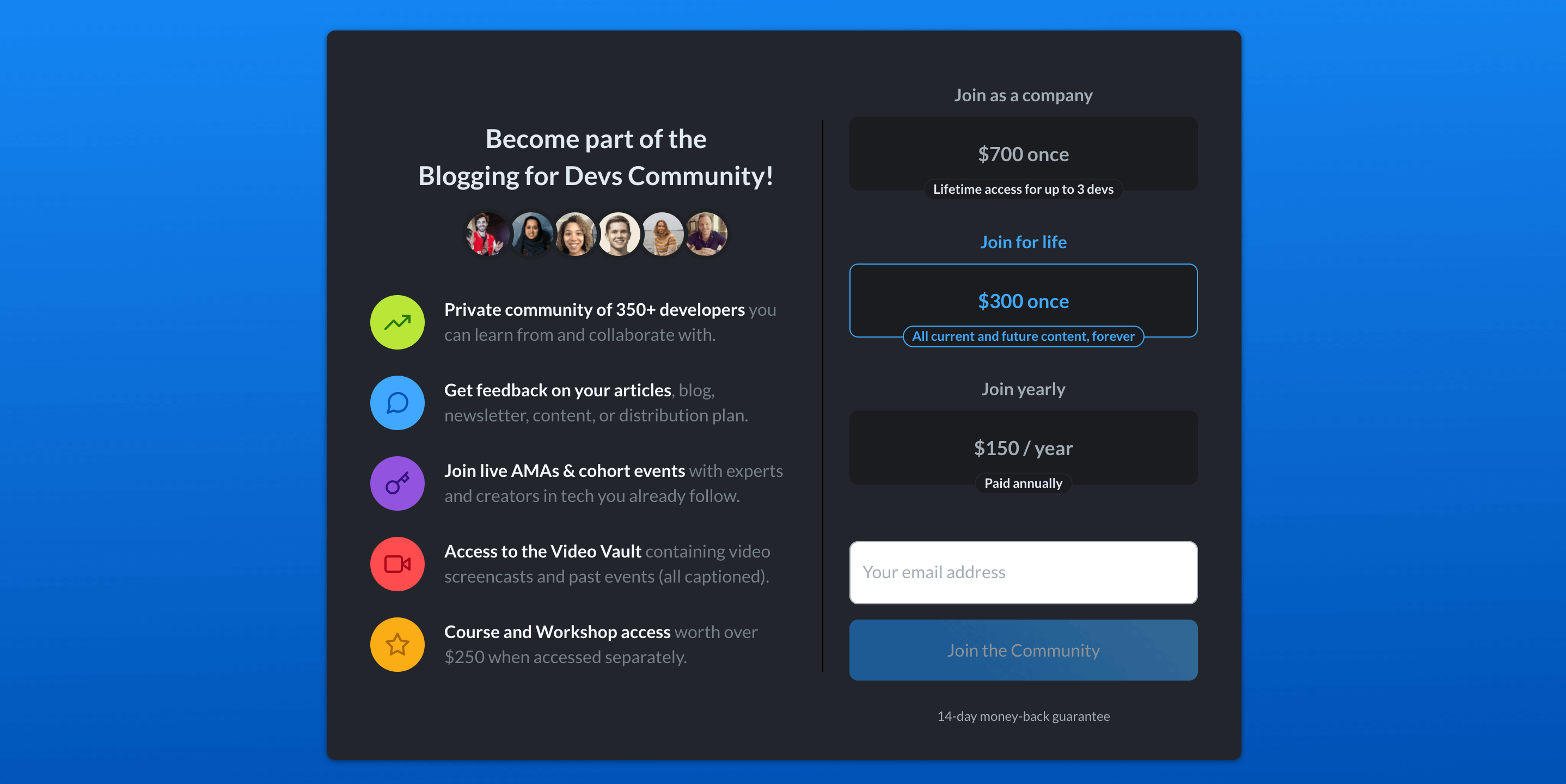 With this pricing, I may even now be financially able to introduce a very budget-friendly student/URM pricing option in the range of $50-$75 per year. It's on my list for 2022.
Blog
Traffic is down on my travel blog for a number of reasons, and it's hard to say exactly how much each is contributing:
Seasonality. — My blog mostly focuses on travel to Europe, and Winter is pretty slow in that respect. Plus with Thanksgiving, people were spending less time researching and planning trips.
COVID in Europe. — It's also way less inspiring to book a trip to Europe when the international news is screaming "FOURTH WAVE!!!!". To be fair, Europe is not looking so hot right now.
November Core Update. — Honestly my rankings seem kind of stable, so it's hard for me to say how much this has affected me in contrast to points 1 and 2.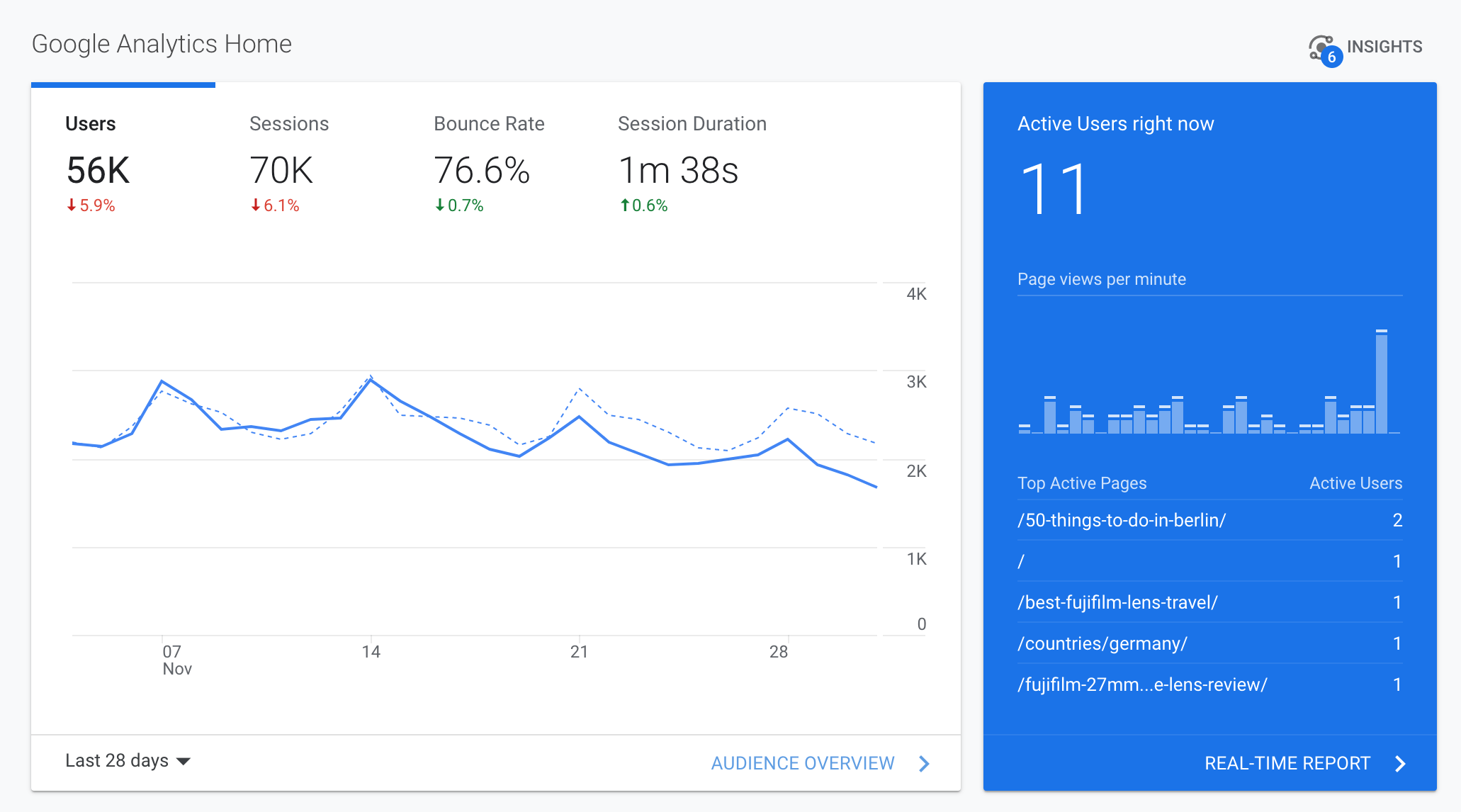 The good news is, the ad revenue I'm earning now will continue to pay me $2K/mo into February. So I've still got a pretty good buffer in terms of site revenue, even if Europe ends up in a mess of lockdowns this Winter.
I continue to believe this site will be able to do $10K+ profit per month on its own in a post-pandemic world.
The profit margin of content sites is absolutely outrageous.
Why I'm stopping my income reports
Here we are. After 11 months of writing income reports, why am I stopping? These are my reasons.
Reason 1. I've acheived my goal
My big goal for 2021 was to reach $10K in profit in a single month. As of November, I've done just that.
18 months ago, I turned 30 and earned just $535 for the entire month. All my income streams collapsed because of the pandemic, and I had to live primarily off of savings.
In the past month, I've done 20x that amount. And my path forward to 30x, 40x, and 50x seems clear enough.
Reason 2. This is not a marketing channel
My target customer doesn't really read these income reports. So now that I've achieved my goal and documented my path to $10K profit for myself, the only remaining reasons to share this transparently would be purely altruistic.
It just doesn't make sense, especially in light of the reason below.
Reason 3. Honestly, I just don't want to help my competitors
The affiliate/SEO industry can be so annoying sometimes. Everyone is copying everyone and using the same tools to do it. And I hate it.
Most people don't care about quality. They just want to rank and "get traffic."
Actually helping people, building a trustworthy brand, or any semblance of uniqueness is more or less out the window.
I know some of my competitors (or people who want to be) read these reports. And I have no interest in helping them through my hard-won learnings.
If anything, I've had to skip writing about really interesting and valuable parts of my strategy. So as a reader, you're only getting part of the picture anyway.
Finally, I just don't have a moat. Yet. But building one is going to be a big focus for me next year.
What now? Am I no longer building in public?!
Yes and no. I'll no longer be sharing revenue numbers from my travel blog, community, or SaaS product in this format.
But I do plan to publish a 2021 retrospective which nicely concludes this experiment of writing income reports for a year.
I'm also working on a monster blog post about founding a SaaS in Germany, which I hope helps other foreign founders navigate this topic. Dealing with German bureaucracy took up way, way too much of my valuable time this year.
In the end, I'll still be publishing. Just not at this level of financial detail.
Finally, 2022 is going to be big for me.
I can't say more right now, but the journey is only beginning :)
Thanks!
If you've been following along with my income reports this year, I just want to say thank you.
Even though I mostly wrote the reports for myself, it's always encouraging to hear people are getting value out of them.
Reading income reports inspired me to get started monetizing my blog years ago. So if these can help anyone realize how realistic it is to "go indie", then that is a big bonus for me.
If you haven't read my past reports yet, here they are:
As you can see, the journey is not linear. But it is cumulative.
If you want to keep tabs on this, you can find me on Twitter @monicalent 👋
If you've been following along, you'll know I've been transparently documenting my journey to this point.

Today, I published my final monthly income report.

So excited for what's next!https://t.co/X4nWZiJL1b

— Monica Lent (@monicalent) December 2, 2021