What a month: so many things going on that I can't believe they fit into the span of four weeks.
But perhaps most importantly for my mood: Berlin's weather has finally turned a corner from Winter and I'm able to sit outside and work a bit pretty much every single day.
In Berlin we're still under lockdown but at least the sun is finally here ☀️ pic.twitter.com/slgtMC2W7a

— Monica Lent (@monicalent) May 10, 2021
On top of that, I have a vaccine appointment for tomorrow (!!) which is just extremely lucky because Berlin and Germany as a whole is still very far from having an abundance of doses.
(Thank you again to Alex and her Reddit sleuthing 👊)
Overall profit is up about $500, but June is looking extra promising as I pushed back some opportunities to generate revenue while I get a new billing solution in place. Plus, travel is slowly returning to Europe and I'm seeing its affect on my blog's traffic and revenue.
As always, here's what I learned and earned in May.
Income Report for May 2021
Real quick, here's a recap of my projects:
Not a Nomad Blog (Blog) – Travel and photography blog. Used to be my most profitable project before the pandemic. Started 5 years ago.
Blogging for Devs (Free Newsletter + Paid Community) – Teaches developers about blogging and SEO. Started a year ago.
Affilimate (SaaS) – A unified revenue dashboard for affiliates. It also helps with attributing conversions back to content. Started 2 years ago.
Net profit: $2,732
$2,732 (Net profit) = $5,145 (Revenue) - $2,413 (Expenses)
This is before things like taxes, health insurance, and basics like rent in Berlin.
This is up +$500 from last month, and would be up almost $1K if it weren't for my record-setting Google Cloud Platform bill.
Total revenue: $5,145
Revenue from Affilimate was much lower this month, but because we are moving to a new billing system.
I have a few customers who want to pay, but I'm delaying until the new system is in place (to minimize the migrations and invoicing hassle, especially for other EU-based customers).
MRR is still up 12% regardless of delaying bringing on a few larger customers, and I'm looking to reach some great milestones in the next month or so.
Blogs ($1,738)* - Ads ($688), Affiliate Marketing ($1,050)
Affilimate ($660) - Subscriptions ($660)
Blogging for Devs ($2,747) - Memberships ($2,491), Affiliate Marketing ($256)
*- As always, content sites operate on a several month delay and are subject to cancelations or returns. This amount is based on revenue during the month, not payouts.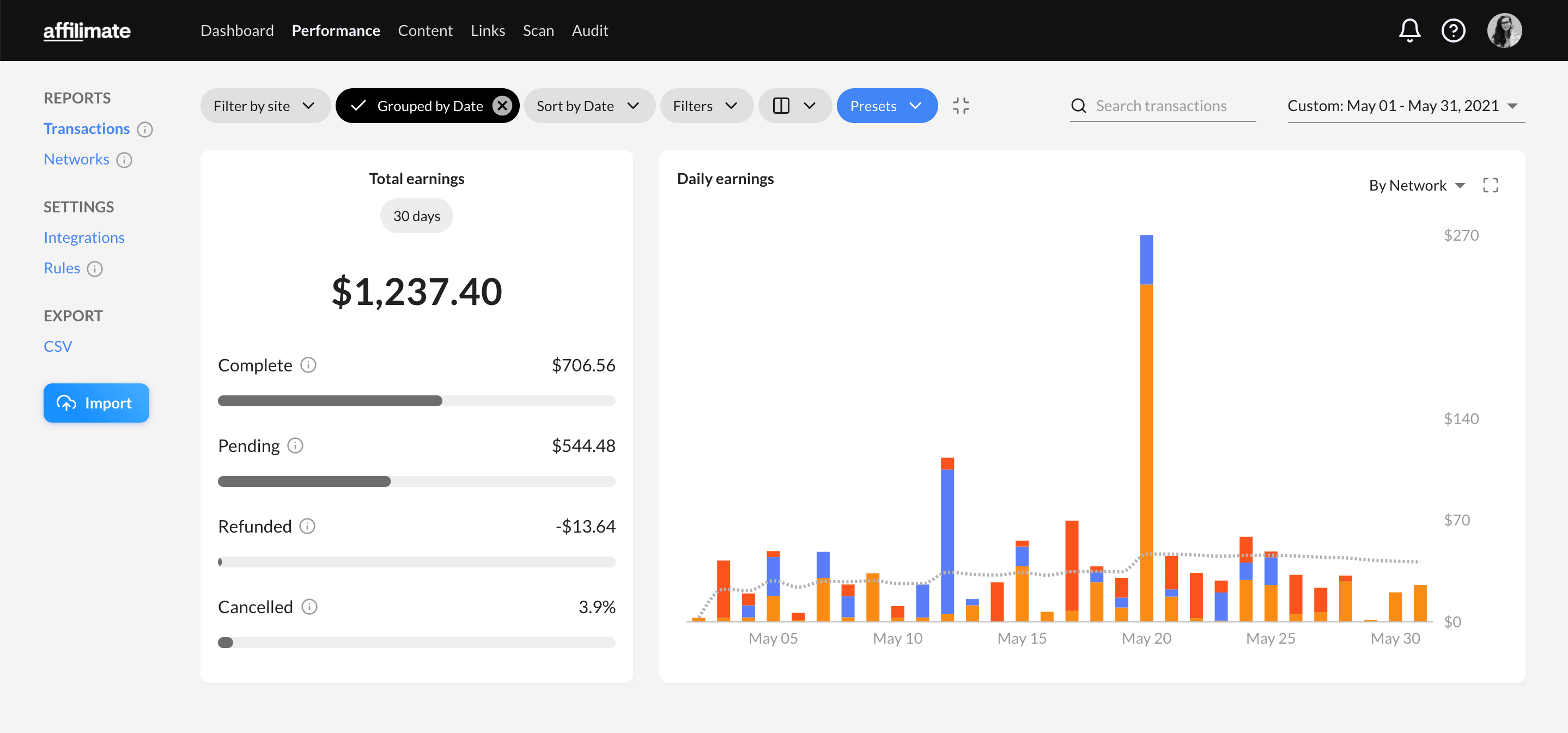 Travel is also finally starting to recover, with my travel blog's traffic up 19% in the last 28 days without publishing any new content.
Revenue is also up on my content websites from $1,211.94 last month, +$500 this month.
Once Europe re-opens to vaccinated Americans, I could definitely see this site being back to $5K/mo or even higher if the main geographies I cover are fully open again.
Expenses: -$2,413
This month I accomplished one of my Spring goals. I applied for and received Google Cloud credits!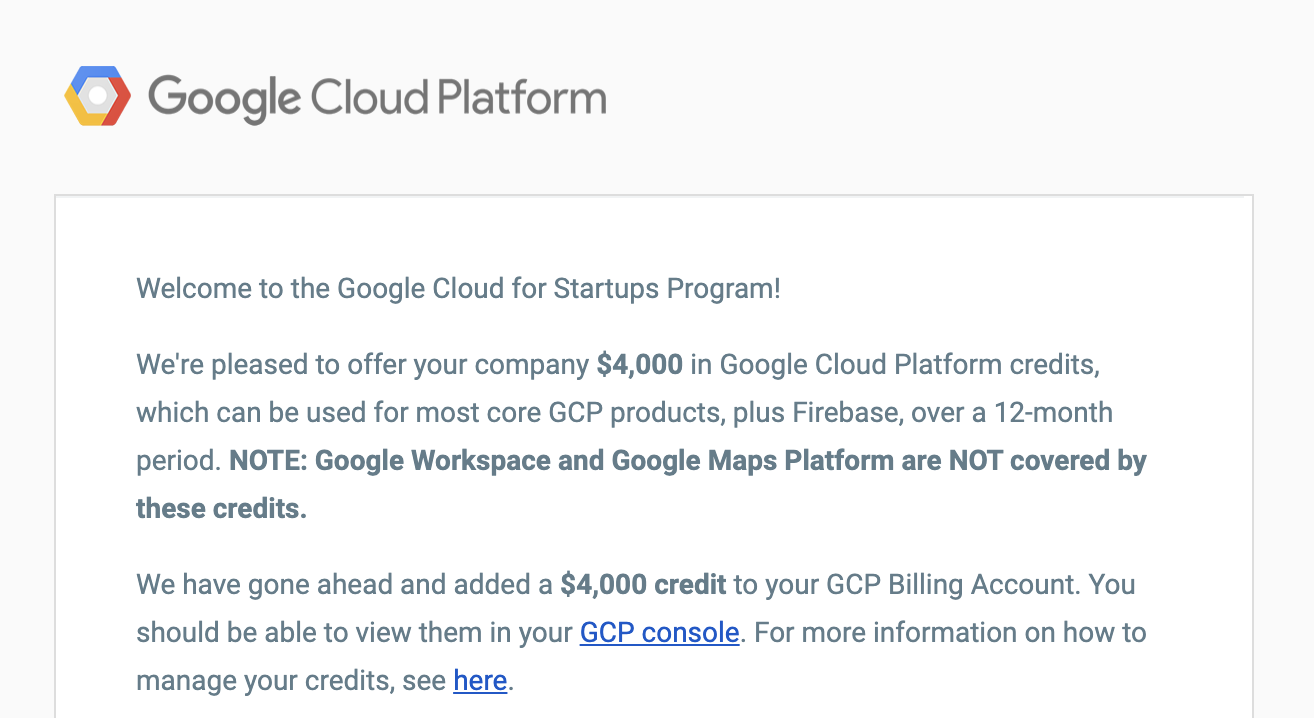 As far as I'm concerned, saving $4,000 in cloud costs over the next 12 months is effectively the same as earning it. So I'm really glad that a nice chunk of my monthly expenses will be gone for a while.
But until then, the previous month was super expensive in terms of hosting at a whopping $446 😱
Blogs (-$19) - Digital Ocean (-$19)
Affilimate (-$989) - Writers (-$480), HelpScout (-$25), GSuite (-$38), Google Cloud Platform ($446)
Community (-$829) - Descript (-$15), Event Guests (-$350), Moderator (-$165), Circle (-$99), Zoom (-$53), Hosting (-$25), Upwork (-$122)
Misc/Shared (-$527) - Business club membership (-$60), Ahrefs (-$255), ConvertKit (-$188), Adobe (-$12), GSuite (-$12)
I'm also currently testing out a bunch of Google Analytics alternatives, and meanwhile subscribed to a bunch of them. So Simple Analytics (-$28), Fathom Analytics (-$14), Plausible (-$7). Total: $49.
If I exclude GCP, I would be just under $2,000 in expenses for the month. I would really like to get to something like 70% profit margins going forward, though I'm not sure how feasible that will be anytime soon.
What happened in May
In addition to all of these things, I'm starting to learn a bit about "Enterprise" sales and bringing on bigger clients for my SaaS. Nothing I can really disclose online, but interesting to say the least.
Revamped the signup flow for Affilimate
I am still figuring out why, but there is a huge dropoff between people clicking the CTA on our website and actually creating an account.
I think part of that — which people have told me before — is that the default Firebase login buttons were confusing because they always say "Sign In" even when you're creating a new account.
So this month I shipped a totally new signup flow, to solve a few issues:
People created accounts but since we combined site URL collection and validation, we never knew which URLs had issues validating.
Validate websites through receiving data instead of scraping, which should help handle all the nasty WordPress performance plugins that mangle JavaScript.
It looks like this:
Create your account with Google or Email/Password – more obvious and separate signup page and URL.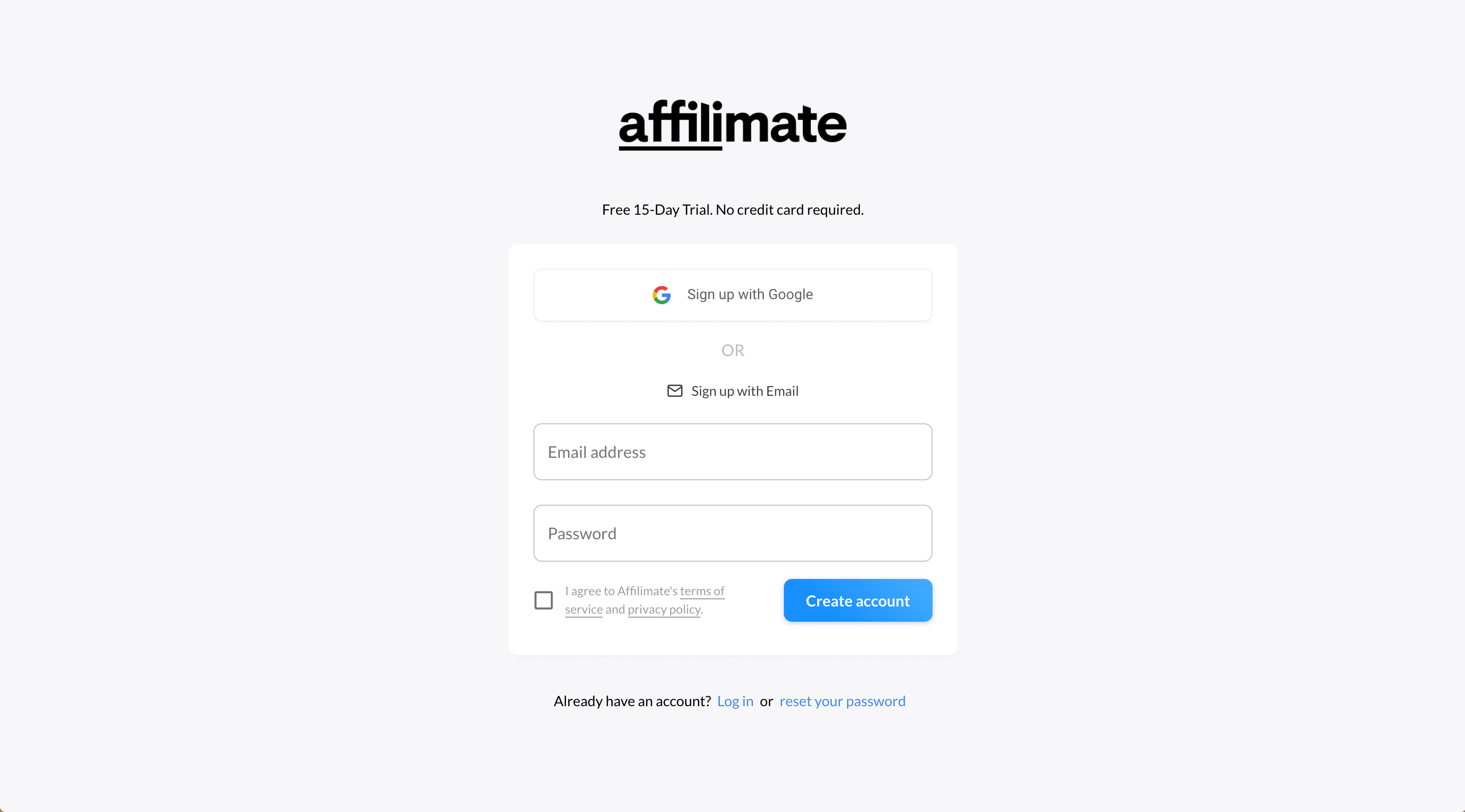 Provide a name and pre-fill the URL of your website – allows us to collect the URL and validate the setup in two separate steps, and reach out to people if they don't manage to get the JavaScript set up for some reason.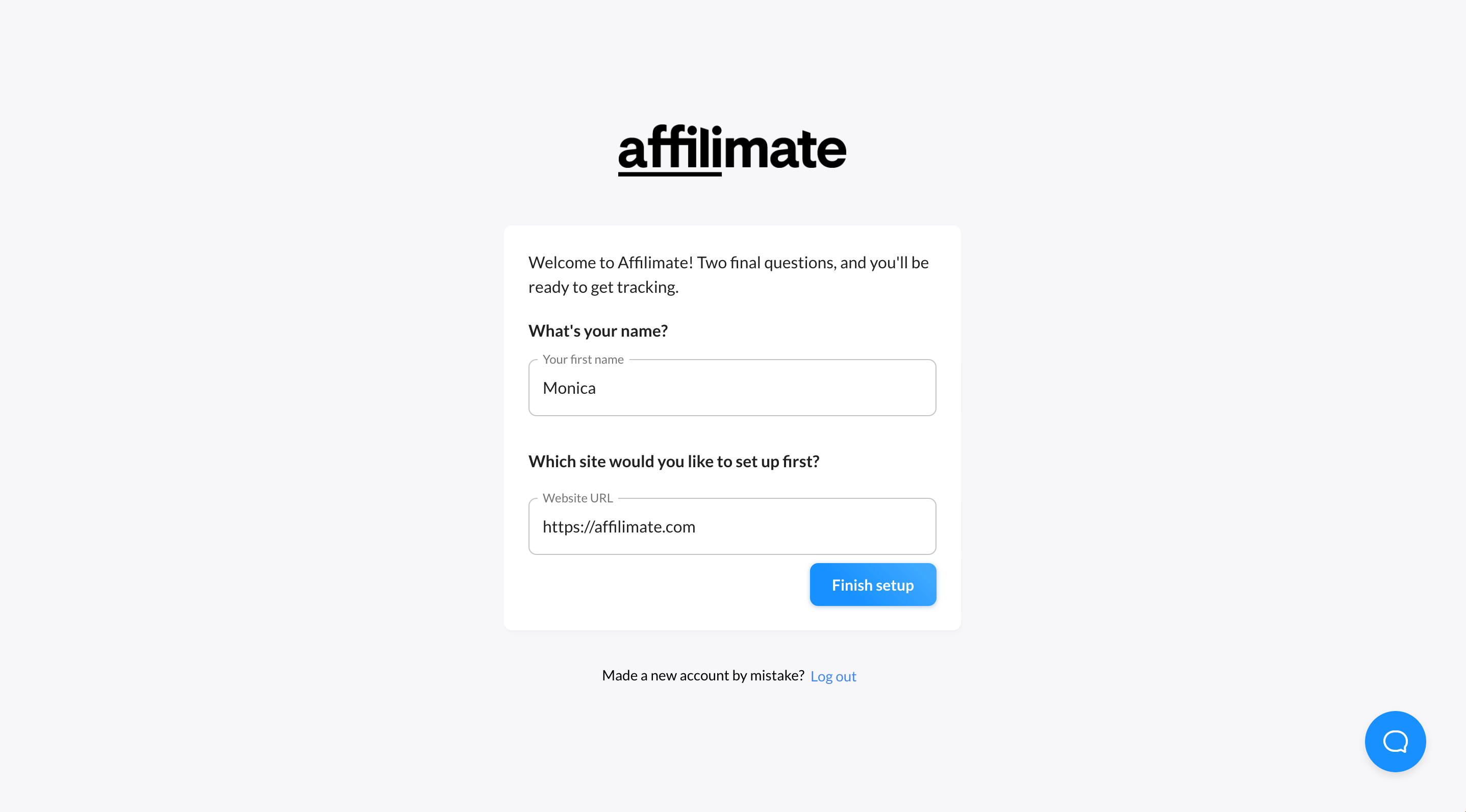 No longer force tech setup via a modal – In case someone isn't able to edit their website's code, they can still set up other parts of their account.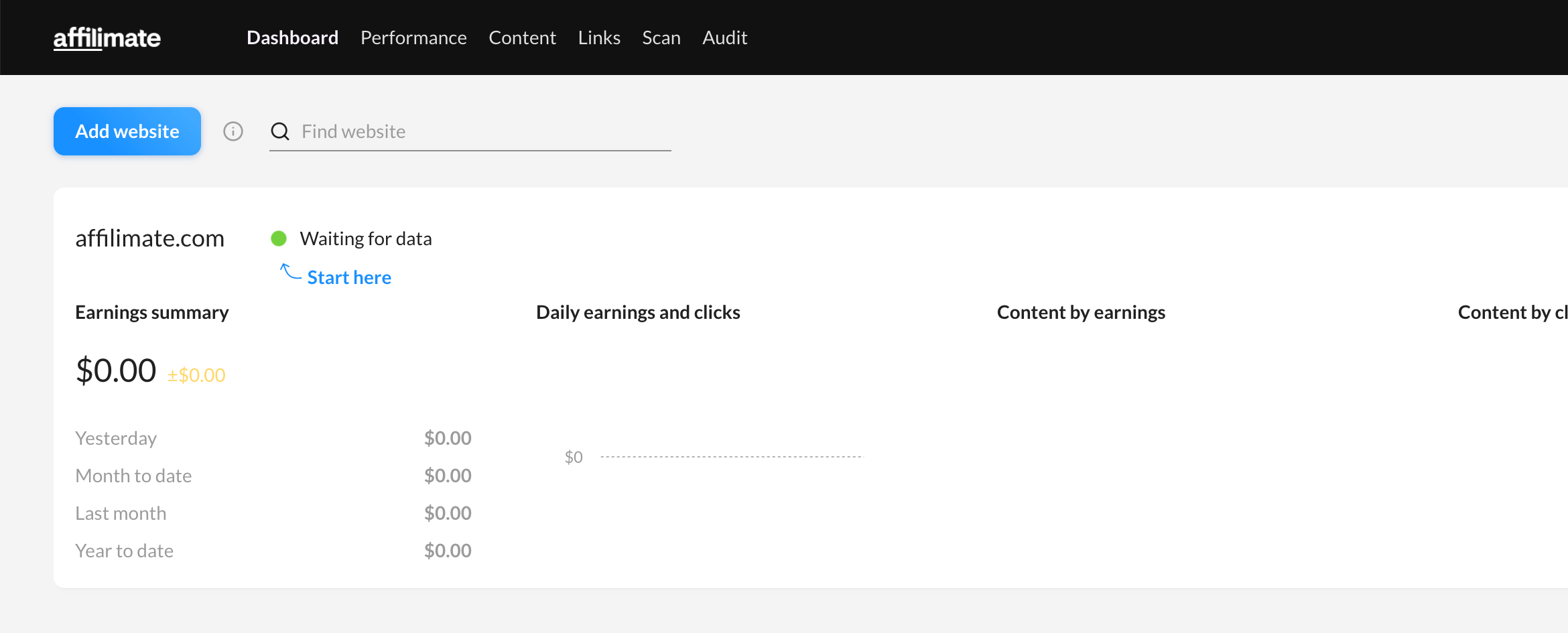 Per Platform setup instructions – I actually shipped this in April, but this month I also added a video for the WordPress setup embedded directly inside the app. So far the Vimeo analytics don't show people are watching it though…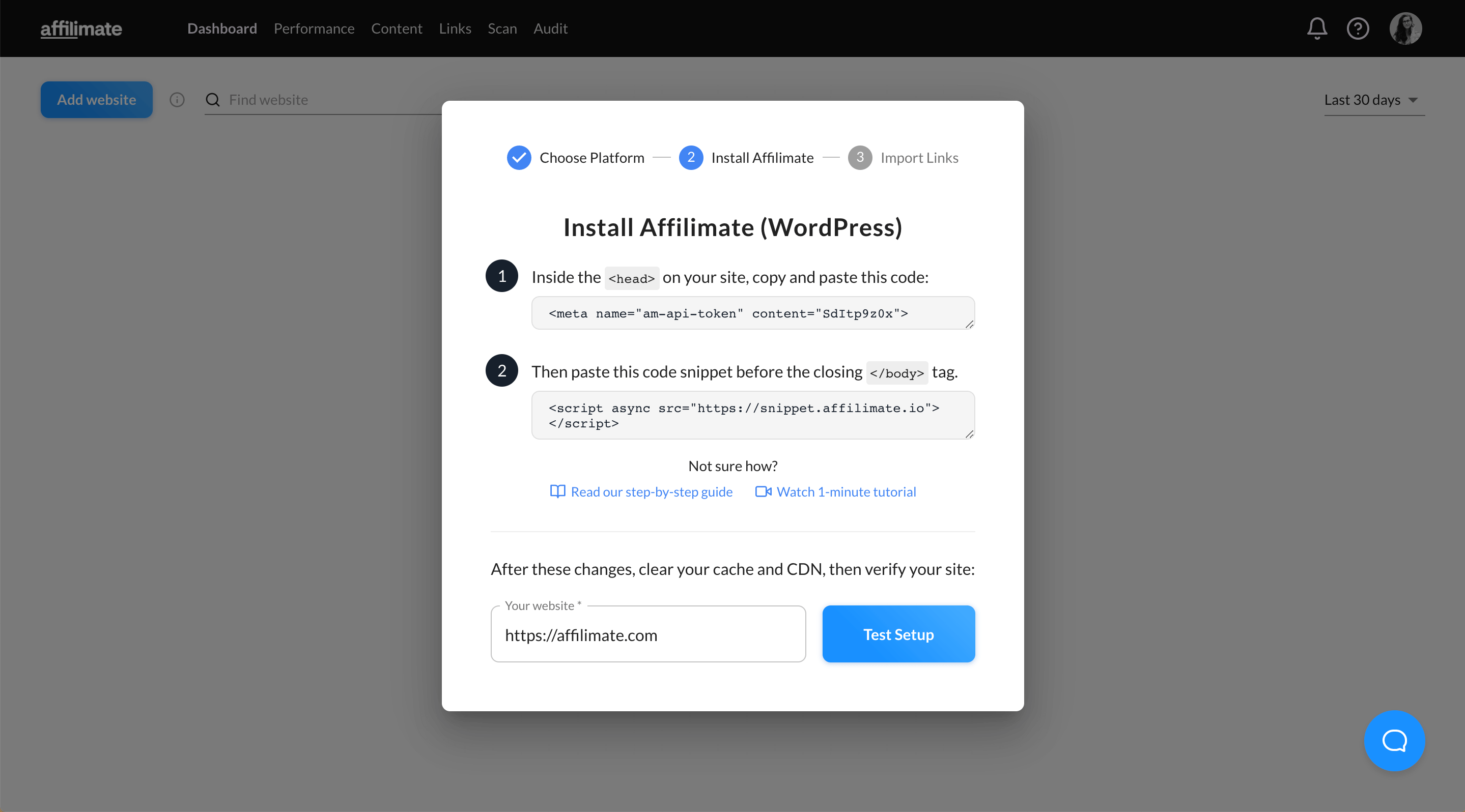 Verify the website setup – Receive data instead of scraping the homepage for the JavaScript snippet, which should be much more reliable.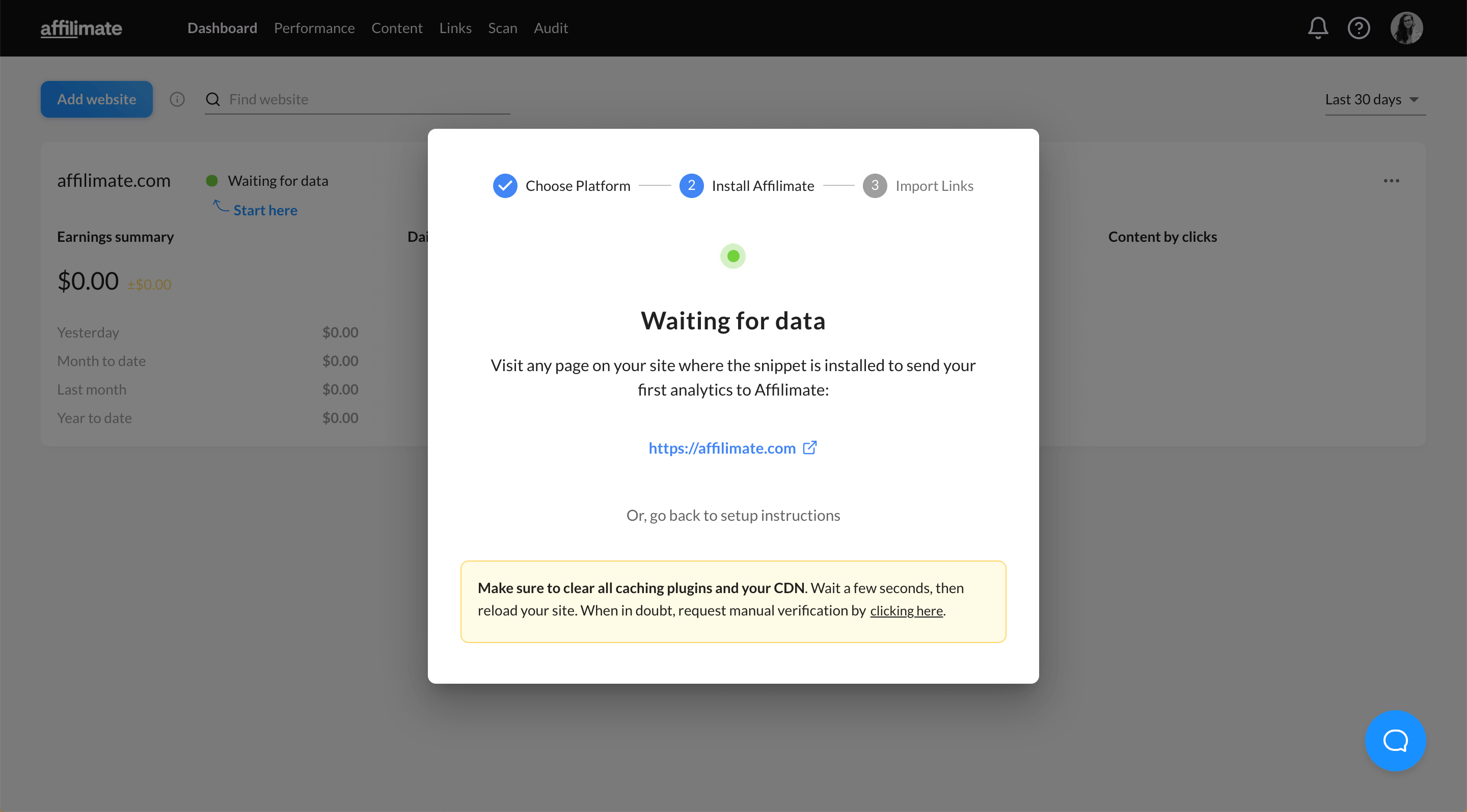 After all of this, I am not collecting enough metrics to know if it's improved things 😂
One of my goals for June is to get proper tracking of our signup funnel in place so I at least have some numbers I can start from. But from my casual tracking via Slack events, I think I have a good idea (but I could be wrong!).
Apart from all of this, I also shipped a few small new features, performance improvements, and bugfixes inside the app.
Published four blog posts on the SaaS blog
Relatedly, our traffic to the Affilimate website was up something like 30% in the last 28 days. We also doubled organic traffic (not so hard to do when you're starting pretty low).
Got four new articles on the website during May. I also published two more yesterday.

Tried Upwork for the first time
I tried to hire a video and caption editor for the BFD expert AMA sessions but it was so slow and time-consuming, and I still had to do some clean up at the end.
Still figuring out if this is something I should be outsourcing or just doing myself.
Scheduled community guests through September
In terms of the community, I've reached out and scheduled live AMAs for July, August, and September.
Stefanni also scheduled and is hosting a bi-weekly Silent Writing Hour, which so far has had great attendance and participation. It's basically like virtual co-working and is fun without requiring a ton of commitment.
Yesterday we had our first @bloggingfordevs community Silent Writing Hour! Closest experience I've had to working with friends from a cafe in over a year 😁 pic.twitter.com/y9Spu6oODq

— Monica Lent (@monicalent) May 19, 2021
Next up, we're going to be working on a private podcast for community members!
The idea is to take the past expert AMA sessions and turn them into an audio feed that people will have an easier time consuming than videos embedded in Circle.
Eventually we might also release partial episodes as a public podcast for more community marketing, but I need to take just one step at a time. That might be something for Autumn.
Newsletter reached 7,500 subscribers
I struggle to "be active" on Twitter when I'm head's down working, so I don't promote the newsletter as much as I should. But a big thanks to Josh for pushing us over 7,500 subscribers in May with his super kind recommendation:
One of my favourite newsletters is @monicalent's Blogging For Devs. It's a goldmine of little tips and tricks. This week, it's all about how to procedurally generate pages that can boost your search engine rankings 💯

You can join it here: https://t.co/EZ6PQewatN pic.twitter.com/xBHPZDXWwG

— Josh W. Comeau (@JoshWComeau) May 28, 2021
What I didn't do in May
Last month, I said I would become the email queen and send a shit ton of email, get all my lead magnets in place, and improve my opt-in rate on our SaaS Blog.
Unfortunately I mostly failed on that front.
I sent the Blogging for Devs newsletter twice, Affilimate product update + blog digest once each. I implemented a new slide-in opt-in form on the SaaS blog but so far no evidence it's converting particularly well.
A rollover task for June.
Plans for June
Home girl is taking a VACATION!
I'll be spending a week out of the month on Madeira to celebrate my 31st birthday. Feels pretty crazy, given I've been basically indoors since my last one.
Otherwise, my goals for this month:
Publish +3 articles on the SaaS blog
Get proper funnel tracking in place for SaaS signup flow
Switch to the new billing/invoicing system
Send my newsletter 3 times
Publish a private podcast for the BFD community of past events
Add 2-3 new integrations for Affilimate
Finish landing page and start my secret project, planned to launch in July ☀️
Somehow I'm going to do all of that within 3 weeks 😅
Later, skater!
If you'd like to see what's up between reports, I'm on Twitter @monicalent 👋