This month I had both my highest revenue month ever (!) at $6,861…but also biggest expenses at a staggering -$11,186. And about half of that is thanks to a single bill 😱
This brings to me to my first (and hopefully last) net negative income report.
In June, I took my first vacation outside Germany since October, which was absolutely amazing (the cover photo is from one of the hikes we did at sunrise!).
Oh, and I also turned 31 this month. And I got vaccinated!
All in all, a great month if somewhat stressful because of my giant bill. (Lesson learned: if consultants give you a "cap", they will meet it 100% of the time 🤷)
However, I'm very optimistic about everything and my 2021 goal of having $10K month in profit (excluding any kind of "launch"-type revenue) seems more in reach than ever.
Here's my income report for June 2021.
Income Report for June 2021
Real quick, here's a recap of my projects:
Not a Nomad Blog (Blog) – Travel and photography blog. Used to be my most profitable project before the pandemic. Started 5 years ago.
Blogging for Devs (Free Newsletter + Paid Community) – Teaches developers about blogging and SEO. Started a year ago.
Affilimate (SaaS) – A unified revenue dashboard for affiliates. It also helps with attributing conversions back to content. Started 2 years ago.
Net profit: -$4,325
-$4,325 (Net profit) = $6,861 (Revenue) - $11,186 (Expenses)
This is before things like taxes, health insurance, and basics like rent in Berlin.
Total revenue: $6,861
The big news here is that my blog more than doubled in revenue this month. Affilimate's revenue is flat, but only owing to delaying accepting EU-based subscribers until I have my new tax system in place.
Overall, I'm pretty happy.
Blogs ($4,121)* - Ads ($1,390), Affiliate Marketing ($2,731)
Affilimate ($851) - Subscriptions ($851)
Blogging for Devs ($1,889) - Memberships ($1,788), Affiliate Marketing ($101)
*- As always, content sites operate on a several month delay and are subject to cancelations or returns. This amount is based on revenue during the month, not payouts.
Expenses: -$11,186
I got a doozy of an expense in June: a bill from my tax advisor for consulting to the tune of 6,500€ ($7,700 USD).
Well, you can be sure that I'm going to file my VAT correctly 🤦
On top of that, I also invested in some new gear for blog, namely upgrading my camera, a new lens, and my first ever drone! What's cool is that at least for that, all three items were paid for 100% by past blog revenue.
And since my blog pays on roughly 2-3 month delay, this hasn't eaten into the $4K I made this month (and hopefully will grow to $5K in July).
Noooot the same story for my SaaS and my tax advisor 😂
Blogs (-$1,195) - Digital Ocean (-$19), DJI Mini 2 Drone + SD Card (-$726), Airbnb (-$450, travel expenses are business expenses for me)
Affilimate (-$8,985) - Tax Advisor (-$7,700), Writer (-$800), HelpScout (-$25), GSuite (-$38), Google Cloud Platform (-$200), Exchange Rates API (-$144), Affiliate payouts (-$78)
Community (-$372) - Descript (-$15), Moderator (-$180), Circle (-$99), Zoom (-$53), Hosting (-$25)
Misc/Shared (-$634) - Business club membership (-$146), Ahrefs (-$263), ConvertKit (-$188), Adobe (-$12), GSuite (-$12), Keywords Everywhere (-$13)
I'm also currently testing out a bunch of Google Analytics alternatives, and meanwhile subscribed to a bunch of them. So Simple Analytics (-$28), Fathom Analytics (-$14), Plausible (-$7). Total: -$49.
All in all, a super expensive month.
What happened in June
Blog: My travel blog increased 2.3x in revenue
Last month my blog made $1,738 and I predicted that I could reach $5K per month from my blog by the end of the Summer. This month, I reached $4.3K in projected revenue.
Looks like we'll be getting to the goal much sooner.
My blog's traffic grew 44% in the last 30 days, thanks both to countries in Europe re-opening and getting a boost from the Google June Core Update.
This is still less than 50% of my peak traffic in December 2019, so I'm very hopeful this trend will continue and both visitors and bookings will double or even triple by the end of the year.
Meaning, my blog breaking $10K in monthly revenue all on its own.
This would be immensely helpful because of all my projects, it requires the least maintenance and (most months) incurs virtually zero expenses on its own.
I did invest in a tiny drone (!) I've been thinking about for over a year, but obviously couldn't justify when I wasn't making any money during 2020: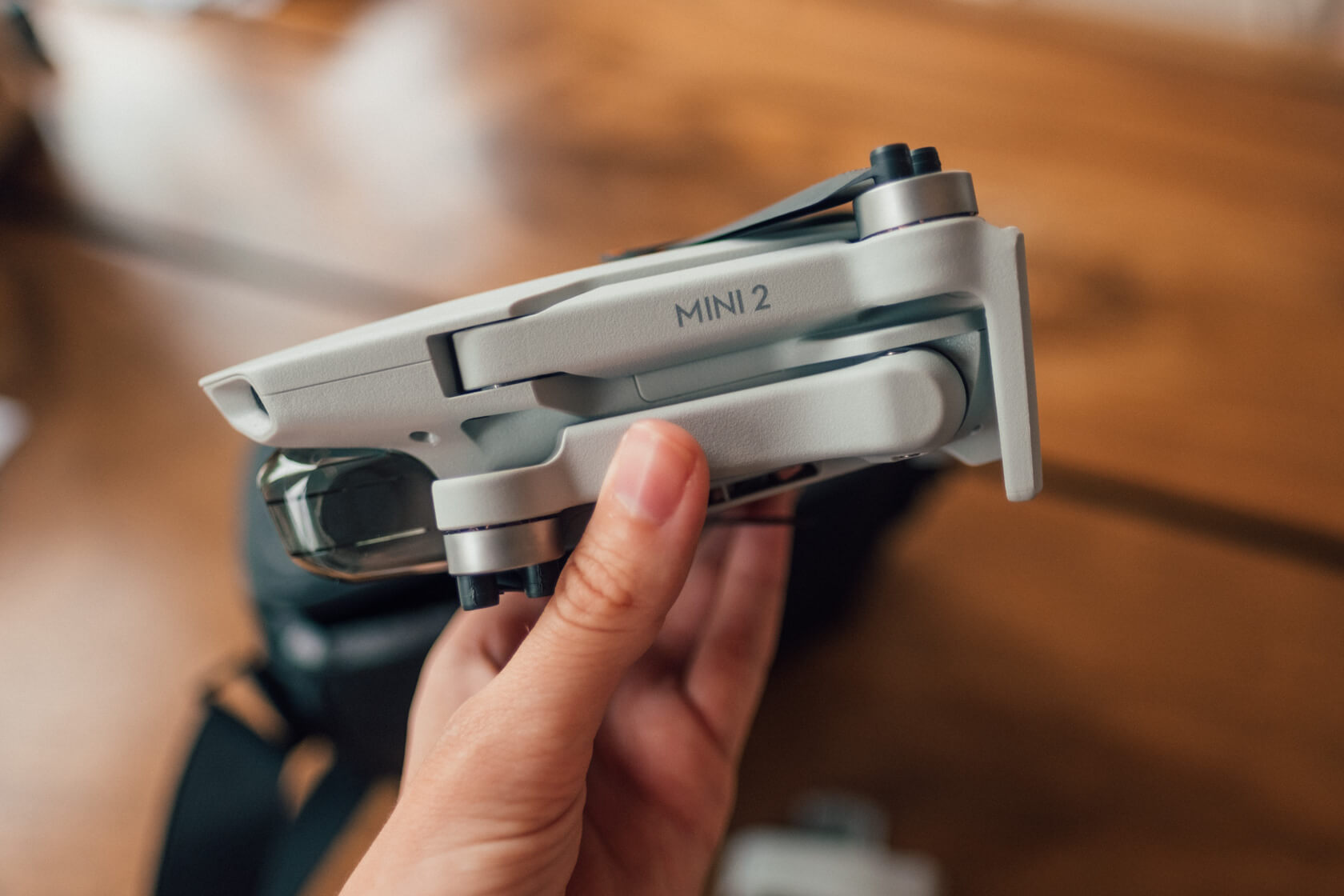 Only trouble is finding a place to practice flying near Berlin seems virtually impossible, but I've got a trip planned for the end of July which should result in places to practice.
Back to the blog: I also published 4 new articles, and have refreshed some content as well. Soon it will be time to prepare some new Winter content and rank it in time, here's to hoping COVID doesn't flare up.
Affilimate: New payment flow, published 4 articles and released 3 integrations
This month's revenue was lower than it could've been, as I am still waiting for some information from the tax office before I can put my new payment flow live. The exciting part is, this month I should break $1K in MRR!
In terms of what I did in June, I created (but haven't released) a new payment dialog and implemented Stripe Tax.
Here's how it looks once your trial has expired: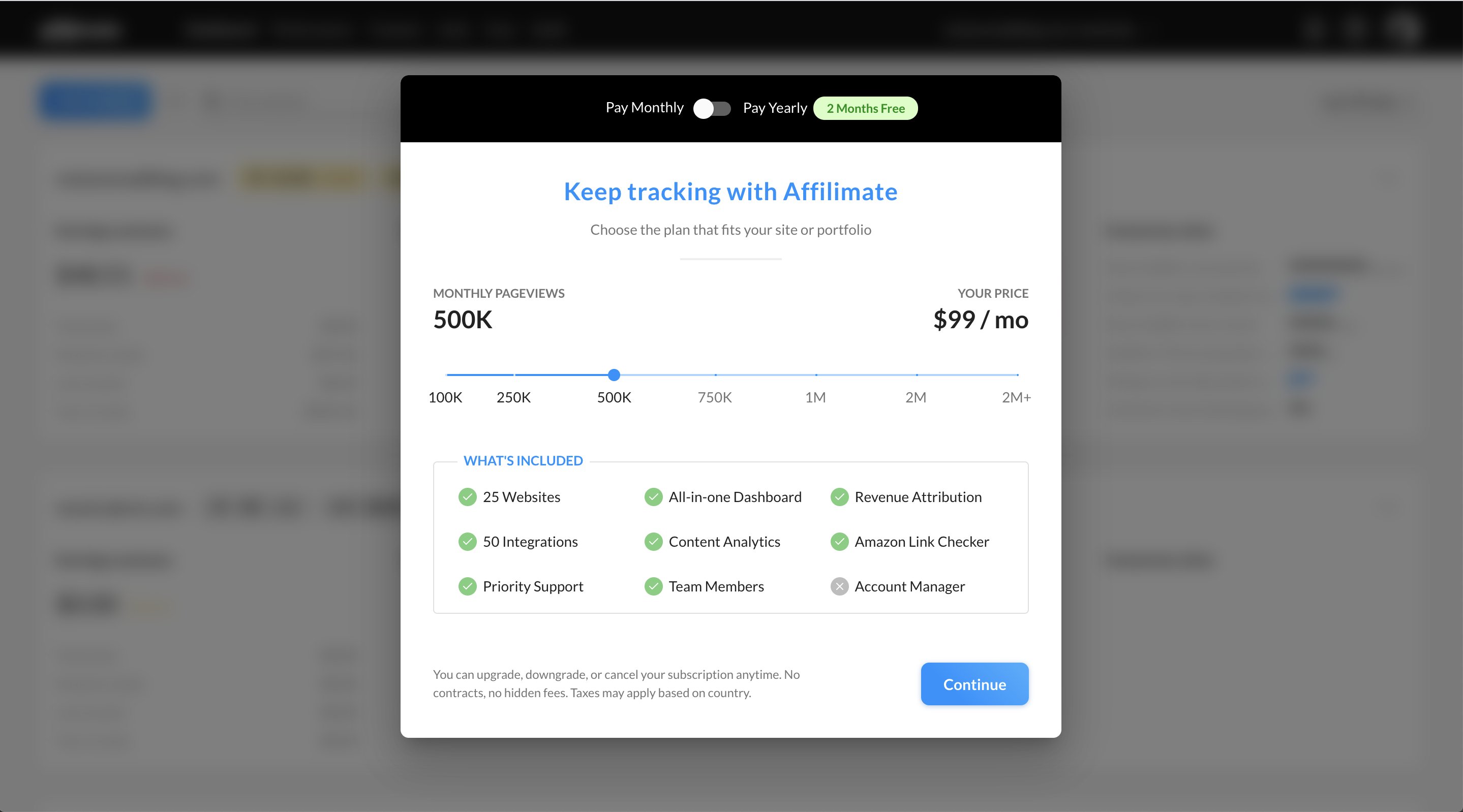 Basically, I want to make all our payment plans up to 2 million visitors per month fully self-service and transparently priced on the website.
And once you sign up to become a paid subscriber:
Just installed a package for the sole purpose of adding confetti to my SaaS app 🎉 The final piece of my new signup and subscription flow! pic.twitter.com/2DRUJcyb2x

— Monica Lent (@monicalent) June 10, 2021
Hoping to put this live this week!
I also cranked out 3 new integrations in a single weekend, and got four blog posts live. I'm a bit behind on posting some of the content from my writer, so hoping to catch up on that this week.
Lastly, I also have been good about sending out a monthly product update email to everyone who's ever signed up for a trial. My open, click, and reply rates to these emails are all great and it's a really cool way to connect with customers and re-activate people who let their trials expire.
Love getting these emails!
I also grew the Affilimate blog's email list by 22% (it's starting really small).
One thing I screwed up this month was I accidentally made our website invisible on mobile breakpoints 🤦 This definitely hurt our traffic and I think Google is sad with us as our organic growth flatlined.
Blogging for Devs: Growth slowed
Blogging for Devs membership growth slowed, in large part because I only sent the newsletter once during June and I haven't been on Twitter much marketing it. Churn remains very low however, so the revenue generated is somewhat stable.
I'm planning something very cool for August, which is one of my main goals for this month! More on that below.
Took a vacation
Finally, I left Germany for the first time in 8 months for my 31st birthday.
It was so good to turn on my email autoresponders and take a real vacation. I spent a week on Madeira with my boyfriend and hiked something like 45 kilometers, ate my weight in bread, and got two sunburns.
All in all, magic.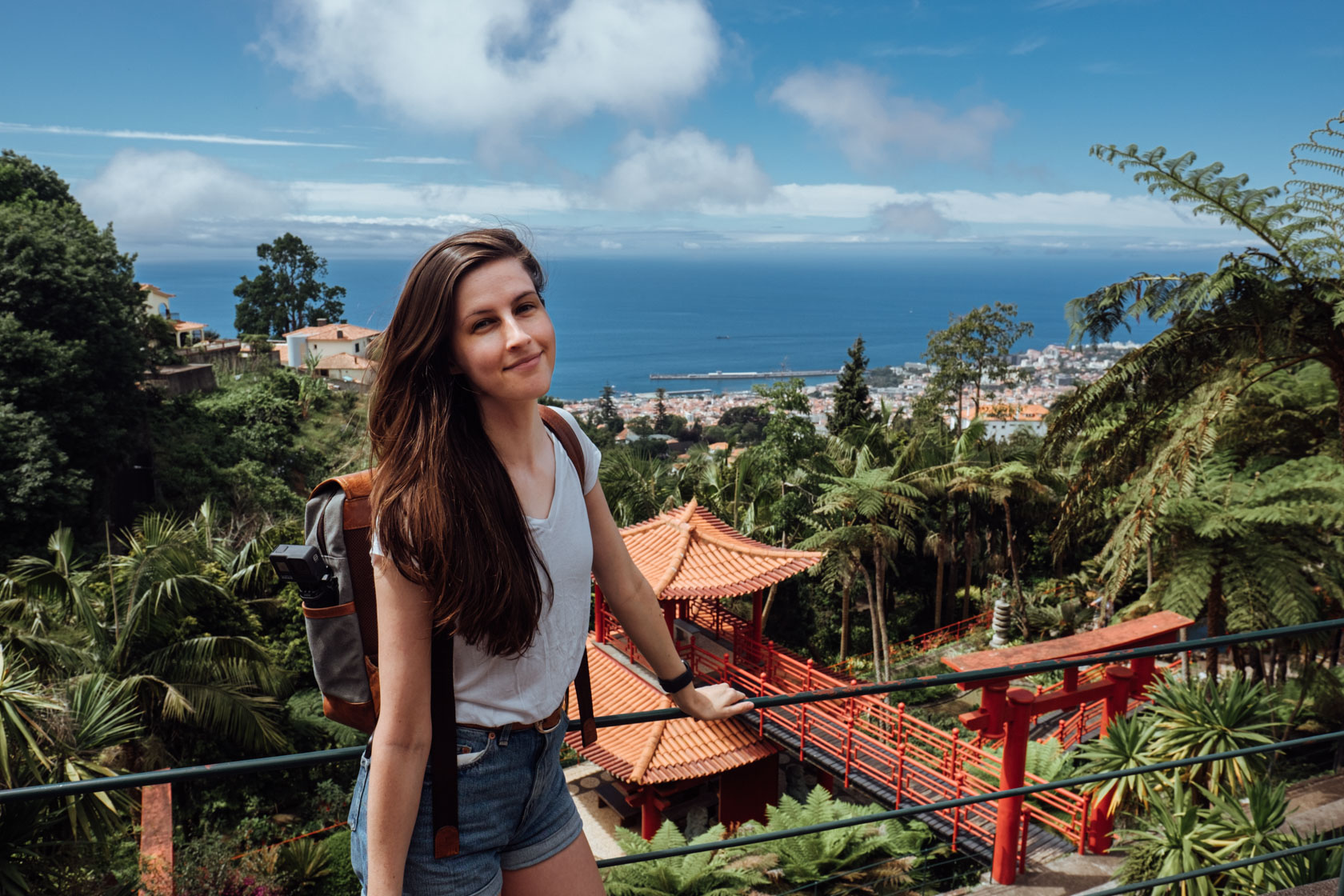 Being able to spend my time how I wanted is one of the main reasons I decided to start my own businesses, and this trip felt like a small validation that I'm on the right track.
Only trouble is I came back to something like 300 emails 😄
Plans for July
I have an ENORMOUS list of things to do in July, but if I accomplish all of them, I'm going to feel great about the trip we're planning at the end of the month to the Harz Mountains.
Affilimate
Ship the new payment flow and subscription management with Stripe Tax. This is my #1 goal which should conclude the main improvements I've been working on for our onboarding flow for the first half of the year.
I also have a few new integrations and features to get started on. But what's awesome is that the more I use my own product to grow my travel blog's revenue, the more ideas I get to make the product better for others.
Win-win.
Blogging for Devs
I'm currently re-purposing and splitting up two webinars I've done for the Blogging for Devs community into a free, SEO mini course.
I'm planning to run it as a live cohort inside the community including weekly office hours. Then, I'll make it available through an email drip campaign as another way to grow the Blogging for Devs email list.
My other goal for the month is to take my best newsletter emails and pull them into a "Greatest Hits" post-email-course sequence so people who finish the course get to catch up on my best, past emails.
I also want to send 2 newsletters this month.
Travel and Travel blog
Finally, I'm planning a trip for the end of the month to the Harz Mountains in Germany. Given the travel restrictions are still pretty fluid because of the Delta variant, I'm taking the opportunity to travel more inside Germany.
The entire country of Germany only had 411 new COVID cases yesterday. The ENTIRE COUNTRY. We also recently surpassed the US in terms of percentage of population vaccinated. Seems like a great time to travel here.
I found this amazing blog (in German) with lots of information and beautiful photography the Harz, Moselle and Rhine Valleys, and Bavaria, all of which I'm hoping to visit over the next few months (and of course, write about on my blog).
First up is Harz, just 2.5 hours / 240 kilometers from Berlin. Here are some photos to give you an idea:
As for the blog, I'll keep optimizing the revenue and content with a small number of new published posts. But mostly, letting it do its thing and make money while I build the free SEO course and work on growing Affilimate.
My little empire is coming together 😄
Later, skater!
Alright, it's noon now so time to get to "real work".
If you'd like to see what's up between reports, I'm on Twitter @monicalent 👋