Everyone has their gateway drug to entrepreneurship.
For me, and for a lot of other people, that was reading income reports.
Pat Flynn's in particular.
If you've never heard of Pat, he runs a website formerly called Smart Passive Income (now rebranded to just SPI).
Back in the day, Pat had his monthly revenue listed in the top right corner of the website. It looked kinda like this, but less polished: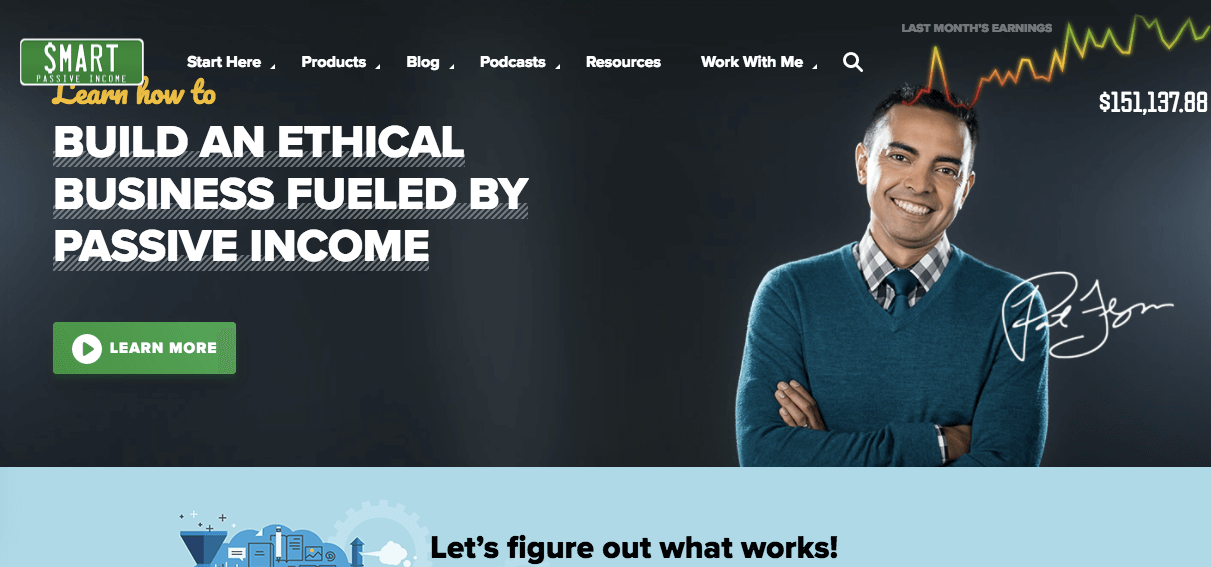 Pat stopped publishing his income reports around 2017. His last monthly report, from December of that year, disclosed $125,819.91 in net profit.
While disappointing at the time, I get why he stopped publishing them.
The strategies he could now use as an online millionaire with legions of followers were no longer relatable for people just getting started.
Still, thanks to reading Pat's income reports, I made my first real money "on the internet" from my travel blog.
(That is, excluding the time little Monica spent in the early to mid-2000s, learning to code by selling HTML/CSS layouts and PHP plugins on forums. A penchant for unusual income streams was clearly present from an early age.)
Within the last few years, I turned my eyes towards building software businesses.
This time, I was inspired by new sources.
Namely, Pieter Level's scrappy but profitable PHP files and listening to the Indie Hackers podcast. I, too, wanted to make a single PHP file earning hundreds of thousands of dollars per year!
Here's what they all have in common:
People openly sharing what money they made, and how, is what helped me realize something that totally changed my life.
That I don't have to spend it working my ass off to make someone else rich.
Instead, I can work my ass off for myself and spend a lot of time losing money and questioning my life choices – but we're both hoping I'll turn things around this year, eh? 😄
Jokes-that-aren't-jokes aside, after a somewhat abysmal first year as a full-time indie product builder, I'm sitting here in 2021.
My head is just above water. And it feels like I'm able to see land for the first time in a while.
Writing my own income reports and retrospectives are a way I'm going to try to check-in and examine my progress on a monthly basis.
Which brings my to my final point before sharing the numbers.
Who are these reports for?
Honestly, these income reports are at least 90% for myself. I want to look back on a year's worth of these in December and be super proud of the progress.
It's also just helpful when you have a bajillion disparate income sources to turn them into something coherent every month. Reflection and all that.
They will be pretty messy compared to most of the writing I've done lately on this website. And I will not, and cannot, spend more than 1 day out of the month to prepare them.
The other 10% is to potentially inspire someone else to get started. Like what reading about Pat's or Pieter's journey did for me.
TL;DR – I'm writing income reports now. Here's what I made in January from my software and blogs.
Income Report for January 2021
Here's what I earned and what I did in January this year:
What's important to note before looking at these numbers is my 2020 retrospective, which shows my my bootstrapping income month by month.
For most of the year, it was devastatingly low: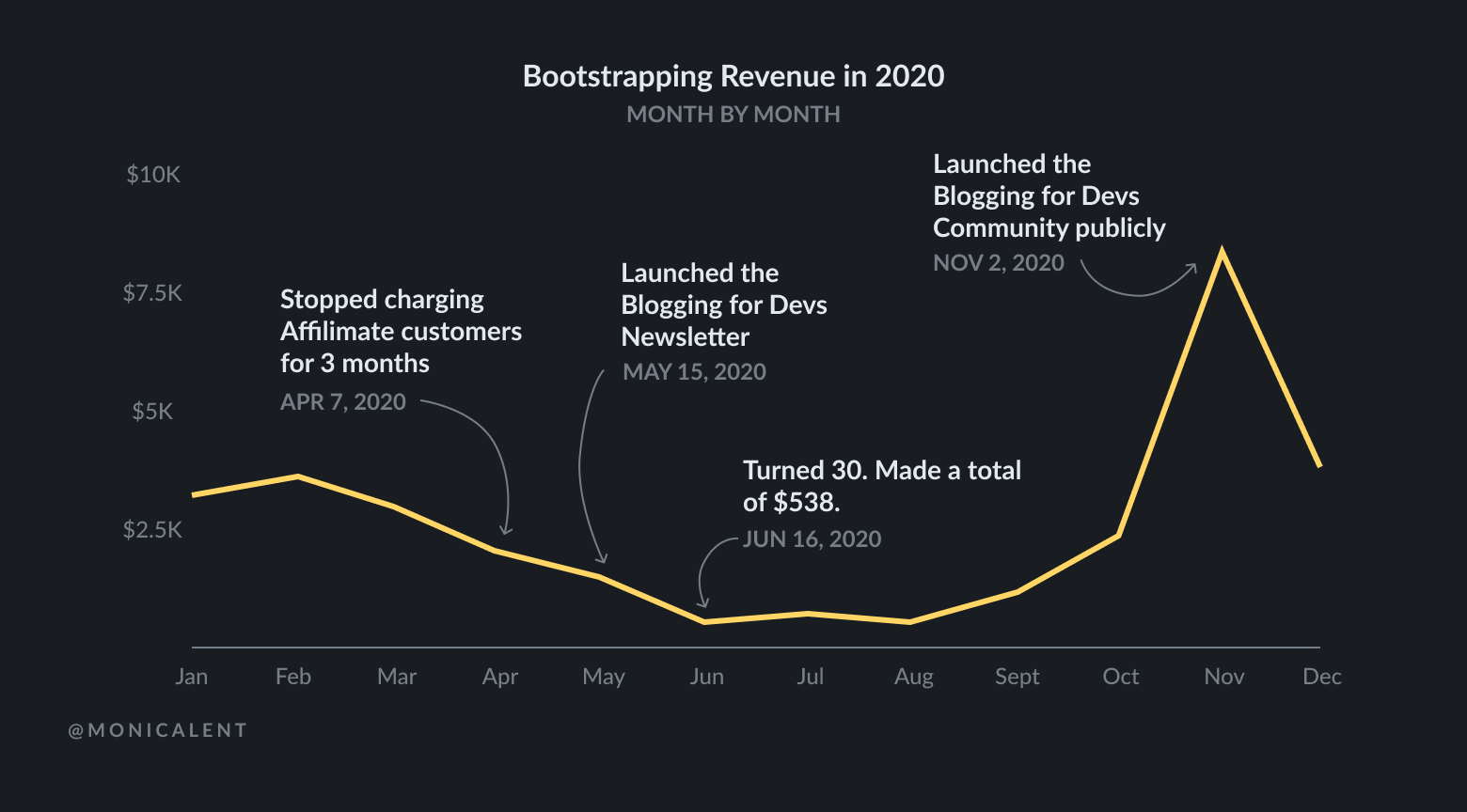 So if you're just getting started, or are feeling discouraged right now, I'd suggest reading my article No Prize for Doing It The Hard Way before you read this one.
Real quick, here's a recap of my projects that earn income + what they are:
Not a Nomad Blog (Blog) – Travel and photography blog. Used to be my most profitable project before the pandemic. Started 5 years ago.
Affilimate (SaaS) – A unified revenue dashboard for affiliates. It also helps with attributing conversions back to content. Started 2 years ago.
Blogging for Devs (Free Newsletter + Paid Community) – Teaches developers about blogging and SEO. Started 9 months ago.
Net profit: $4,341.29
If you're not familiar, net profit is calculated like this:
Net Profit = Total Revenue - Total Expenses
It is a way less glamorous number than revenue, but it's what matters. That's why I'm listing it first.
In January 2021, I had an approximate net profit of $4,341.29.
$4,341.29 = $6,212.16 (Revenue) - $1,870.87 (Expenses)
This is before my rent in Berlin ($1.3K), health insurance ($991), which brings me to about $2,030 in money earned this month that will stay in the bank.
Less than a junior dev salary in Berlin, but I'm still proud to have arrived here after my all-time low of $538 in June 2020 😅
I'm almost back to where I was in December 2019.
Total revenue: $6,212.16
Not a Nomad Blog* ($968.85) – Affiliate earnings: $507.15, Ad revenue: $461.70
Case Study website* ($36.84) – Affiliate earnings: $36.84
Blogging for Devs ($4,537.96) – Community memberships: $3,869.66, Affiliate earnings: $193.30, Newsletter sponsorships: $475
Other ($668.51) - Miscellaneous projects
Expenses: -$1,870.87
By far, my biggest expenses every month are Google Cloud Platform (hosting) and ConvertKit (my email service provider).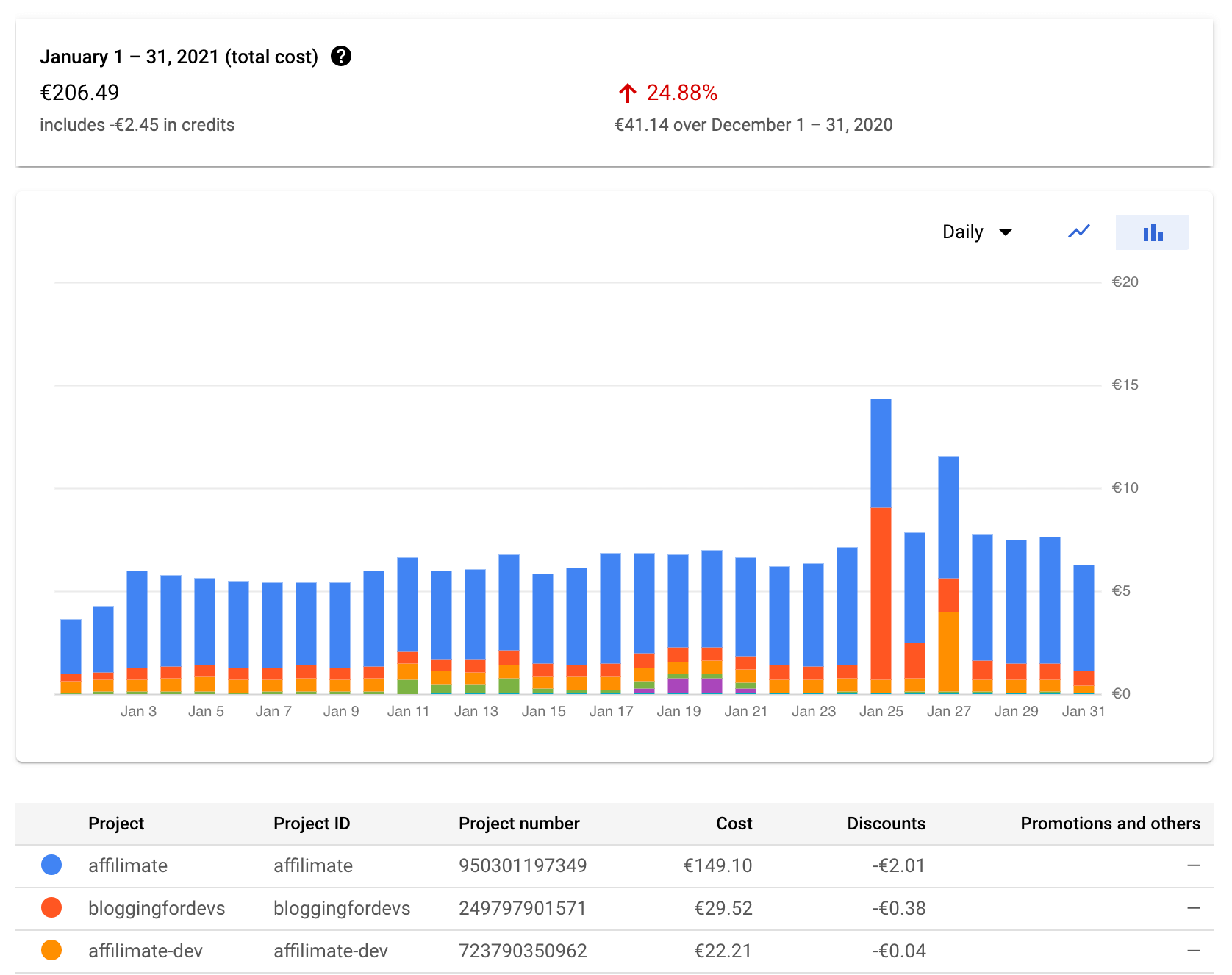 Content sites (-$18.70) – Digital Ocean: -$18.70
Blogging for Devs (-$787.86) – Guests: -$600, Zoom: -$53.67, Circle: -$99, Google Cloud Platform: -$35.19
Shared expenses: (-$419.33) – Adobe Photography Plan: -$12.15, Ahrefs: -$126, Coworking address: -$50, ConvertKit: -$231.18, Google Cloud Platform: -$204.41, GSuite: -$38, Namecheap renewal: -$34.98
This month I also bought a microphone arm ($97), Screenflow ($152), and an annual subscription to a Twitter analytics tool ($119).
There are way more expenses to run each of these that I opt to pay annually, such as Otter.ai, Vimeo Pro, Zoom Webinars, and plenty more I'm forgetting.
What I did in January that made a difference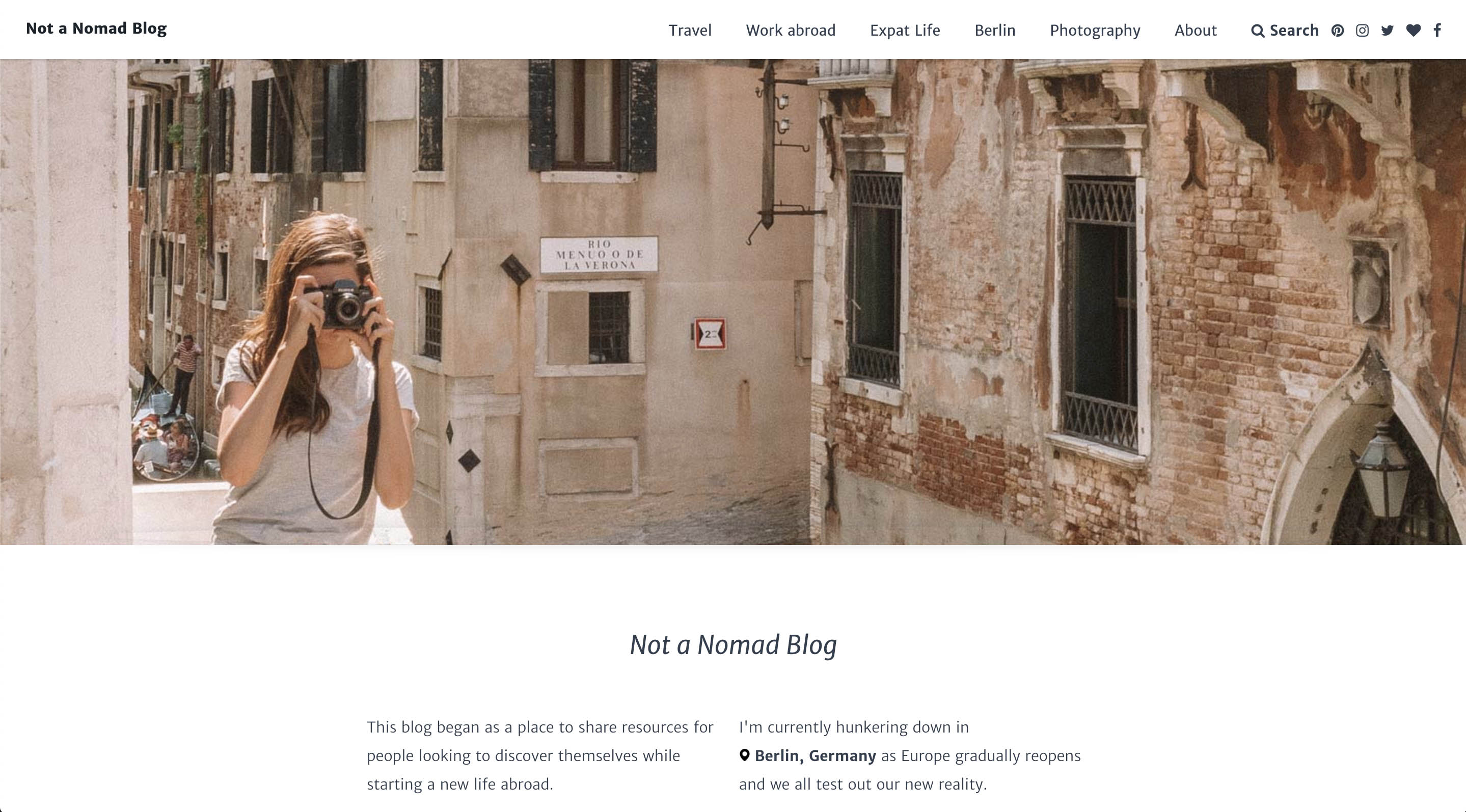 Not a Nomad Blog – I spent 2-3 days to do a big content refresh and updated my Last Updated dates, which 2x-3x'd my organic traffic by the end of the month.
Since it's a travel blog, revenue and traffic has been dismal since the beginning of the pandemic.
500 users/day is the absolute rock bottom I've hit so far.
Still, I'm optimistic about domestic Summer travel. There is a possibility of the blog going back to generating a few thousand dollars per month by the end of the year with a bit of upkeep.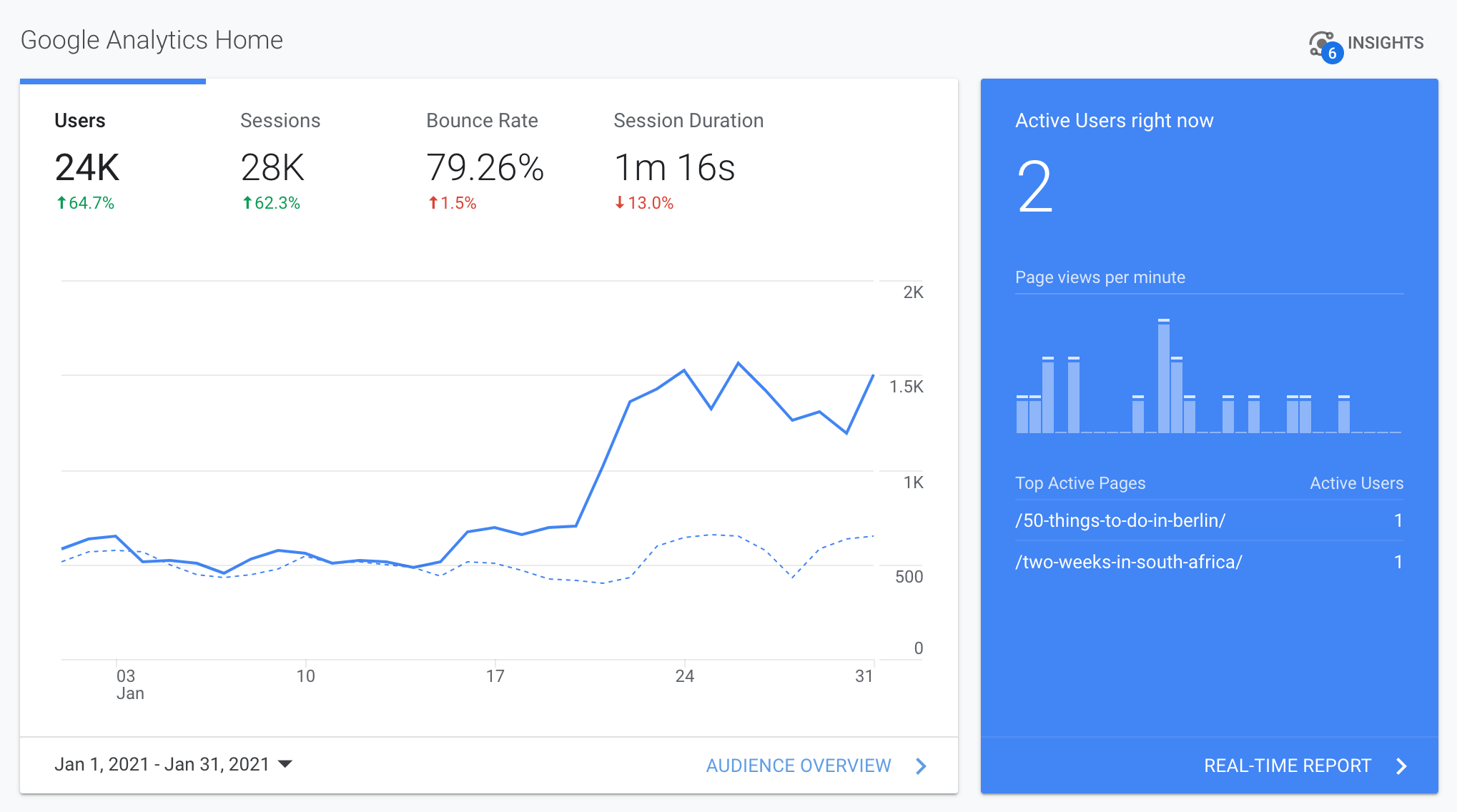 Impact of updating old content about 2 weeks afterwards. Most traffic is from Google, some is also from Pinterest.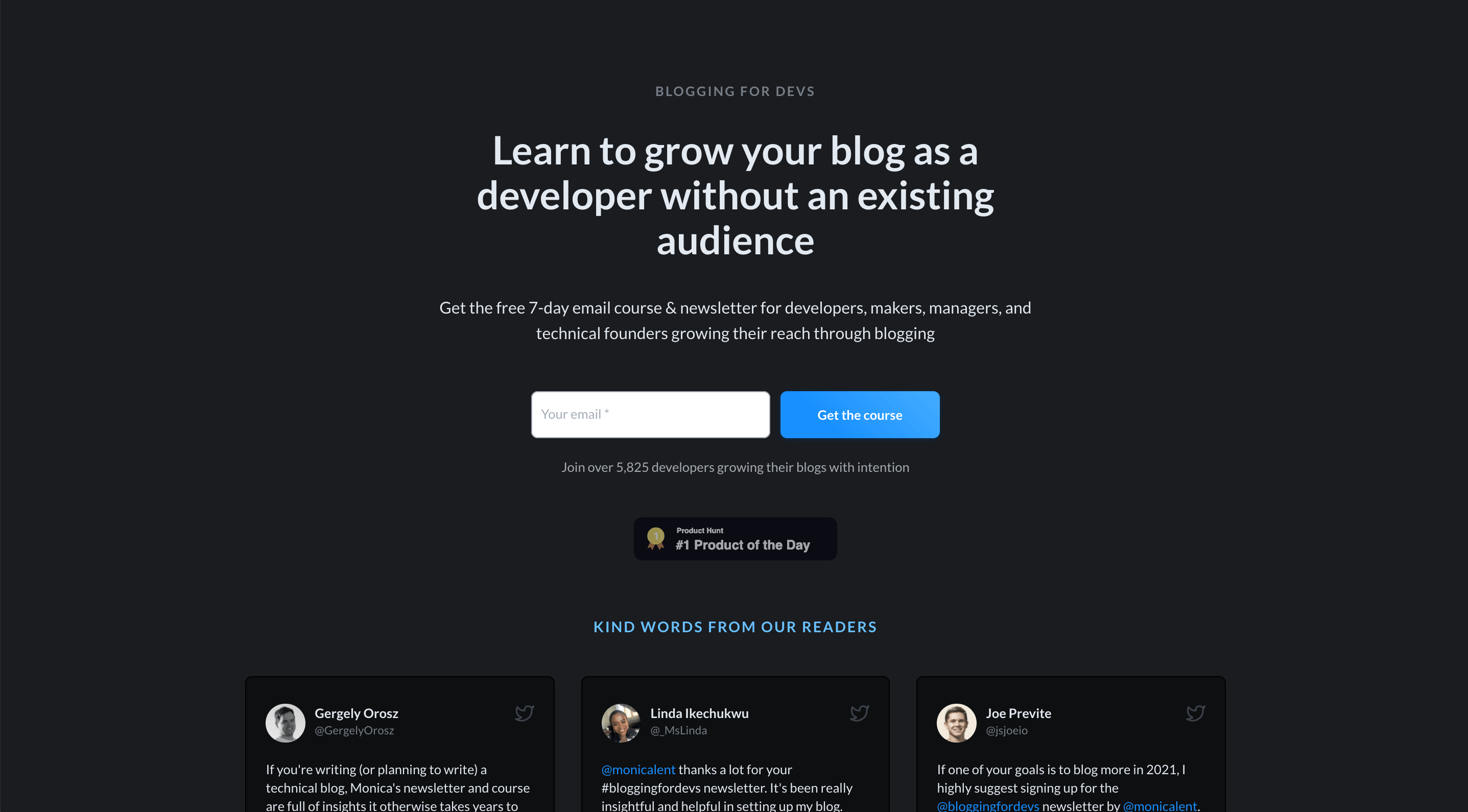 Blogging for Devs – I made a few big changes during January, which contributed to this project becoming more sustainable given the sheer amount of time I invest in it (currently 60-70% of my week, sometimes more). The community is currently at about $1.3K MRR.
Swapped the monthly plan for a quarterly plan. Almost 100% of community churn was from people who signed up for 1 month and never "activated" in any meaningful way. Quarterly pricing seems to be attracting people who are more committed. It also gives people more time to see if it's a fit for them.
Got rid of the lifetime plan. Ultimately I didn't want to have to "keep getting members" to make the community sustainable to run. Starting with a lifetime plan did help a lot to fund some up front investments I had to do like annual SaaS subscriptions, plus paying back what I'd already spent so far.
Got my first inbound newsletter sponsors. Pretty cool, given the newsletter takes me 1-2 full days to create. What I need to measure is if this "distracts" from people deciding to join the community, though.
Thanks to John for his advice on switching up the pricing structure for the community. For now it seems like a better fit.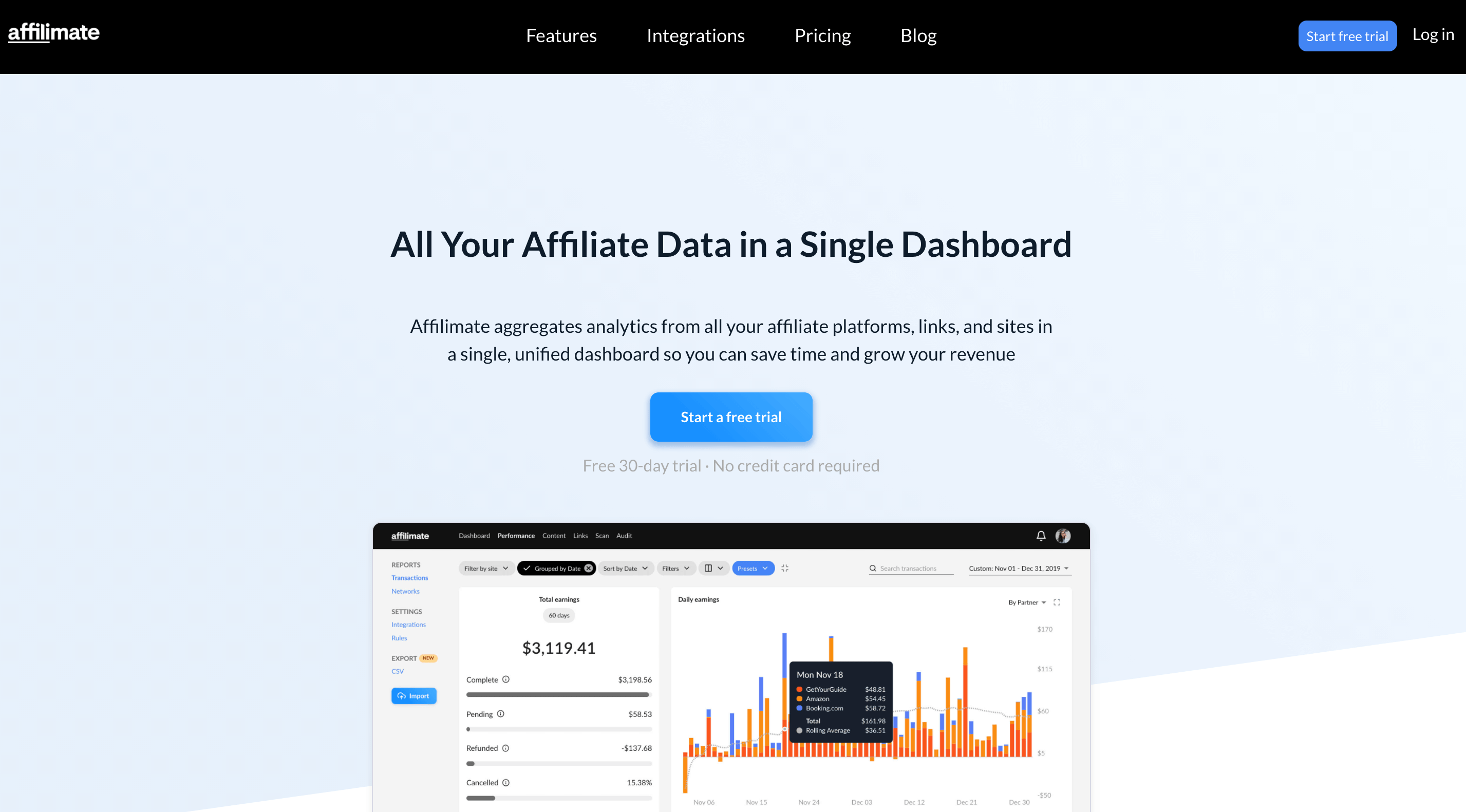 Affilimate – My partner and I finished two new integrations this month, and I wrote a guest post that will be published on one of our integration partners' websites.
Can't say any of this made a difference, but I have a number of open trials I am hoping will convert. I spent a lot of time onboarding people over email.
What I tried in January that failed
Launched Blogging for Devs Trends on Hacker News. – It made it to Position #2 and led to the website reaching 20K sessions for the month.
But given this site is not monetized with ads, I could not care less about pure traffic unless it leads to other outcomes.
There are a few ways I did not effectively "capture" this traffic in retrospect:
Did not prominently enough feature the email course. I was so worried about upsetting Hacker News (🙄) that my opt-in rate from HN was something like 0.12%. Terrible.
Did not feature a prominent link to my Twitter profile. I have a photo of myself and a short intro, but a link to find me on Twitter was both broken on the How it Works page + very small in the footer.
Since my opt-in rate to the newsletter is 20-30% from Twitter, it would've been good if I'd at least captured those visitors to Twitter.
It did pick up backlinks from the launch, but few of quality.
What I'm trying in February
I'll be spending almost all of February just on Blogging for Devs.
I'm giving a workshop at the end of the month, which will take me the next 3 weeks to prepare. In terms of growth, I'm planning to launch a newsletter referral program if I can manage it by the end of the month.
For Affilimate, I'm hoping to see some conversions and will follow leads as they come in. I'll also be writing 1-2 additional integrations.
P.S. If you like income reports
There are other indie product builders publishing monthly retrospectives and sharing how much their projects are earning.
Here are a few you might want to check out.
That's all folks
If you'd like to see what's up between reports, I'm on Twitter @monicalent 👋
Everyone has their gateway drug to online business.

For me, it was reading income reports. They showed me it was possible to earn an income without a "normal job".

So this year I'm writing my own! Amounts are modest, but it's a start. Here's January:https://t.co/X8bAAxtXrC

— Monica Lent (@monicalent) February 1, 2021