In February 2020, I was in Athens, Greece.
Working on my business in between visiting museums, basking in 20ºC weather, and downing Greek salads laden with enough feta cheese to give you a heart attack.
AKA the dream life I'd planned at the beginning of my indie hacking journey.
So to say this February looked a little different would be a gross understatement.
First off, I had an unplanned house guest for two weeks out of the month. It was a lot of fun to have her around. But it definitely impacted my productivity.
(Incidentally our office is also our guest bedroom, so not ideal for anyone!)
Second, I prepared a webinar for the majority of month. Having my head down working on that obviously meant I couldn't be working on other things, especially on the marketing side of my life businesses 🌈
Despite this, I did quite a bit this month. But my revenue and profit is lower than it was in January.
Here's what I learned and earned in February this year.
Income Report for February 2021
Real quick, here's a recap of my projects that earn income + what they are:
Not a Nomad Blog (Blog) – Travel and photography blog. Used to be my most profitable project before the pandemic. Started 5 years ago.
Affilimate (SaaS) – A unified revenue dashboard for affiliates. It also helps with attributing conversions back to content. Started 2 years ago.
Blogging for Devs (Free Newsletter + Paid Community) – Teaches developers about blogging and SEO. Started 10 months ago.
Net profit: $3,936.89
In February 2021, I had an approximate net profit of $3,936.89. This is about 10% lower than last month's net profit of $4,341.29.
$3,936.89 (Net profit) = $5,517.47 (Revenue) - $1,580.58 (Expenses)
This is before things like taxes, health insurance, and basics like rent in Berlin.
Total revenue: $5,517.47
My revenue this month was 10% lower than last month, when I did $6,212.16 in revenue. Here's where the revenue came from in February:
Not a Nomad Blog* ($911.72) – Affiliate earnings: $376.18, Ad revenue: $535.54
Case Study website* ($124.74) – Affiliate earnings: $124.74
Blogging for Devs ($3,934.59) – Community memberships: $3,419.99, Affiliate earnings: $221.36, Newsletter sponsorships: $300
Misc ($546.42)
*Note: Content sites like these operate on a minimum 2-3 month delay in terms of earnings landing in your bank account. Some cancelations and returns are likely to reduce this number.
The main thing that accounts for this drop is that I had fewer members join the Blogging for Devs community this month compared to last month.

I'm not sure if this drop correlates to:
New Years Resolution fatigue – People who planned to begin blogging in 2021 suddenly realize they've got a lot of other stuff to do.
Me spending less time on Twitter in February – So, less visibility and "marketing" for the community because I was heads-down working on a webinar for community members.
Sponsors distracting people from joining – Not sure if I'm "wasting" newsletter clicks on sponsorship slots, and I'd be better off without sponsors, promoting the community instead.
Affiliate revenue is stable from last month (a bit over $700 each month).
Here's January and February affiliate revenue together: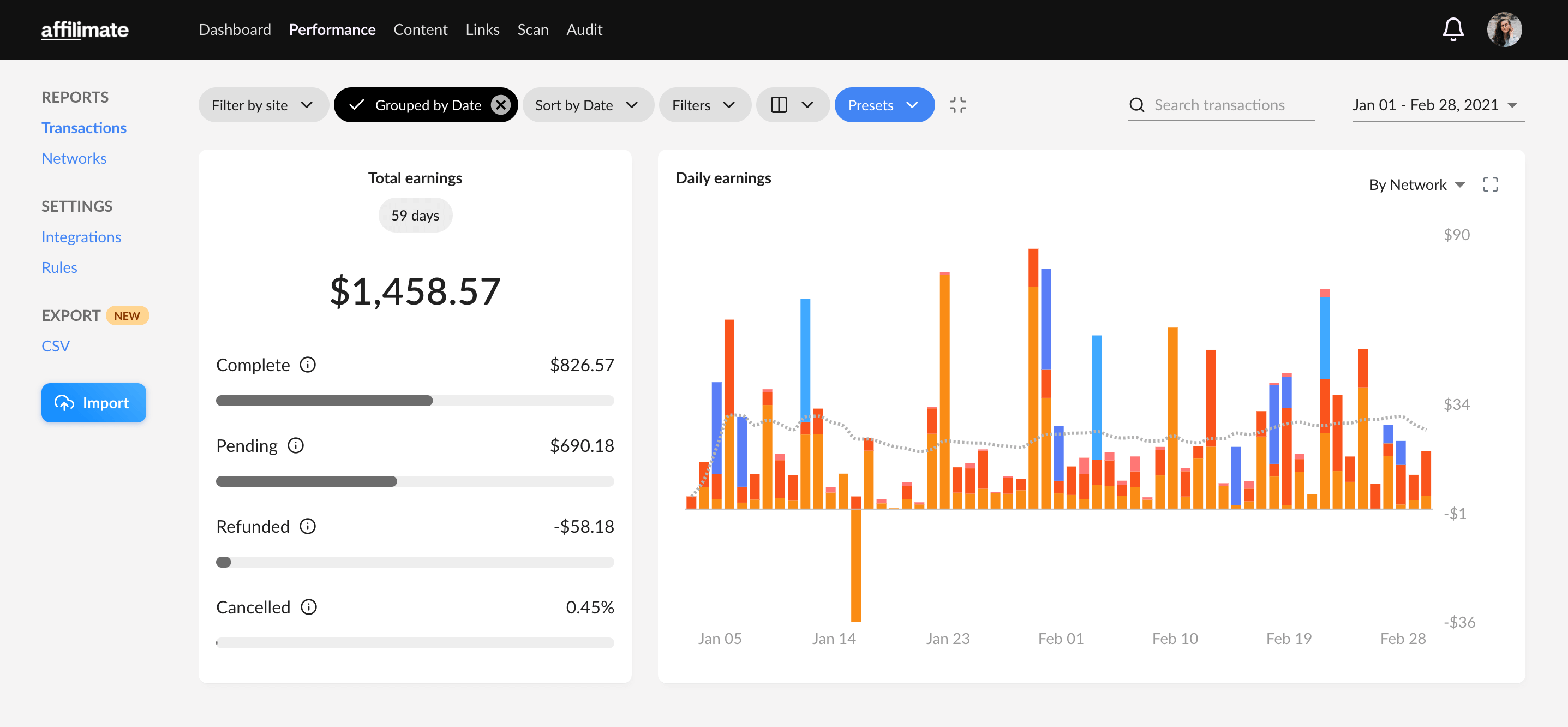 What's nice is to see a few hotel bookings in the mix (the dark blue bars)! To me this demonstrates some optimism from travelers about doing trips this year.
For context, I used to make 2-3x that in one month from just my travel blog, and this is revenue from 3 projects that produce affiliate income.
Anyway, I remain optimistic about the state of domestic travel in the United States this Summer. Only problem is my blog is mostly targeting Americans and UK-based travelers heading to Europe, so that won't help me much.
Expenses: -$1,580.58
My expenses were also lower this month (about $300 less than last month), but only because I didn't have any expenses on top of my typical fixed expenses.
Content sites (-$18.70) – Digital Ocean: -$18.70
Blogging for Devs (-$878.7) – Guests:* -$700, Zoom: -$53.67, Circle: -$99, Google Cloud Platform: -$26.03
Shared monthly expenses: (-$683.21) – Adobe Photography Plan: -$12.15, Ahrefs: -$125, Coworking address: -$50, ConvertKit: -$188, Namecheap renewal: -$25.98, Keywords Everywhere: -$13.34, GSuite (Personal Site): -$5.62, Google Cloud Platform: -$225.29, GSuite: -$37.83
* - I got a lot of questions about this in my last report. Guests refers to anyone who runs a community event, which isn't fully accurate as some guests are members of the community.
TL;DR – Almost all community event gusts are paid. In some situations it's not possible for legal reasons (e.g. work visa restrictions) or they refuse, in which I offer alternatives (donating to a fund, a favor in kind, or an offer of similar value like newsletter sponsorship slots).
As usual, my biggest costs after community guests are hosting on GCP, Google Cloud Platform (-$251.46) and my email service provider (-$188).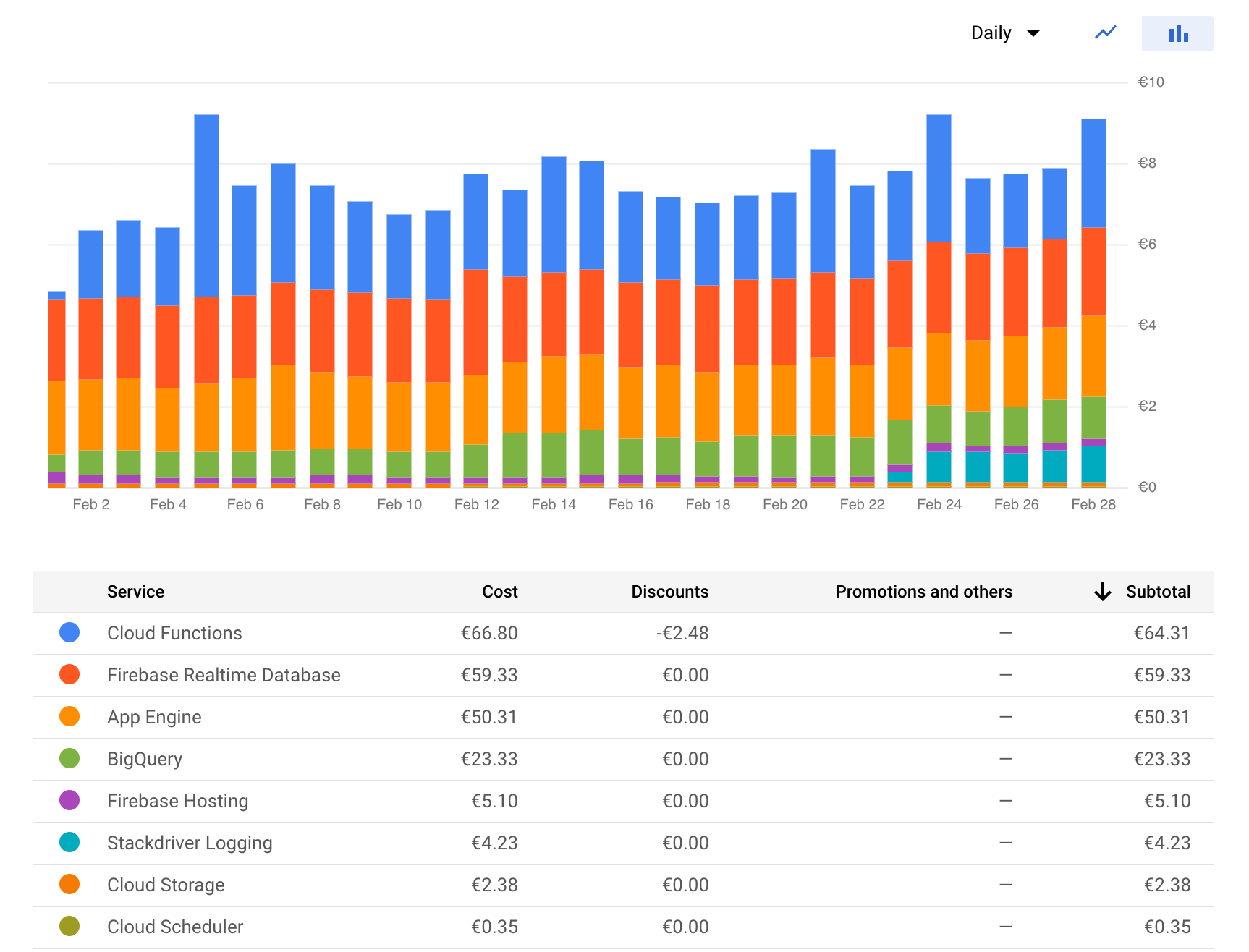 One of my goals this Spring is to apply for GCP credits through my business club/co-working space.
As you can see, the GCP costs are distributed across a number of areas. We could save money by cleaning some some of the temporary things being stored in Firebase, but I'd rather spend my time on other things.
The reality is, running an analytics platform is simply kinda expensive 🤷🏻‍♀️ I'm also starting to understand why many companies charge more for data retention.
Progress on key KPIs
The big milestone that happened this month was surpassing 300 community members. With about 100 from the beta program, it makes approximately 200 active, paid members 🎉

Here are the other KPIs I'm watching:
Blogging for Devs

Email Subscribers: 6,362 (+520, +9.1%)
MRR: $1,676.88 (+$258.77, +22.7%)
Churn: 4.38% (-39.6%)
Community churn is trending down sharply switching to quarterly/annual instead of monthly memberships. As I mentioned in the last report, almost 100% of churn is from monthly members.
The real test will happen later in March when some of the early quarterly members renew.
For Affilimate's KPIs, one issue is that so many people click to Affilimate from my Twitter profile that these are not super representative of my true metrics. So, filtering out all Twitter referral traffic is an option I'm thinking about.
I also really need to figure out how to track cross-subdomain events, so I can figure out my actual visit-to-trial conversion rate.
Lastly, I asked my one churned customer for feedback or what could be better, and she just said she thinks the tool is "great" and would "definitely recommend it", but is just looking to cut costs and may re-join in the future.
Spring cleaning I guess? 🤷🏻‍♀️
Not a business KPI, but I read three books this month as well:
What I did in February that made a difference
Honestly I didn't have a lot of wins this month, or at least ones that show immediate, tangible results.
But I did do some things to invest in the future. I'm trying to see Q1 as an "investment" phase for my businesses, hoping that what I'm doing down will pay off over the Summer and Autumn.
I wrote 8 blog posts. 5 for Affilimate, 2 for Blogging for Devs, and of course my income report if that counts. 1 guest post published.
I got featured in the ConvertKit blog! The editor of the ConvertKit blog reached out to me after seeing my Twitter thread on reaching 5K email subscribers. Pretty rad.
Got ahead on the community events schedule. I've got expert sessions scheduled through May. These run every other Wednesday, so it's nice to have this sorted out.
Made some big improvements to Affilimate's website. In parallel to growing traffic, I also worked on converting more of the traffic we do have into trials.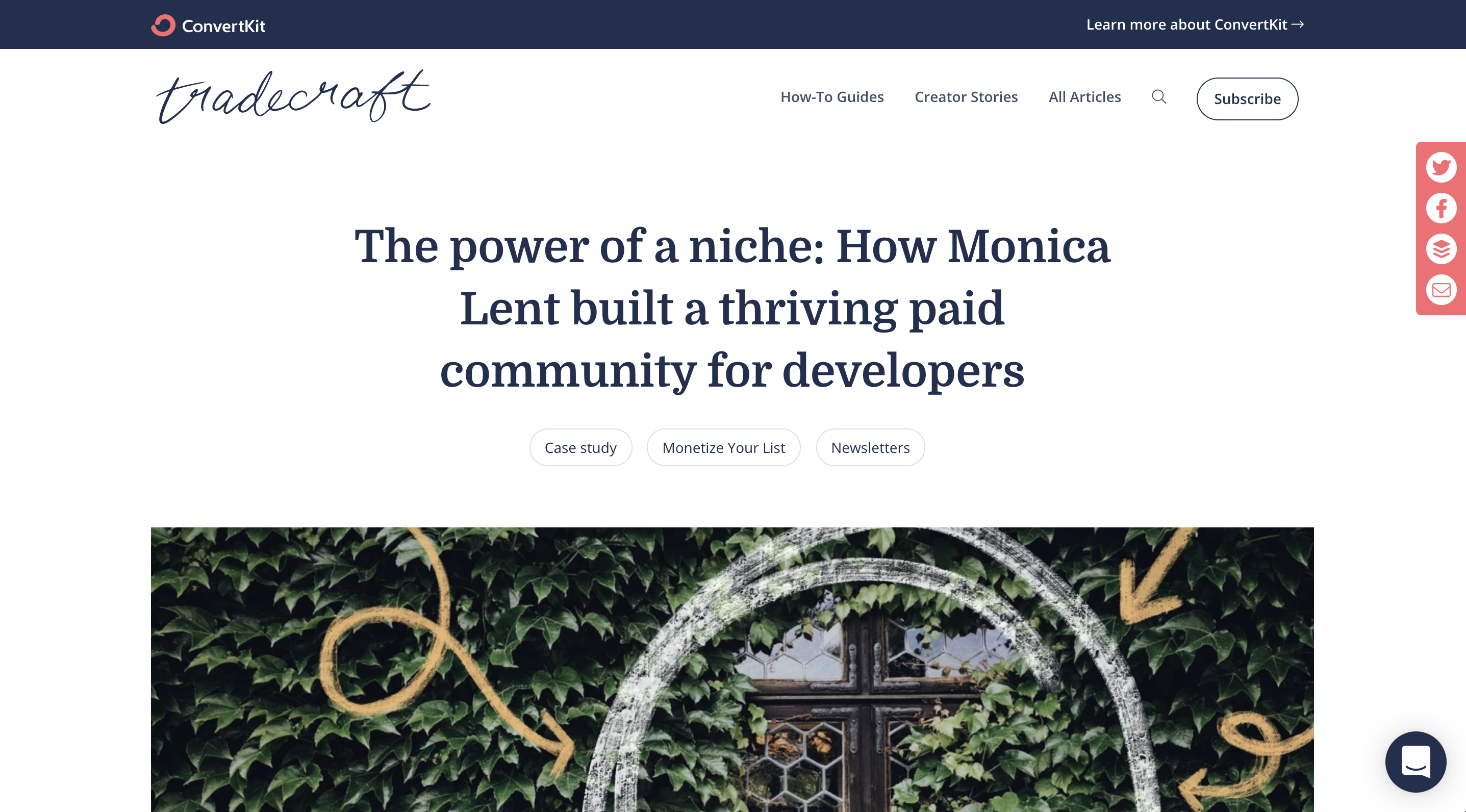 What I tried in February that failed
Blogging for Devs – As I predicted last month, I spent almost 100% of my time on preparing the Content Planning Workshop for the community. But as a result, I barely grew my newsletter this month.
It's up by only 500 subscribers.
Which means I'm really not on track to reach 10K by May, and 20K by December (my stretch goals for 2021).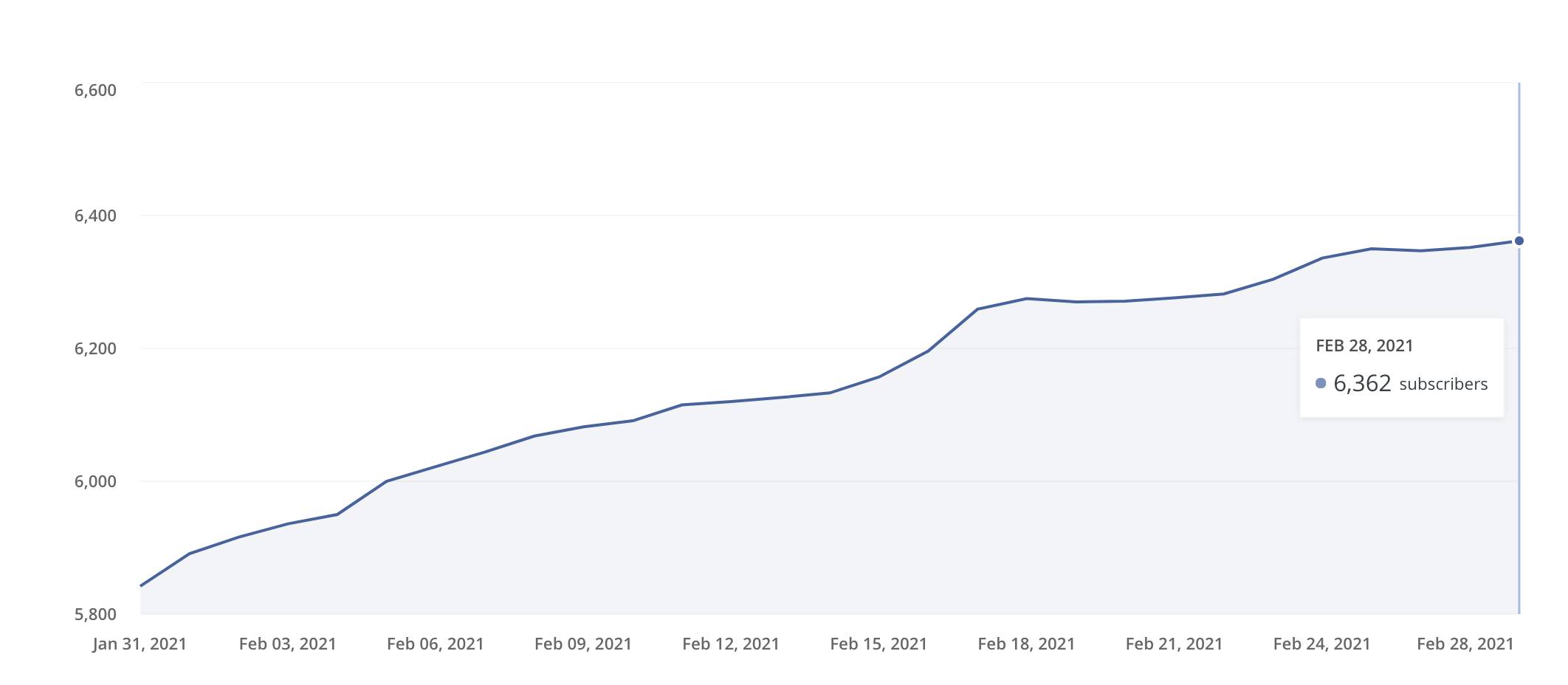 I'm also back to sending the newsletter weekly on Fridays.
I tried to switch to a bi-weekly cadence, but I just fell off the wagon and sending the newsletter became more of a struggle. Especially now that I'm accepting sponsors, it's a good additional motivator to stay on schedule.
Affilimate – I thought I'd be able to add some new integrations. But instead I published 5 blog posts and wrote a guest post, and gave our website a makeover.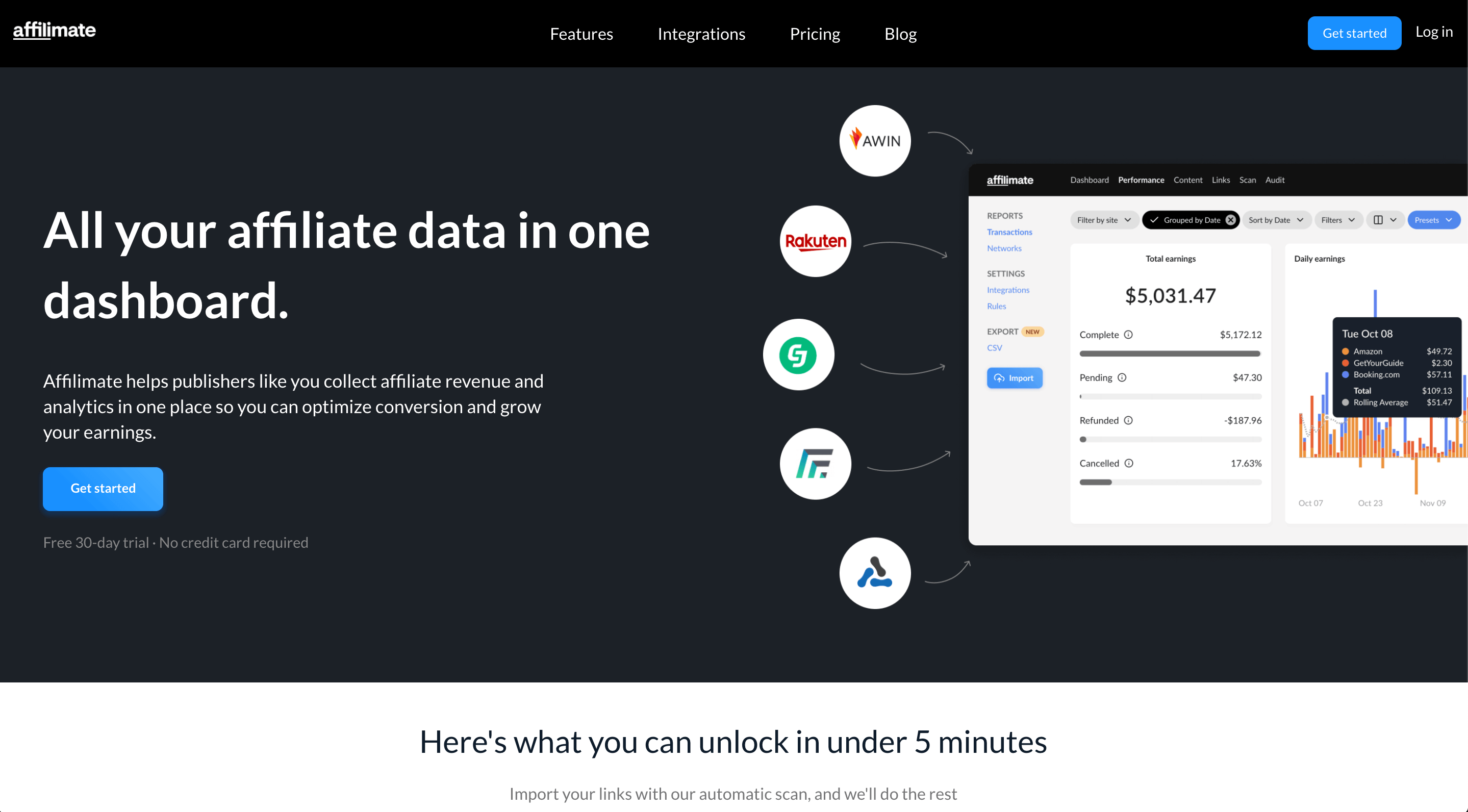 What I'm trying in March
I have three main things happening in March:
Running the Blogging for Devs Spring Accelerator
Launching the newsletter referral program
Revamping Affilimate's pricing, onboarding, and positioning
1. Running the Blogging for Devs Spring Accelerator
We're running an 8-week accelerator inside the community. It's 4 groups of 8 people, with a weekly standup, each working towards a goal in a concentrated time.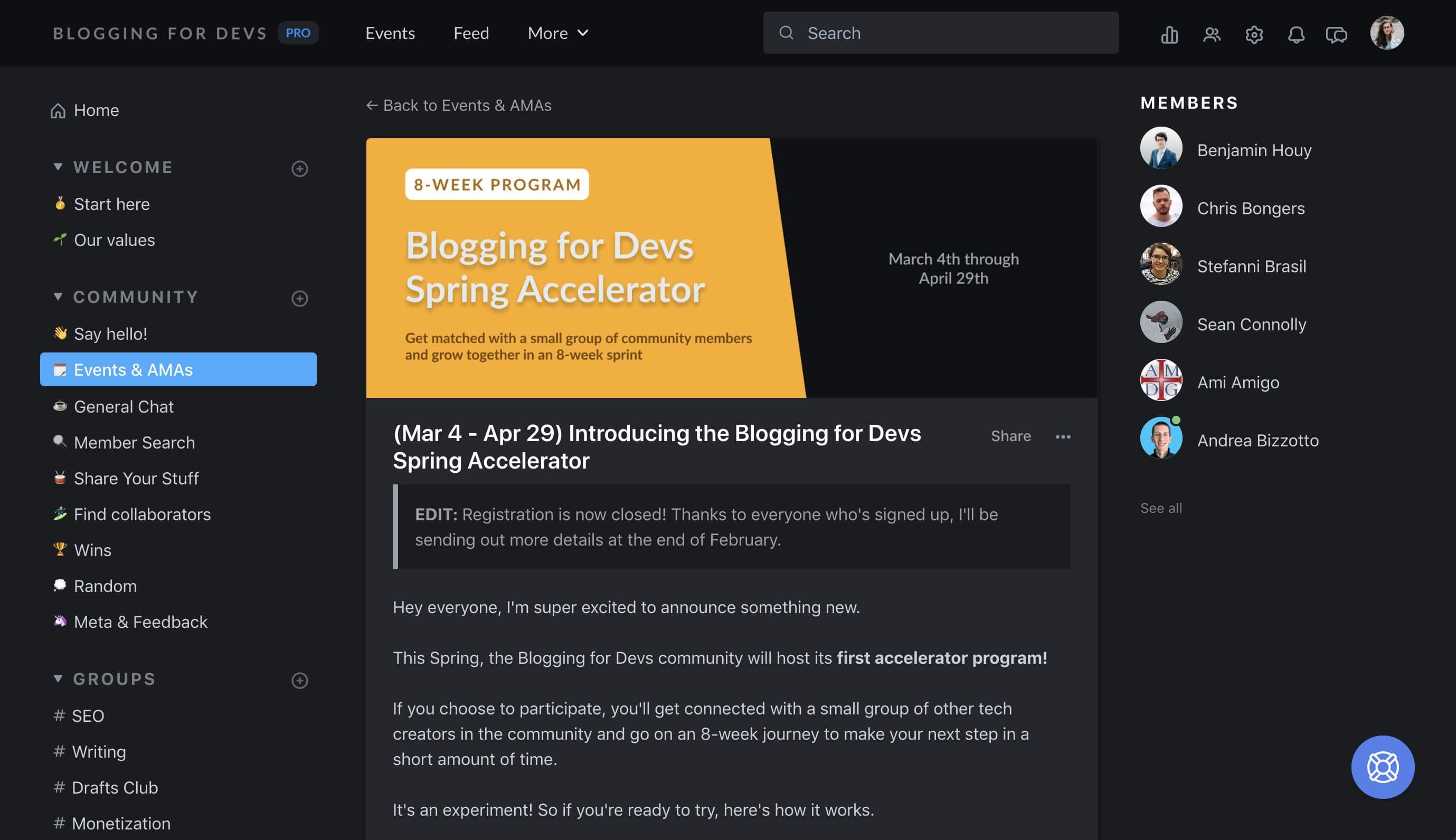 Realistically I have no idea how time-consuming this will be for me! But I think it will be a great bonding experience for people, and having a tiny bit of peer pressure will help motivate people to ship.
2. Launching the newsletter referral program
As part of my "investment" theme, I'm planning to launch a newsletter referral program this month. I upgraded to ConvertKit Pro, in part to get access to Sparkloop, a couple months ago.
I pretty much figured out the rewards, and now I just need to set up the emails. I'm also debating coding the referral progress page myself, just so I can design it the way I want.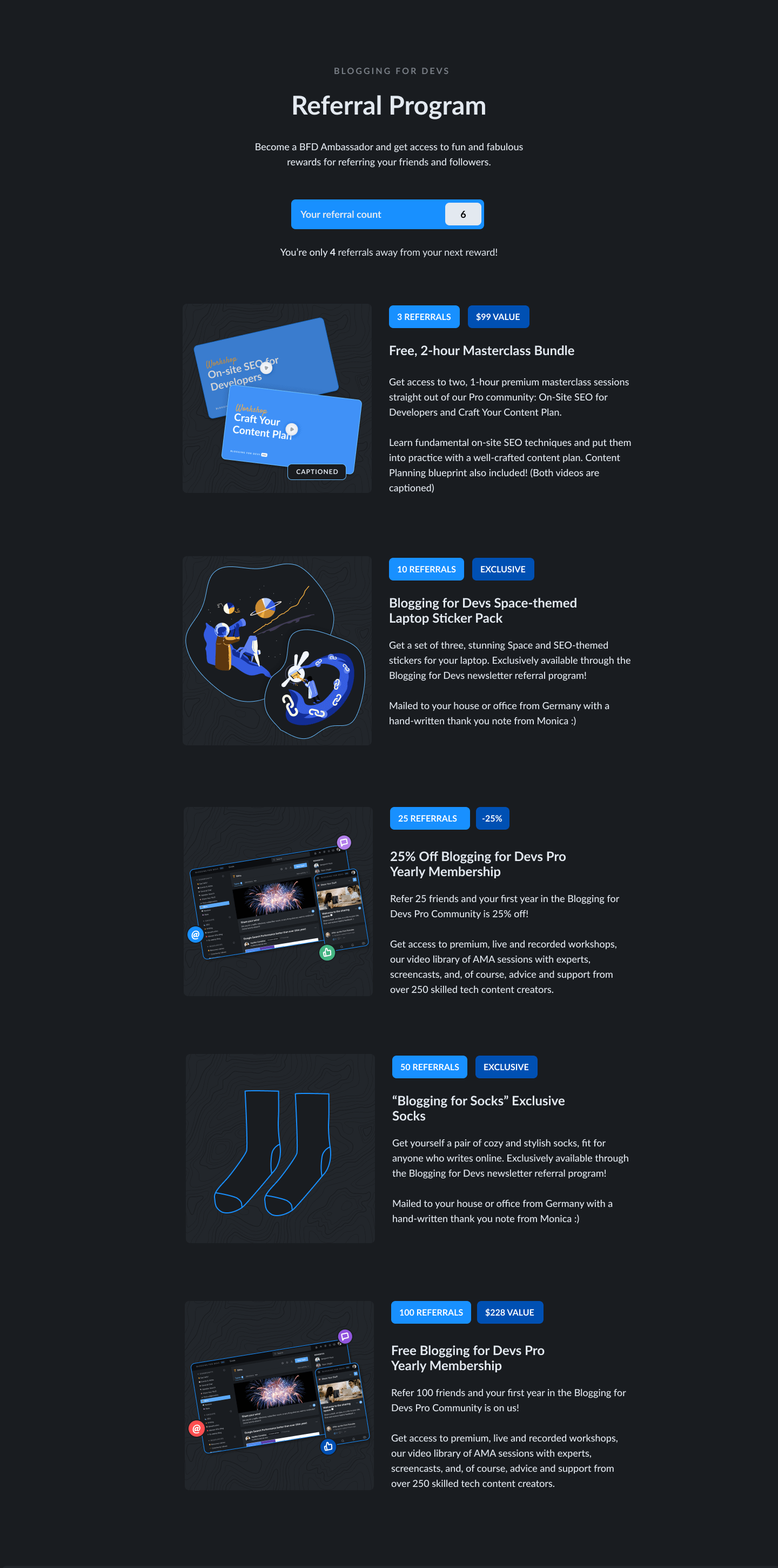 Might need to commission someone to help me design the socks, we'll see 😂
3. Revamping Affilimate's pricing, onboarding, and positioning
One huge benefit of the fact that I took a step back from Affilimate last year to launch Blogging for Devs is that I was able to learn about launching and growing paid offering without worrying about traffic acquisition.
Having the existing audience meant I could get enough traffic to my offerings to actually collect meaningful metrics, learn, and iterate.
So I'm pretty stoked to start applying some of those learnings to my SaaS tool!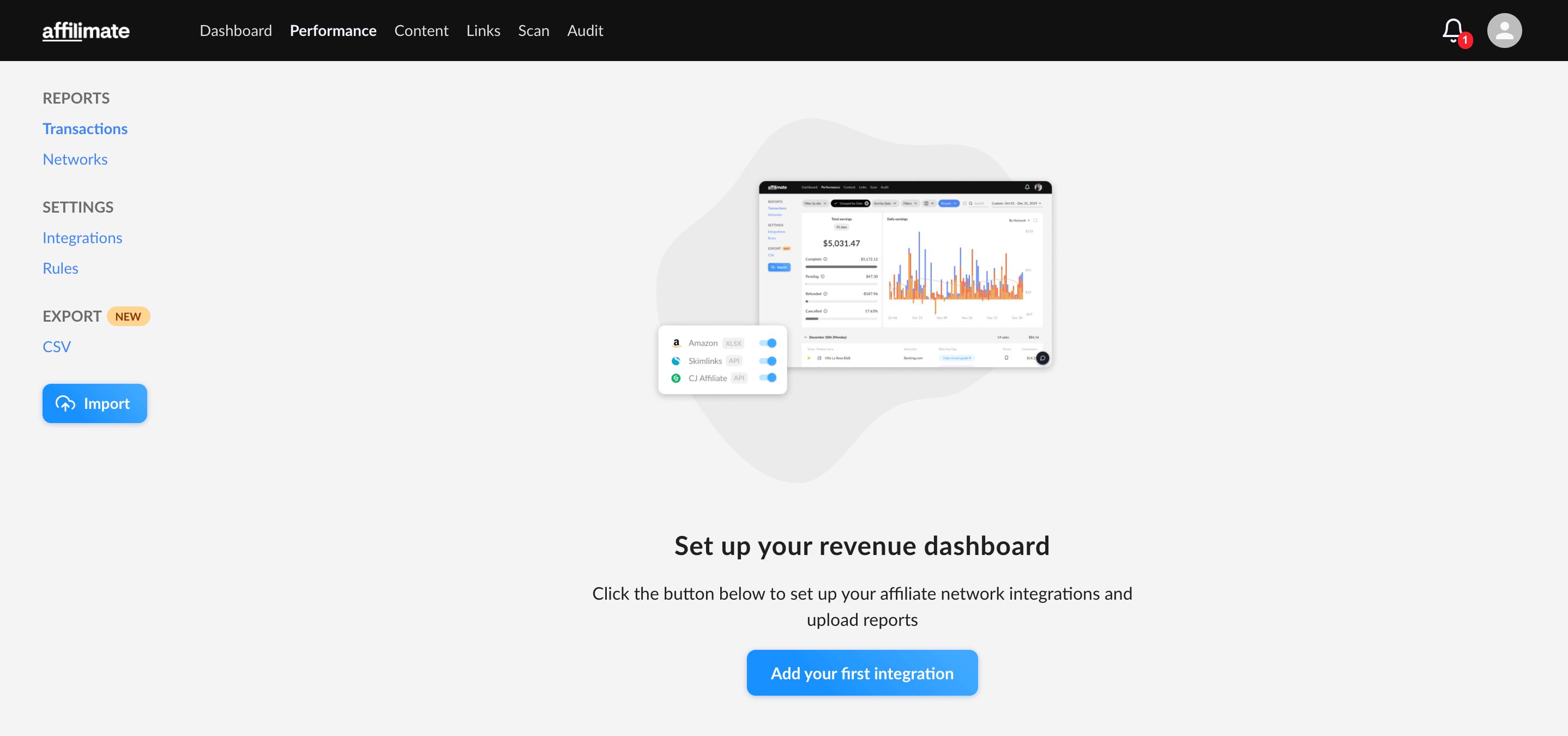 Positioning – I need to work on our positioning, which I hope will allow us to more easily charge the amount our tool is worth as an analytics suite.
Pricing – As I've learned more about our different customer segments and value levers, it's time for me to adapt the pricing structure to more accurately mirror these.
Onboarding and education – One of my goals is to reduce our trial period to 14 days. To do that, I want to accelerate time-to-insights and better educate people about our tool during onboarding.
It'll also help people have tangible, self-guided successes with the tool before the trial is up.
That's all folks
This month was honestly a bit blah for me, probably mostly from having this workshop prep hanging over my head. Now I'm excited for what's next, for Spring, and I can feel my energy being renewed by the longer days!
If you'd like to see what's up between reports, I'm on Twitter @monicalent 👋
So, I was planning to silently publish this without sharing.

But then two people (!) shared positive feedback on my January report today. So here's the next in the series.

How I made $5,517.47 revenue ($3,936.89 profit) as an indie hacker last month:https://t.co/AS6KlQhSgS

— Monica Lent (@monicalent) March 2, 2021