My little empire is coming together, but right now it feels like a total grind.
Last month, I also played about 60 hours of Pokemon Sword and Shield. Right now I'm trying to complete my Pokedex and damn that is time-consuming.
In our weekly SaaS Mastermind, Benedicte pointed out that my video game escapism might mean I'm starting to burn out.
She's probably right.
Anyway, here's what happened:
First, my travel blog was hit by one of the many August updates from Google. Thankfully it's started to recover on its own, but the hit to revenue is tangible and is more visible in my September numbers so far.
Then, my SaaS marketing website also got some kind of hit from a Google update and is now recovering. Organic traffic is still up 37%.
Still, August was a good month — and my second month exceding $10K in revenue.
It's also my highest profit month ever, at $7,998 in net profit.
My goal of reaching $10K/mo in net profit by the end of the year seems pretty possible, even with just a couple months left.
That said, I really want to shift the balance of revenue between my projects.
Blog revenue is nice because it's so passive — I haven't touched my travel blog all month and it still made almost $7K in profit. But in terms of time and energy, I'm spending the most on my SaaS and growth feels sloooooow.
Read my September plans to see how I'm planning to change that.
Income Report for August 2021
Real quick, here's a recap of my projects:
Not a Nomad Blog (Blog) – Travel and photography blog, which is recovering from the impact of COVID on traffic and revenue. Started 5.5 years ago.
Blogging for Devs (Free Newsletter + Paid Community) – Teaches developers about blogging and SEO. Started 1.5 years ago.
Affilimate (SaaS) – A unified revenue dashboard for affiliates. It also helps with attributing conversions back to content. Started 2.5 years ago.
Net profit: $7,998
$7,998 (Profit) = $10,352 (Revenue) - $2,354 (Expenses)
This is before things like taxes, health insurance, and basics like rent in Berlin.
Total revenue: $10,352
Blogs ($6,982)* - Ads ($1,662), Affiliate Marketing ($5,320)
Affilimate ($1,457) - Subscriptions ($1,457)
Blogging for Devs ($1,913) - Memberships ($1,913)
*- As always, content sites operate on a several month delay and are subject to cancelations or returns. This amount is based on revenue during the month, not payouts.
This month, my SaaS revenue was lower even though I got more new customers than in July. Just more people chose monthly plans.
Funny enough, my blog was slightly more profitable in August than July despite losing traffic. The balance just shifted to affiliate revenue over advertising.
But I lost some important rankings so I expect this to go down. Plus, winter is coming, which pretty much always means less revenue in travel.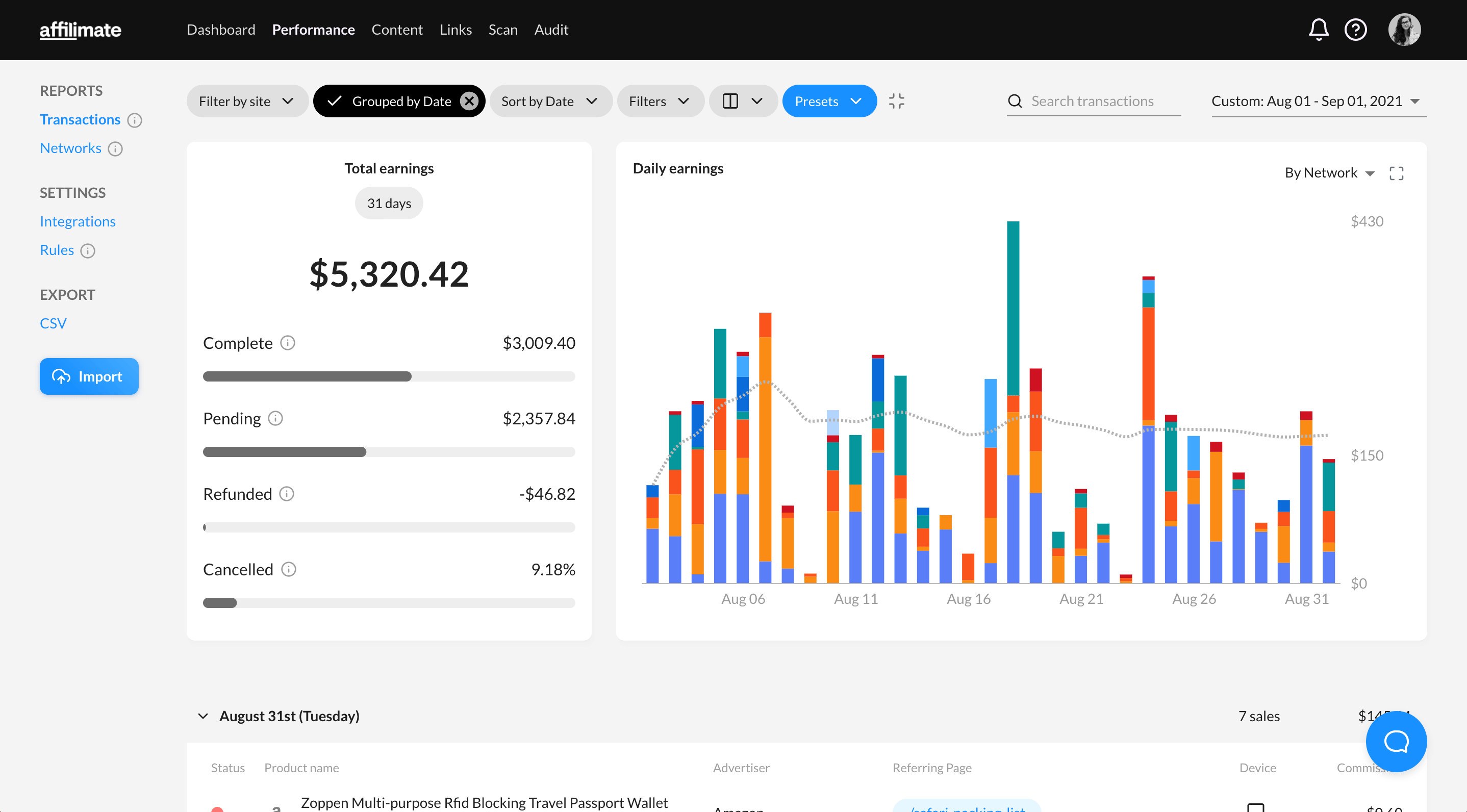 Using my own product to track affiliate revenue
Still, it's a nice cushion as I keep building out the SaaS.
The paid community is stable, it's not a huge focus for me to grow it really big. But I am hoping to do a year-end push to bring in new members through my upcoming free SEO course.
More about that in a second.
Expenses: -$2,354
Blogs (-$29) - Hosting (-$19), Adobe Photography Plan (-$10)
Affilimate (-$873) - Fathom Analytics (-$14), Simple Analytics (-$27), Plausible (-$7), HelpScout (-$25), Writer (-$800)
Community (-$868) - Hit the Front Page of Hacker News royalties (-$28), Moderator (-$112), Circle (-$99), Guest speakers (-$600), Hosting (-$29),
Misc/Shared (-$584) - Ahrefs (-$155), Business Club (-$141), Descript (-$15), ConvertKit (-$216 😱), Zoom (-$44), Namecheap (-$13),
Expenses are down dramatically from last month. My blog is back down to just double-digit monthly expenses and I love it.
I think these numbers are pretty reasonable in terms of how much it costs to operate each of my small businesses.
But I do plan to invest in paid advertising for Affilimate, so it'll be an adventure to see how the math works out.
Here's a quick summary of what got done in August.
What happened in August
SaaS
I published 5 new articles on the Affilimate blog. Organic visitors are up 37% compared to July, which as always is just the result of past work paying off.
Of those 5 articles, I wrote three of them myself. It's so time-consuming but I'm betting on it as an investment I'll be glad I made.
Otherwise, I'm treading water when it comes to customer support and onboarding. Pretty soon I'm going to need to do a second pass of my onboarding flow to make it more fool-proof and user-friendly.
Finally, I set up connections for 9 new integrations. Hopefully I'll be able to develop a good chunk of those during September.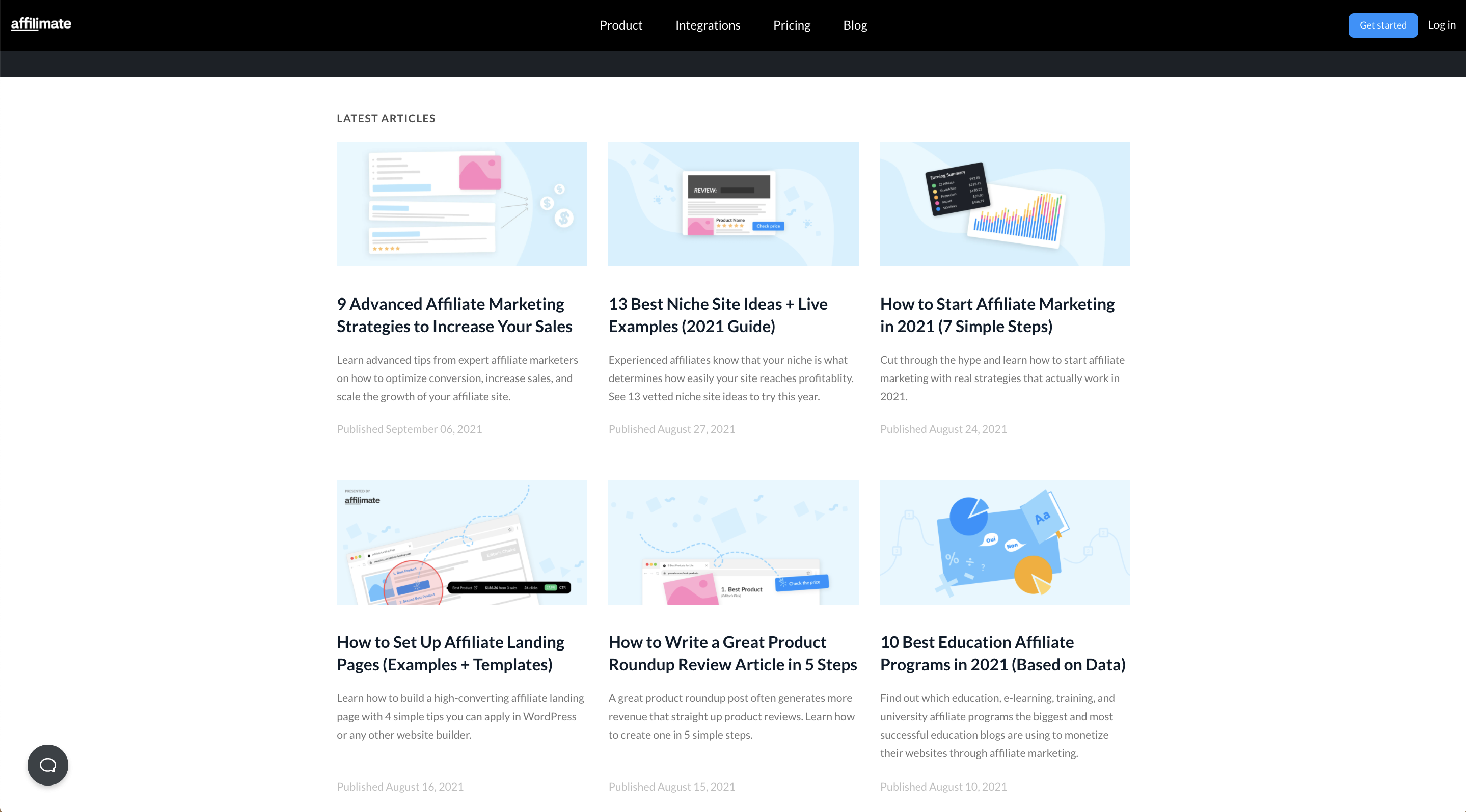 Yes, I am the queen of listicles
Newsletter and Community
The Blogging for Devs + SEO for Devs cumulative mailing list has now exceeded 10,000 subscribers.
A nice, extra bump that took me over the finish line was including a referral program as part of the new course I'm working on, SEO for Devs.
Since my little side project has officially "leaked" on Twitter, let's make it official 😉

Announcing my next free course: SEO for Devs!

SEO has become one of the most valuable skills I have as a developer. I hope this helps more people get started:https://t.co/0dnnLJoJCP

— Monica Lent (@monicalent) August 17, 2021
I used Sparkloop to set up some automations so that if people refer 2 friends to the course, I'm able to send it to them first. +400 referred subscribers out of 2,000 new ones is pretty solid if you ask me.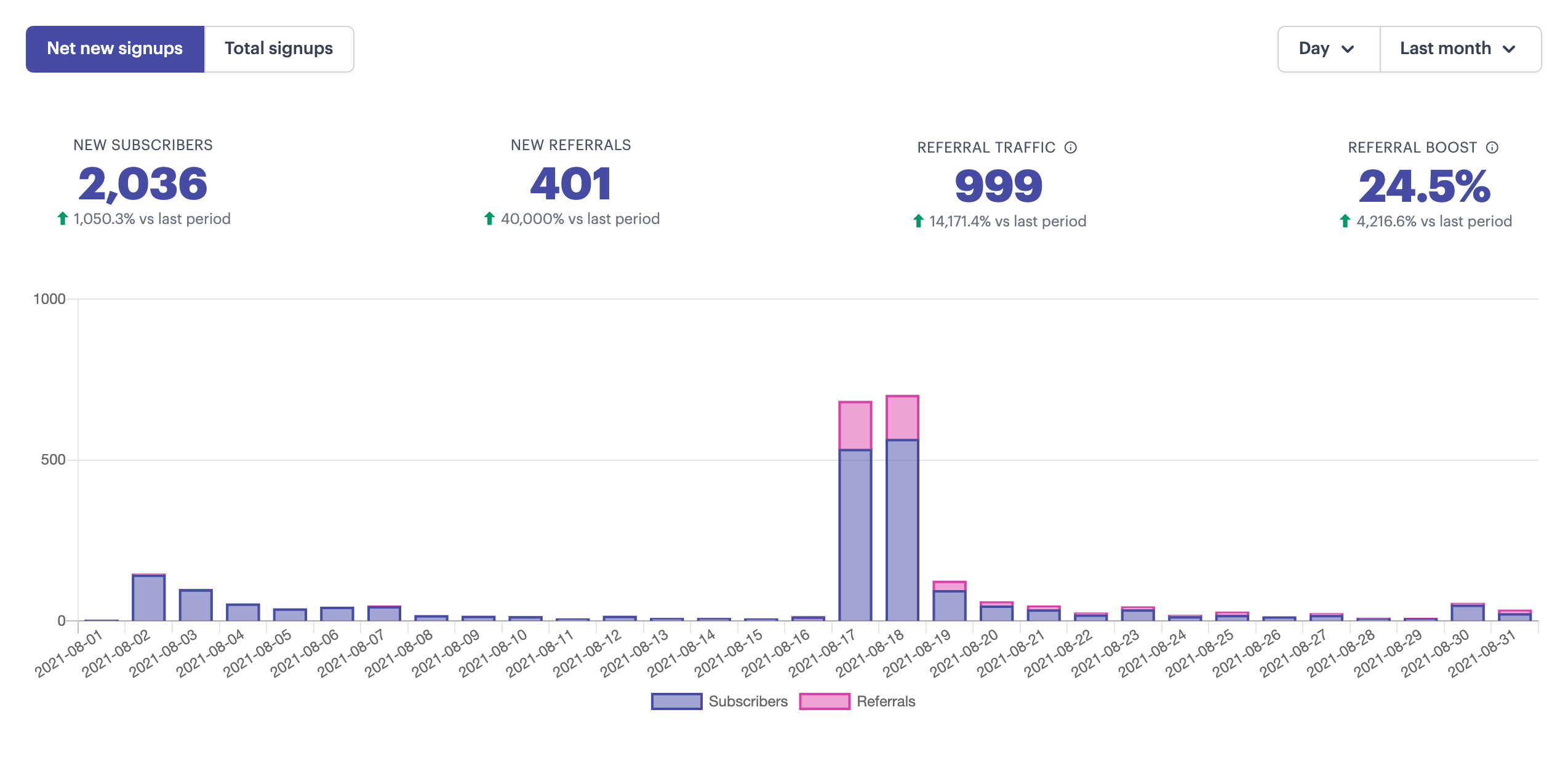 Honestly, there is some chunk of this which are people clearly gaming the system and referring themselves.
Which is annoying because it inflates my subscriber numbers, so I would like to be able to clean these out somehow. Just not sure when I'll find the time.
I'm hoping to spend the next 2 weekends finalizing the course (I have 3 of 6 lessons recorded), and finally ship this.
In terms of the community, we did our first Creator Roundtable which came out really cool in my opinion. Only thing is that with paying speakers, this format is very expensive compared to a single AMA guest.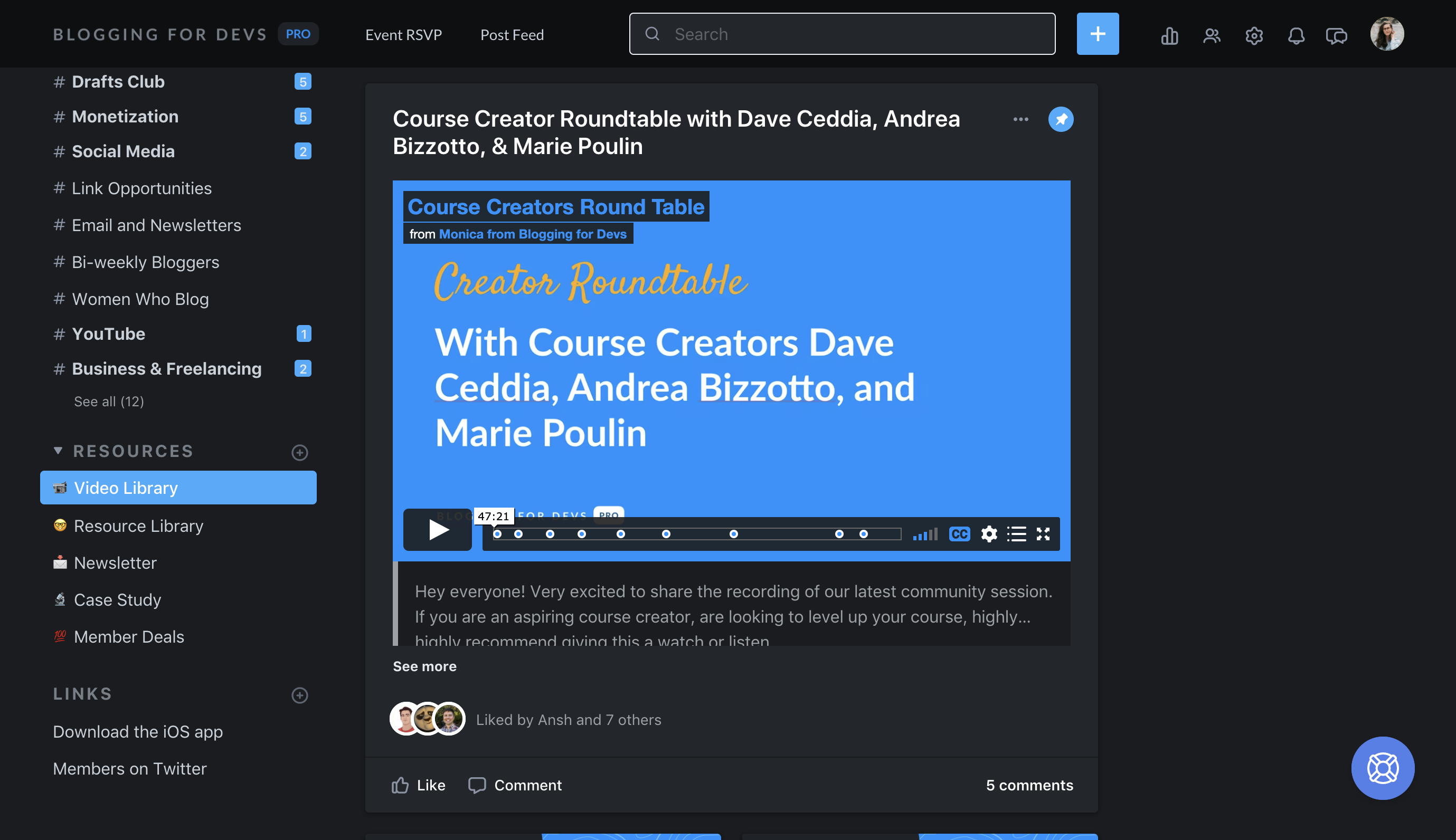 Blog
I tried to work on my travel blog's Core Web Vitals last month and Google didn't care.
That's about all I have to say on that topic 😂
Plans for September
For Affilimate:
Try paid advertising. I'd like to try a few options, including newsletter sponsorships, Reddit ads, and other forms of collaboration with people who have audiences of my target customer. Looking for that channel where I can spend $1 and make $2 — is that so much to ask?
Set up some channel attribution. I basically just want to see which channels lead to created accounts, paid accounts, and be able to segment based on that.
Open the affiliate program to non-customers. Some people just run websites which aren't a great fit for our tool, but could be great advocates. So I'm setting up an application form for affiliates.
Partnerships and link building. I'm looking for more people targeting similar customers to collaborate. HMU if that could be you.
Power through some integrations. I want to get at least 3-4 done this month.
Keep publishing content. Trust in the compound effect ✌️
For Blogging for Devs:
Release the new SEO mini course. As my side project's side project, this has taken a back seat but I know that once it's live, it'll keep bringing people in month over month.
Send a newsletter. I've got a few topics that have been brewing, just need to sit down and write them out.
Schedule community events until EOY. I need to schedule events for November and December, and I'll have all the scheduling handing for the rest of 2021.
In my life, I'm thinking about how I can take one last vacation or break before we start to see the effects of Autumn on the COVID numbers.
Visiting America doesn't sound great right now, but I'm worried it might be the last time I can go before borders tighten again.
So I'll be checking into that and possibly booking a trip in October.
Later, skater!
If you'd like to see what's up between reports, I'm on Twitter @monicalent 👋
Finally did my August income report & retrospective. Some highlights:

• Published 5 articles and wrote three
• Reached 10,000 (!) email subscribers
• $10K revenue, $8K profit (highest so far)
• Played 60 hours of Pokemon 🎒💥

Turns out catching them all is a part-time job.

— Monica Lent (@monicalent) September 10, 2021