As of the end of April, our flat is now home to:
A laser printer/scanner
An ergonomic office chair
80€ worth of new office supplies
And three corporate entities
It's been extremely busy doing all the logistical parts of running a business on top of trying to build the product, do customer support, and scale customer acquisition.
Not to mention building what you could be called a tiny team of freelancers who are helping out with both of my projects.
As always, here's what I learned and earned in April 2021.
Income Report for April 2021
Real quick, here's a recap of my projects:
Not a Nomad Blog (Blog) – Travel and photography blog. Used to be my most profitable project before the pandemic. Started 5 years ago.
Blogging for Devs (Free Newsletter + Paid Community) – Teaches developers about blogging and SEO. Started 11 months ago.
Affilimate (SaaS) – A unified revenue dashboard for affiliates. It also helps with attributing conversions back to content. Started 2 years ago.
Net profit: $2,272.86
$2,272.86 (Net profit) = $5,247.15 (Revenue) - $2,974.29 (Expenses)
This is before things like taxes, health insurance, and basics like rent in Berlin.
Total revenue: $5,247.15
Blogs ($1,211.94)* - Ads ($476.82), Affiliate Marketing ($735.12)
Affilimate ($1,040.11) - Subscriptions ($1,040.11)
Community ($2,995.10) - Memberships ($2,843.62), Affiliate Marketing ($151.48)
*- As always, content sites operate on a several month delay and are subject to cancelations or returns. This amount is based on revenue during the month, not payouts.
This month was lower than last, though not because of anything dramatically different from March: just fewer new customers who opted for annual plans compared to monthly or quarterly.
Note to self: Make my SaaS annual plan more attractive.
Expenses: -$2,974.29
It was an expensive month, for a few reasons.
I had to invest in my home office owing to bureaucracy and back pain (printer, office chair, and various supplies) totalling about -$600.
Thankfully this is a one-time investment, though I've got more one-time costs coming up in May, too. Tax season is coming up, and my tax life as an American expat and German business owner is as complicated as it gets.
Other big expenses stem from doing test articles with a few writers for my SaaS blog, and some have been paid already, totalling -$766.
Besides those, expenses are somewhat normal:
Blogs (-$18.70) - Digital Ocean (-$18.70)
Affilimate (-$1,255.92) - Google Cloud Platform (-$270.92), Writers (-$776), AffLIFT community membership (-$100), HelpScout (-$25), Exchange Rates API (-$72), GSuite (-$12)
Community (-$626.12) - Hit the Front Page of Hacker News royalties (-$109.20), Descript (-$15), Event Guests (-$350), Circle (-$99), Zoom (-$52.92)
Misc/Shared (-$1,073.55) - Office supplies (-$90), Printer (-$287.13), Ergonomic Office Chair (-$276.42), Business club membership (-$58), Ahrefs (-$150), ConvertKit (-$188), Adobe (-$12), GSuite (-$12)
One thing I'm hoping will help me reduce these is I applied for the Google Cloud for Startups program through my Business Club, Factory Berlin.
I really, really hope getting some GCP credits works out because our cloud bill is getting outrageous (forecast at $600+ in May).
What happened in April
Apart from all the normal communication, customer support, tiny features, bugfixes and troubleshooting, here's what happened in April:
Apart from all of these things, I'll just note that my travel blog traffic and bookings keep rising with little input from me.
So I'm still hoping to see that bringing in a few thousand dollars per month, passively, by the end of the Summer 🏝
Here's how the rest of it fits into the big picture:
Migrated to Customer.io
Huge investment for something I'll be doubling down on this month: Email.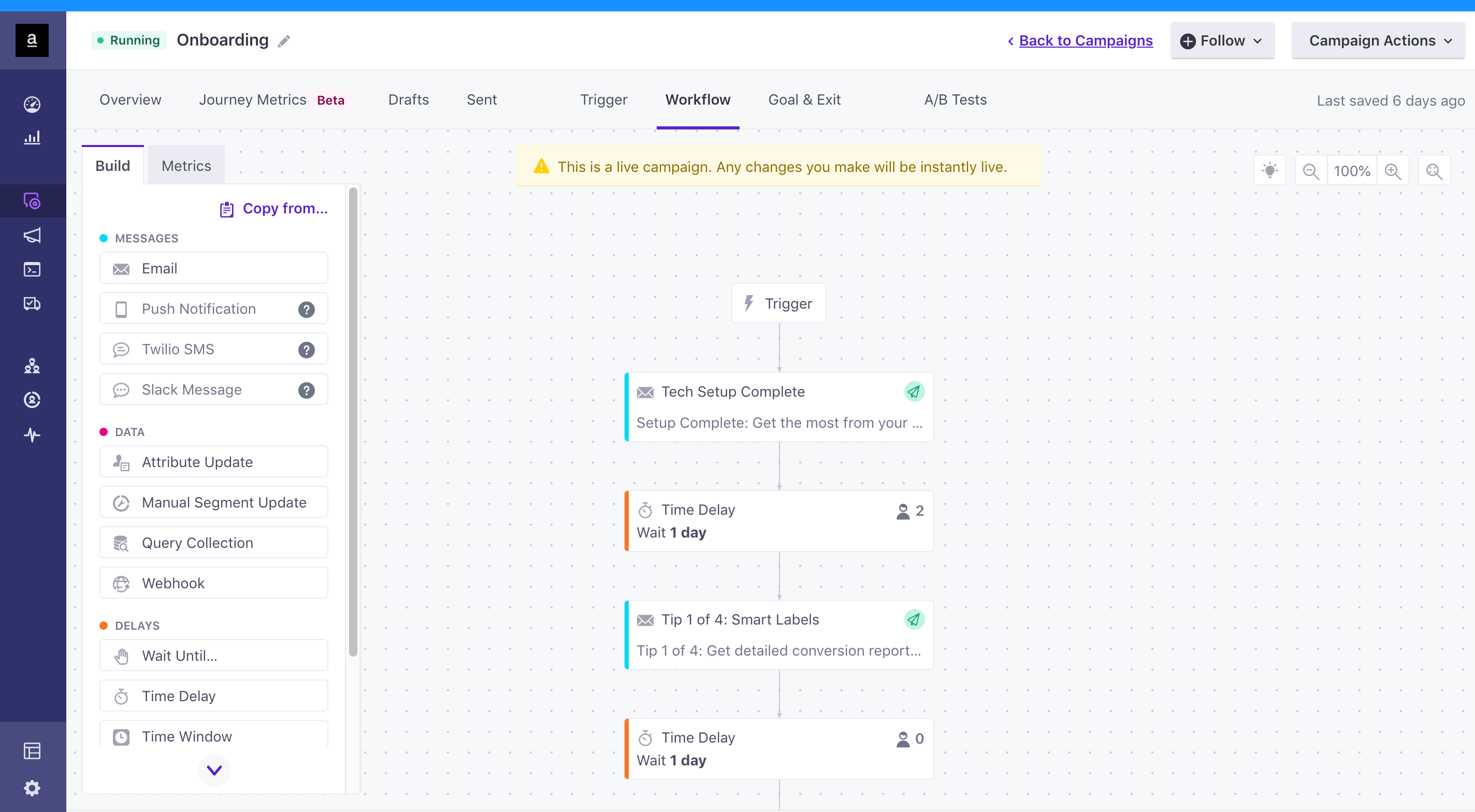 We migrated all our email flows and existing email lists (except for transactional emails) out of SendGrid and to Customer.io:
Technical Support flow
Trial Ending flow
Onboarding flow
Subscription Success flow
Blog subscription welcome sequence
This is huge because it's all event-based, so I can send the right kind of emails based on in-app activity (or lack of expected activity). For example, when someone appears "stuck" in our setup process.
I also finally created a proper onboarding flow, with daily tips, dedicated content, and illustrative gifs. So we'll see what kind of feedback we get here.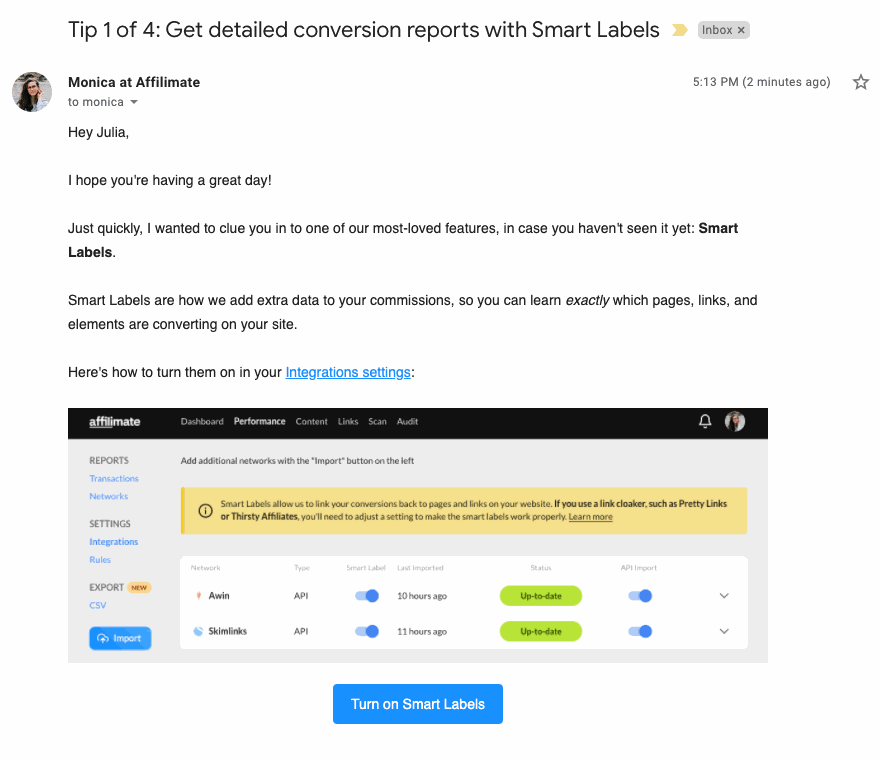 So far, I am obsessed with Customer.io and they've got a bootstrapper plan, where you can use the service free for the first year.
Will share in a second how I'm taking email further in May, but first more SaaS news.
Hired a writer for my SaaS Blog
After a slight debacle in February, I decided to go the route of hiring a writer directly instead of going through an agency.
It took over a month to go from collecting 50+ applications from ProBlogger to getting the first article live on our site.
But I am relieved to say I found a writer to work with!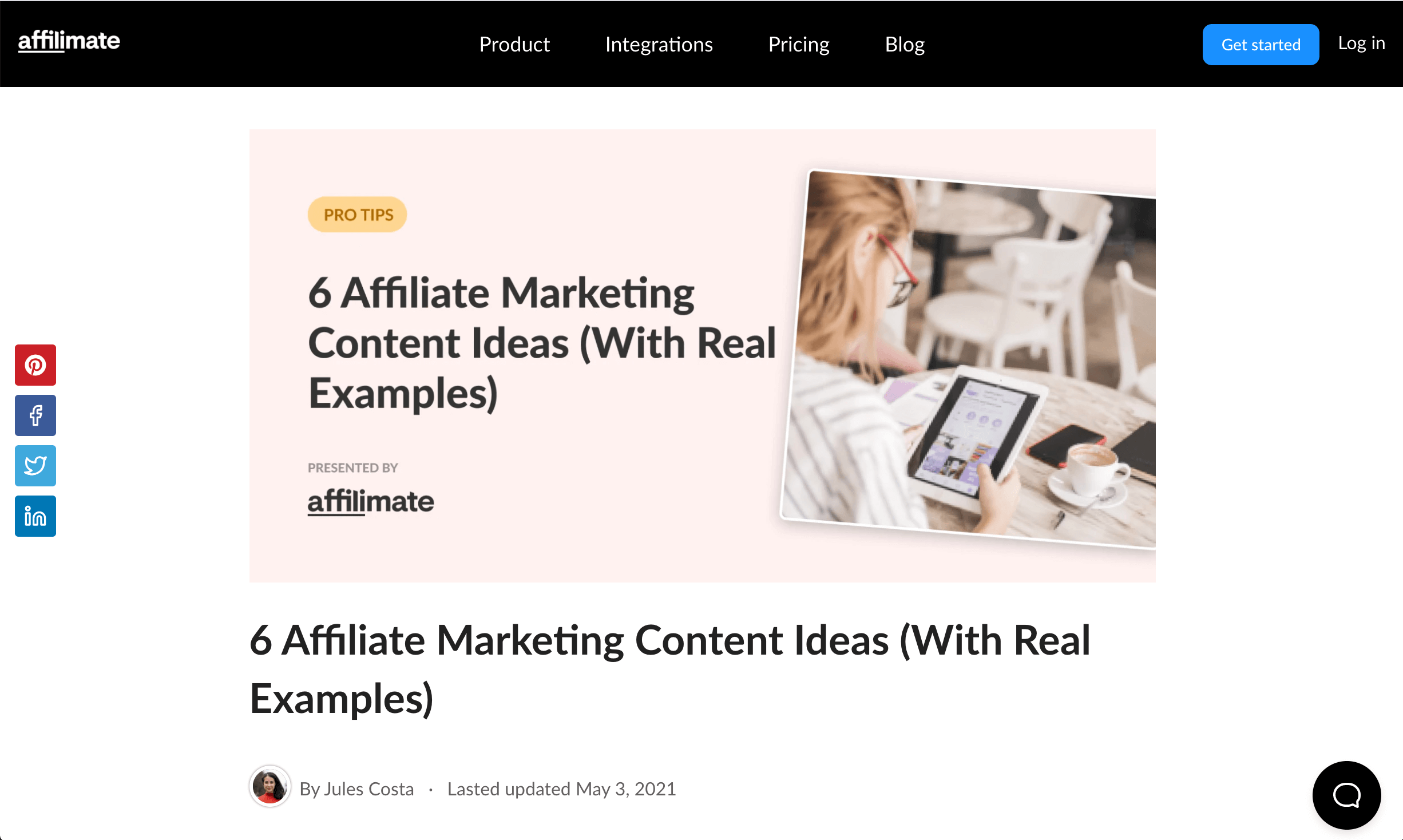 Not only does the writer (Jules) get to keep more money than going through an agency, but over time I'm sure our collaboration will become even more efficient as she gets to know our audience and topic even better.
I also connected with other great writers in the process who I may be able to work with once we have the capital to scale up.
Again, a big relief.
(Apart from this, I also updated several blog articles and published one new one this month for the SaaS.)
Created product images and an affiliate success kit
This month's fun distraction task: I created a bunch of high-fidelity mock-ups of our SaaS product filled with lots of "ideal data". For example: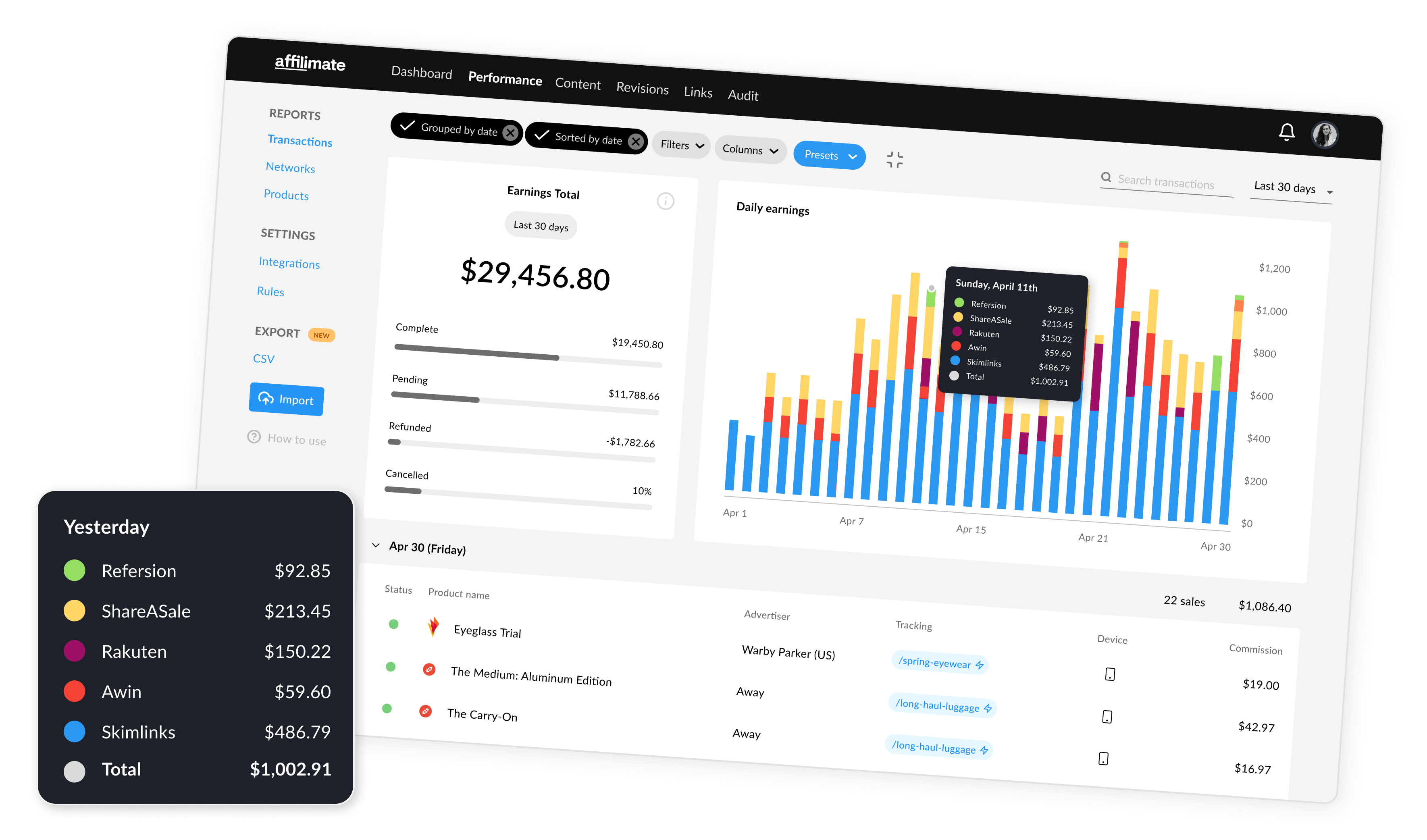 This serves two purposes:
More beautiful and flexible screenshots for our website
Our affiliates and partners can use these graphics to write about us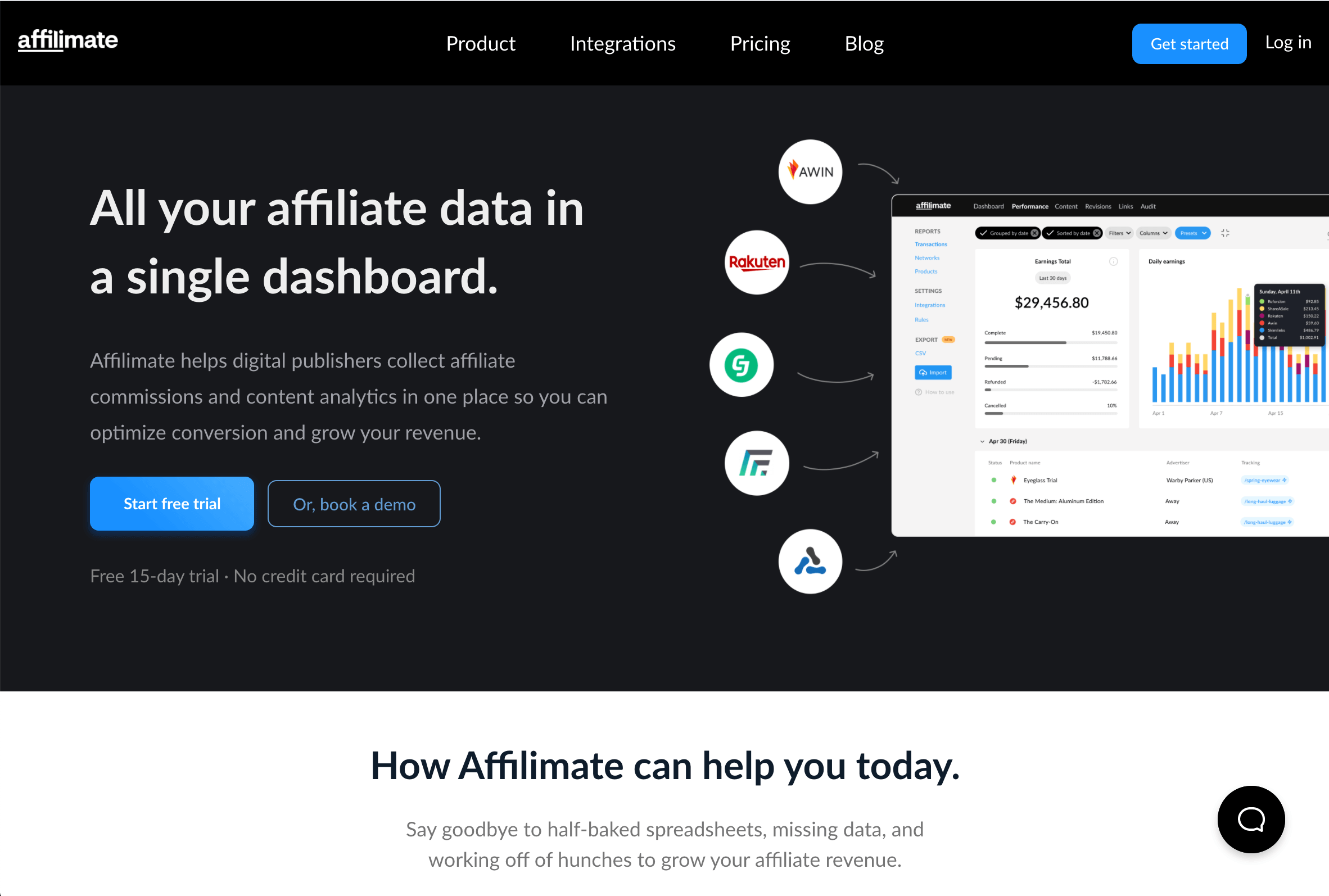 The latter point is important because the data in people's dashboards is competitive information about their business.
So it just doesn't look as nice (and is waaaaay more work) to blur everything out when creating a tutorial or review.
Now we have a brand page where people can download these assets, and I made a 16-page Affiliate Success Kit PDF.
It talks about our key features, differentiators, and even suggests content types and keywords to target.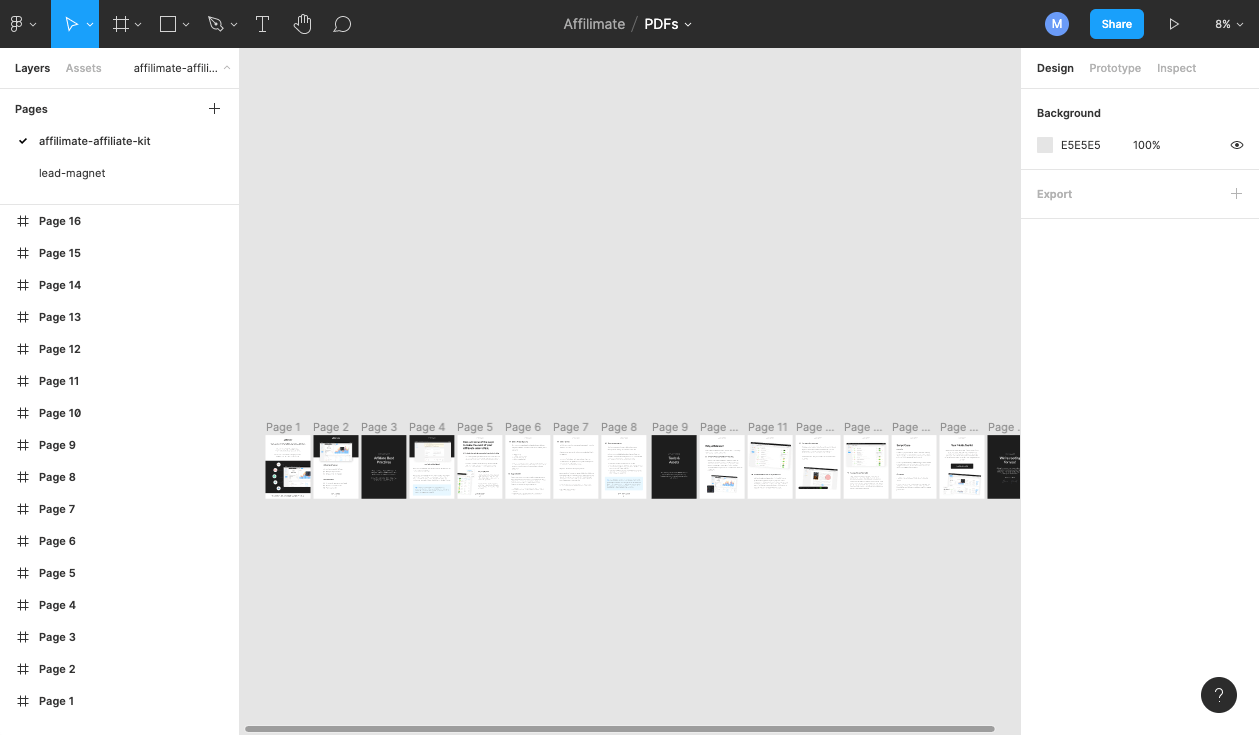 I got the idea of the success kit from our friends at Flodesk, who are crushing it with affiliates as far as I can see in Facebook groups.
The email to promote the success kit will go out on Friday (already written and scheduled in Customer.io!).
I'll also be adding a new email to our post-subscribe flow to inform paying customers about our affiliate program (only users from our free beta or paying customers are eligible for our program).
$2K MRR for the Community
Community growth slowed in April, but we still hit a pretty exciting milestone:
$2K monthly recurring revenue.
(1,732€ is $2,081.99 — it's always nice how the number gets bigger when you convert it into dollars 😜)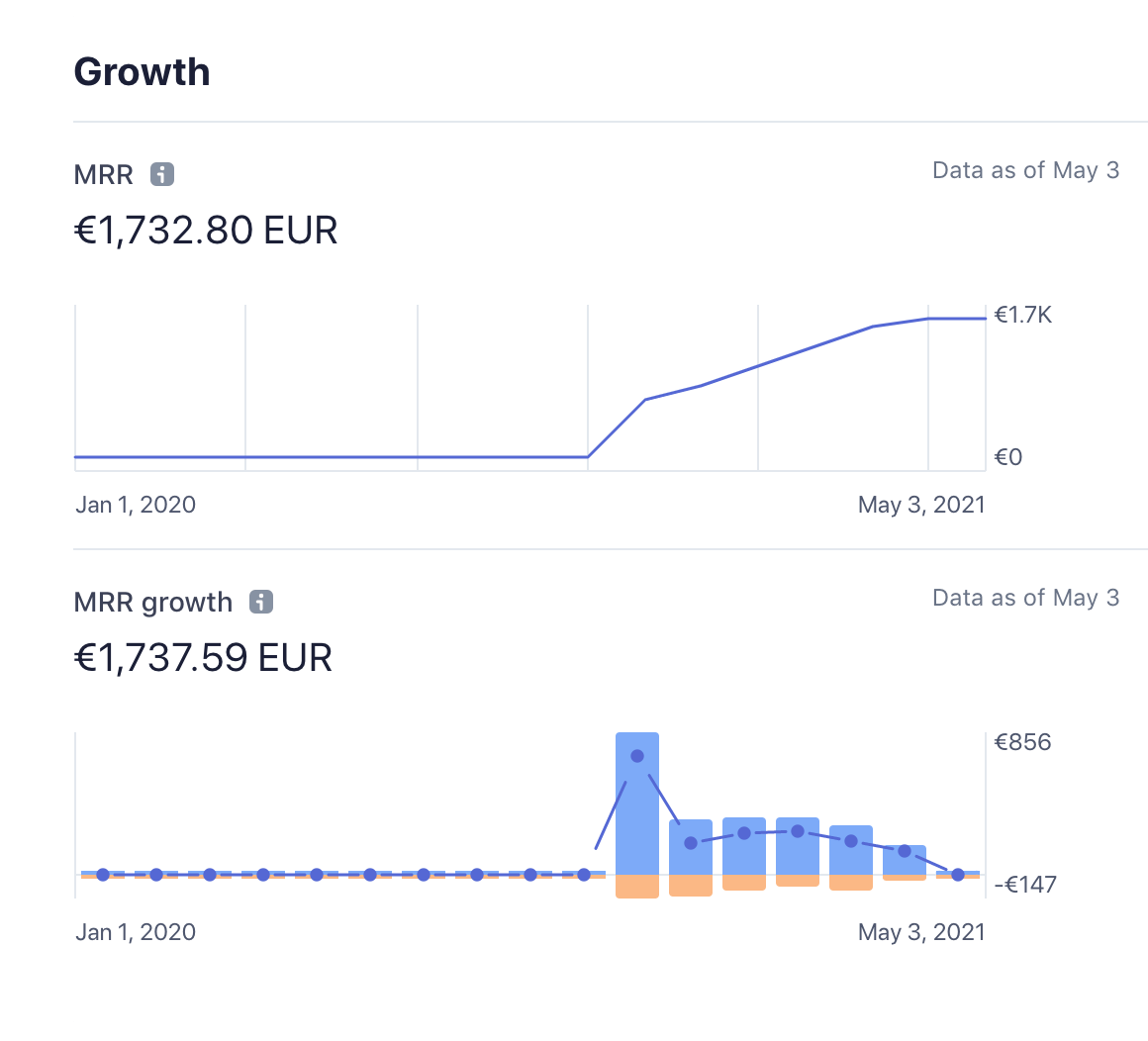 But as I said on Twitter, what I'm more proud is how low churn is.
The Blogging for Devs Community (https://t.co/keRonb77qm) recently hit a pretty cool MRR milestone.

But what I'm more proud of is how low the churn is. For an overwhelming majority, people who come, stay. Feels great! pic.twitter.com/YKw3W0KWtR

— Monica Lent (@monicalent) April 21, 2021
Another milestone from April: 7,000 active newsletter subscribers, by now it's about 7,200 or so.
Very cool milestone this morning: @bloggingfordevs reached 7,000 subscribers 🎉 pic.twitter.com/nrIoG68pxf

— Monica Lent (@monicalent) April 8, 2021
I always told myself that reaching $3K would be sustainable in terms of community size and funds. So I'm looking forward to slowly working towards that this year.
I have two ideas right now for the next step:
Newsletter referral program (which I mentioned back in February)
Cohort-based video course inside the community
Also, I will be writing a one-year community retrospective in June, so if you're reading this and have anything you want to know: tell me now 🤗
Hired a community moderator
A month or two ago, Stefanni offered to help out with Blogging for Devs once I was ready to bring someone on.
With how much was going on in April, it definitely felt like time.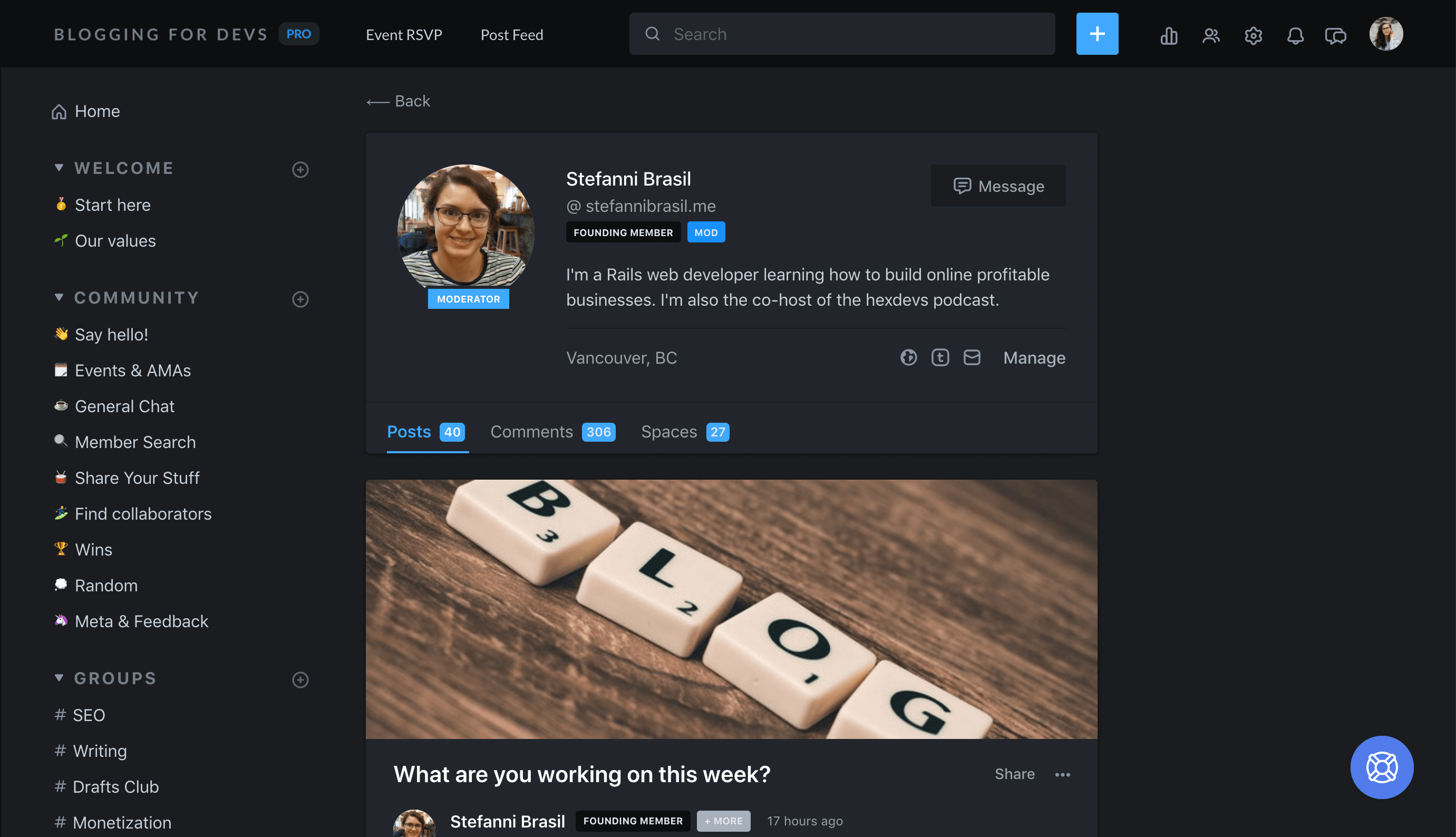 So far it's been great just to be able to share some of the community challenges and learnings with someone, plus the incentive to get organized and systematized so she can really get an overview.
Honestly, it's just fun to work with someone else. So I'm really grateful to have Stefanni on board! She's also already started cool initiatives like a Strava club and new community rituals.
What's on my radar for May
Becoming the email queen
May is the month I get back in the email bandwagon. First off, I've got broadcasts, AKA one-off emails I need to send regularly, of which there are NINE per month:
4x Blogging for Devs Newsletter
2x Blogging for Devs Community Update
2x Affilimate Blog Newsletter
1x Affilimate Product Update
What's good is for the BFD newsletter, I'm finding ways to repurpose content: 2x per month screencasts + 2x per month expert sessions can become newsletters.
Which is great because it's a) marketing for the community b) less work than 100% original content. But it is still SO MUCH WORK 😱
Goal for the month: find and hire a video editor and caption transcriber. Last 1 hour expert session with Marko from Plausible took me two days to edit and caption.
⚰️ My time has to be worth more than whatever it would cost to outsource.
Besides broadcasts, I need sequences and lead magnets.
So this month I will be working on adding lead magnets to the SaaS blog posts, based on some different clusters of content types. Now that I know how to design PDFs in Figma it shouldn't take too long (famous last words).
Sponsorships
As I said last month, I'm stopping one-off sponsorships in the form of basically display ads.
On average, it's too much coordination for the amount to be worth it (I'm currently charging $175 for a placement, but this is from when the list was much smaller).
Even after turning down a fair number of advertisers who are not a fit for the audience, I still had some that are: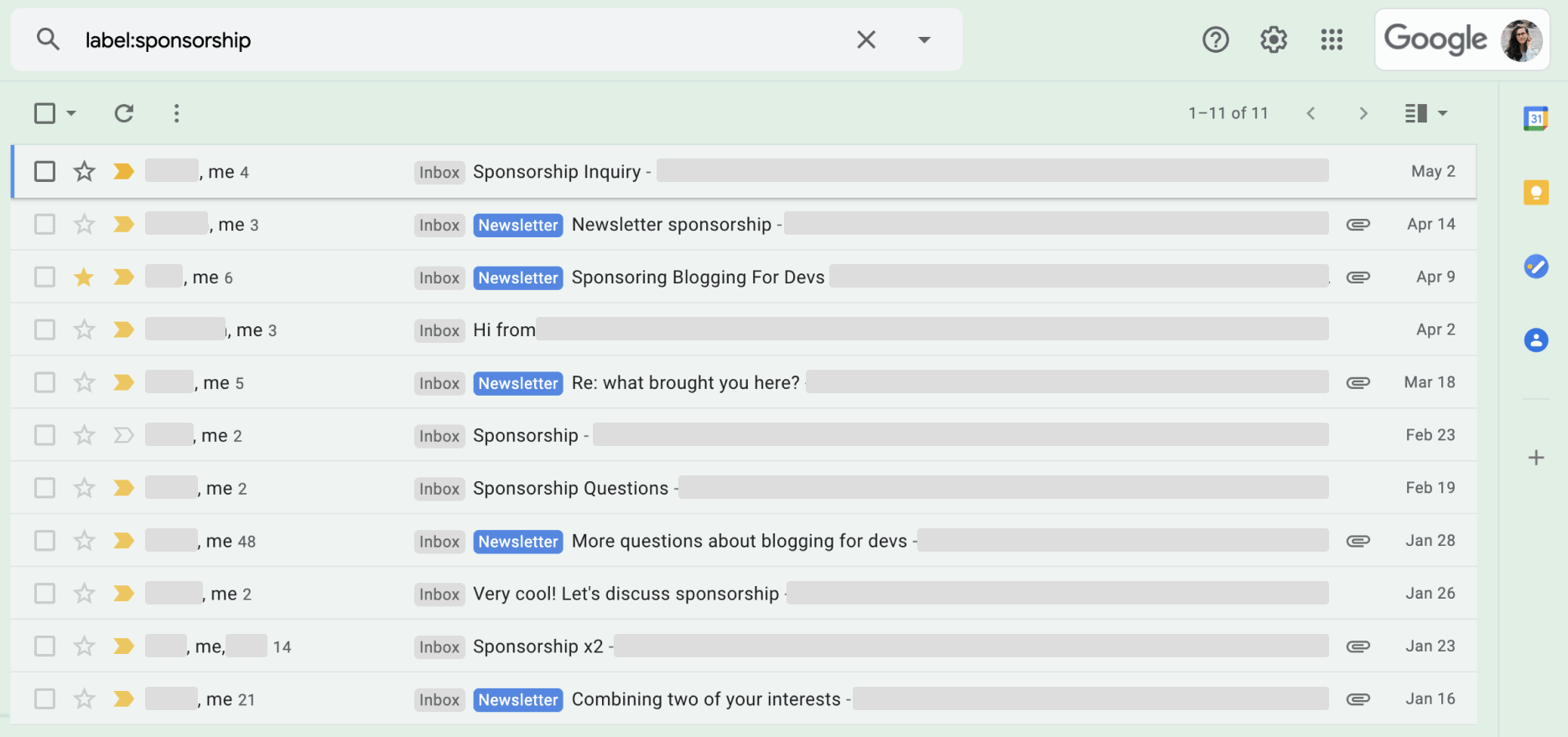 So now what I'm considering is a 1x per month sponsored content slot, which is a) more expensive b) more focused, and likely to yield returns for the advertiser and c) is highly relevant to the audience.
Not sure exactly when though, as this takes some thought and I'm pretty busy running things as I am now!
Pull together more blueprints
A big challenge in a growing community is organizing all the really great discussions into something digestable for people.
So this month, Stefanni is helping me collect blueprints based on screencasts, expert sessions, and discussions on topics like:
Email / Newsletters
Social media
Blogging and content planning
Hopefully this will make it easy for new members to find a step-by-step way to go through the resources without getting overwhelmed.
Onboarding, Pt. II
Last but not least, I'll keep working on our SaaS onboarding. As our traffic and number of new trials grow, I want to makes sure I'm not pouring water into a leaky bucket.
This post is already too long to add more details, but I'll share how it went next month :)
Later, skater!
If you'd like to see what's up between reports, I'm on Twitter @monicalent 👋
Probably won't share these on Twitter every month, but my April indie hacking retro is live.

Highlights: a big migration, blog revenue trending up again, and the community reached $2K MRR.

Low lights: expenses over 50% of revenue for the first time 🙃https://t.co/FuweSsfXai

— Monica Lent (@monicalent) May 4, 2021